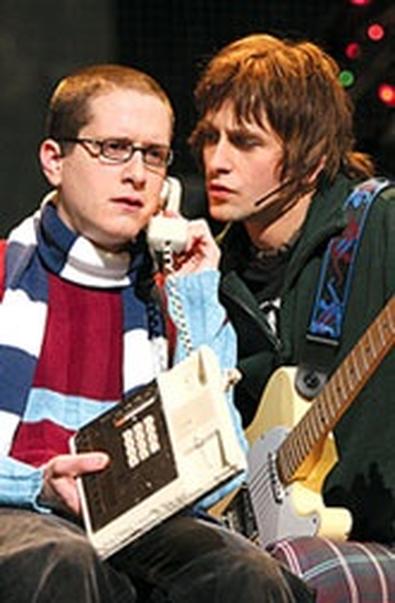 "It's almost revolutionary for a Broadway singer," Katie Agresta is saying. The vocal coach, whose promotional slogan runs, "We have your art down to a science," is talking about rock singing in musicals. That's because nowadays there are more rock musicals on Broadway and elsewhere (touring shows, of course) than you can shake a conductor's baton at. Agresta is considering the demands these enterprises make and the changing techniques they prompt. It all amounts to a big change in the requirements for musical theatre singing and, therefore, an increasingly enormous challenge.
It Started in the '60s
It isn't a new trend either, although a case could be made in these jukebox-musical days that it's one showing no signs of letting up. Pinpointing the origin of the rock musical, however, is difficult, though many will say Hair is the watershed. (This is after years of people believing that musicals -- read, Broadway musical comedies -- and rock were irreconcilable.) Hair, tagged by its producers "The American Tribal Love-Rock Musical," incorporates the first attention-grabbing rock score. It's the one that radically changed attitudes toward rock on Broadway, or, come to that, changed the take on any musical comedy -- no matter where it settled -- that included rock as an element.
Suddenly the Gerome Ragni-James Rado-Galt MacDermot songs from their Broadway show (transferred from Off-Broadway after proving itself at the Public Theater) were on the charts -- something that hadn't happened with any regularity for a while. The Hair title song was a click for the Cowsills. The Fifth Dimension parked at the Top 40 top with an "Aquarius/Let the Sunshine In" medley. Three Dog Night made bestseller hay with "Easy to Be Hard."
As a result of the development, shows of the ilk containing potential hits were sure to follow -- and did. Perhaps the most prominent was the Tim Rice-Andrew Lloyd Webber Jesus Christ Superstar, which began life as a rock musical on record and as such proved its heavier mettle before producers agreed to take the theatre plunge. Yvonne Elliman's "I Don't Know How to Love Him" climbed the Hit Parade. The tuner's title ditty also cracked the Top 40. (Some observers might claim that the team's Joseph and the Amazing Technicolor Dreamcoat, which debuted in 1968, preceded Hair as the seminal rock musical.)
Since the late '60s and early '70s, rock musicals have proliferated to more or lesser acclaim. Their number got a critical jolt in 1996 with the downtown unveiling and quick move to Broadway (where it still thrives) of Rent. Again, the pull that rock entries exert was evident. The number began to increase after Rent, although defining what constitutes a rock musical has always been a tricky undertaking that in earlier days led to the term "Broadway rock," a genre that rock purists would turn their noses up at. Stephen Schwartz's Godspell and Pippin (the original cast album was a Motown release) fit into this category but not, according to many rock critics at the time, into the rock world.
The definition is further complicated by rock music's multitudinous subdivisions -- a spectrum that stretches from soft rock, pop rock, and folk rock at one end to heavy metal and goth at the other. Woe be unto anyone claiming to have a bead on a comprehensive description. This is what Agresta, an opera singer turned rock-singing coach, is getting at when she talks of revolution and launches into some background history. "The rock-music industry has become very categorized over the years," she says. She's aware of this because she had to take the situation into account when she began working with Broadway singers after having dealt for a few decades with rock singers like Jon Bon Jovi and Pink Floyd's Roger Waters. ("I always wanted to learn how to sing," Waters said to Agresta when he came to her a number of years after his success as the seminal group's co-founder.)
Push or Die
Talking to Agresta, who's not only passionate about singing properly but also extremely well-read on the subject, is like being handed a Wikipedia overview of the pop-rock singing evolution. Agresta talks easily about the early days of pop rock and exemplars like Frankie Avalon, Connie Francis, the Shirelles, and the trend-setting Motown artists. She explains that melodic rock -- still preeminent in the '50s and '60s and perhaps eventually best represented by The Beatles -- instituted certain changes. These were made even more distinct by The Rolling Stones. The falsetto singing, embodied by Little Anthony and the Imperials and by Frankie Valli of the Four Seasons, was superseded. As Agresta puts it, "In the '60s, that singing was in style. It went out in the '80s. The Rolling Stones, Cream, the heavy-rock bands didn't know from falsetto. It was push or die."
"Pushing" has great meaning for Agresta. She says, without fear of contradiction, "What's in common [with rock purveyors] is it's a pushed style of singing. The Stones are very pushed compared to The Beatles. There are many styles -- moderate to heavy metal all-out pushing to the point of screaming. It all comes down to: 'How heavy is the music? How much pushing and strain in the voice?' " Agresta emphasizes that this approach to singing is, for the most part, at odds with traditional musical comedy singing. She does acknowledge that belting, a familiar kind of Broadway singing, has something in common with rock singing. "Belting is pushing," she says.
What's needed -- and what many vocal coaches and singers alike recognize as a necessity -- Agresta sums up in a phrase: "a course in training specifically for rock singing." She notes that "all can be handled with the proper approach." It's an approach that a voice teacher like Peter Van Derick in New York City or David Coury in Los Angeles is not only prepared to take but that both regularly advocate. Van Derick -- who teaches privately and sees students at Manhattan's musical comedy preparatory CAP21 (Collaborative Arts Project) outlet -- agrees with Agresta when he says, "Absolutely. You can sing rock in a healthy manner." He elaborates by noting that "most students don't prepare correctly and do damage to their vocal cords and [other physiological] apparatus." He says, though, that many if not most singers "come to a teacher because they are physically hurting. Usually that's an indication something is wrong." To head off problems such as neck tension, or to correct them, Van Derick says, "all my students get legit classical training." He maintains that the vocal technique for traditional musical comedy and for rock musicals basically "should be the same. It's a matter of changing resonance." He also says, "Diction has a lot to do with it. Much of this involves a shallower vowel." The upshot, Derick declares, is that "once [students] understand what they're working for, they say, 'Oh, I can do this.' "
Strategies for Success
Coury attests that clients acclimating to rock warbling "is a constant thing. They want to make a successful transition from rock or pop music to theatre. Or vice versa. I love working with people trying to make the transition." For him, one of the crucial tasks is breathing. At least that's the first thing that comes to his mind when he addresses the question. "It's sometimes effective to breathe where one isn't supposed to," he advises. He sings a snatch of the Martin Charnin-Charles Strouse "Tomorrow," from Annie, ending with the final word -- "away." He mentions taking a breath between the "a-" and the "-way." He insists, "All the Annies did it. A purist would say you can't breathe there, but it's more conversational. You do it enough times, your piece has become more real. Raw." He adds, "Taking a breath is in the area of voice maintenance. Breathe when you need to breathe."
Secondly, Coury mentions, "I take the vibrato and usually I'll erase it. Doing that enough, all of a sudden this legit singer sounds pop." He brings up a singer he coached for an American Idol audition, an aspirant who, he believes, "belongs on Broadway." He says, "Idol people don't want to hear the head voice." So he "totally erased her vibrato." He explains, "Oh, it could be a little Broadway -- the beginnings and endings of phrases. A little vibrato can sneak in, or a slower vibrato." Coury makes his case for judiciously retaining some vibrato because "a straight tone can go flat." That is a major no-no, of course. But there's one strategy Coury avoids: He will not help a singer "to imitate every pop singer du jour. I'm not going to teach someone to sound like someone else." Another bullet point for Coury is "pronunciation. Just pronouncing the word. The most common mistake [singers acquiring rock characteristics] make is getting sloppy with lyrics, dumbing down their talent to sound pop or sing from the throat. Bad, bad, bad. Here's the trick: Take everything I give you, but make sure I understand every dang word. We need to get that story."
Agresta talks about other concerns. They involve the entire body and are covered in the "all kinds of exercises" she's developed over the 40 years she's helped rock singers keep in shape and more recently aided Broadway singers newly immersed in rock. She calls attention to the flexibility of the body needed for effective acting, and how that desired state is in opposition to the muscle tightening ideal for singing rock. "Rock singing goes against how the body works naturally," she says. "Muscles were never intended to be used that way." The mere thought of those muscles sets her itemizing the importance of what "phonates." She lists the importance of the roof of the mouth, the soft palate, the muscles of the face and neck.
"Using muscles is pushing," she says, tacking on that she doesn't mean to stir the ire of other voice teachers when she phrases it that way. Her exercises are engineered to reconcile the loose/tense muscle conundrum that initially sounds irreconcilable. She especially encourages tongue exercises, because she's adamant about the tongue being loosened before tackling a rock score. That's just one part of the warm-up she sees as obligatory. She's every bit as strict about a warm-down. "Almost nobody warms down," she laments, and yet she says that since singers are also in the muscle business, they "must train themselves like Olympic athletes."
How John Lloyd Young and Daphne Rubin-Vega Do It
One Agresta client who follows her regimen to the letter is John Lloyd Young, currently continuing his Tony-winning Frankie Valli portrayal in the Tony-winning Jersey Boys. "He should be praised up one side and down the other," Agresta says. Her enthusiasm stems from "the superhuman" task Young has assumed. She marvels at it, saying, "Twenty-seven hit rock songs night after night after night. That's gargantuan."
For his part, Young isn't reticent about a rock-singing assignment that's like no other, in his estimation. "When you think of most Broadway shows, they're demanding vocally," he says, "but [the lead] may have four songs altogether. I have 27. If that's not unprecedented on Broadway, it's one of only a handful." Saying that, Young underlines why for him "seeing Katie once a week is integral." He's confident she detects vocal glitches even before they crop up.
Echoing Agresta, Young says, "The warm-up is integral. More importantly, the warm-down is integral. It's like being a sprinter. Everyone knows that if you're an athlete, you have to warm down. That for me is the saving grace. It's the most important element." When speaking to Young and Agresta, it's unmissable that they argue for the warm-down component of healthy rock singing -- on legit or concert stages -- because they suspect, probably rightly, that it's a widely neglected component.
One person who admits she's been at fault is Daphne Rubin-Vega, who was Mimi for the first 18 months of Rent on Broadway and in the preceding workshops and New York Theatre Workshop Off-Broadway stint. "During the first days of Rent, we were very naive," Rubin-Vega says, reflecting on her early legit rock singing. From a wised-up perspective, she continues, "Ignorance can be bliss sometimes. It certainly was for me. I was only doing the show a performance at a time." She means she had nothing long-term in mind. "I adored the show and had no clue early on it was going to Broadway."
Once Rent opened uptown, Rubin-Vega recollects, "there were times we were running on empty from doing eight shows a week. We just sang through it. A lot of that stuff was forgiven because we were in Rent, and we were fabulous." (Van Derick says that in the Rent early days, "the untrained singers' mortality rate was astronomical.") Rubin-Vega recalls she didn't notice she was overdoing it until "my knees gave out" -- not her voice. Now Rubin-Vega -- who wailed in The Rocky Horror Show Broadway revival and recently closed Off-Broadway in Everythings Turning Into Beautiful, in which she sang R&B -- has advice she hands out about rock chirping. "Know the instrument and know the body," she says. "Try silly things like raspberries and squeals." She's talking about vocal raspberries, needless to say. "Humming and chanting keep the lower throat open and breath disposable to use." Just releasing a solo CD, Redemption Songs, Rubin-Vega thinks back to times when "I lost my voice and went to doctors who were happy to give me a shot." Today she knows how to avoid the option and regards repeating her past as "unfathomable."
Rent casting director Bernie Telsey seconds Rubin-Vega on the undefined demands the landmark tuner made at first. "Even I didn't get it when Jonathan [Larson] and Michael [Greif, the director,] said we had to go to nontraditional places [to find talent] -- rock clubs, bar mitzvah bands." But a bar mitzvah band is where original cast member Idina Menzel was spotted; Adam Pascal was plucked from his rock band. "Training in musical theatre doesn't get a job in Rent," Telsey says, pointing out that a good rock sound is a casting sine qua non. Indeed, he and the others in his Telsey + Company casting office are still "hiring from open calls." The difference is that 10 years ago, Rent wannabes didn't have eight weekly shows on their minds, whereas today many of them do.
'You Can't Sing Like That and Get Into Rent'
Telsey reports that nowadays "a lot of [students] graduating in musical training know they need a pop or rock song in their repertoire. It's no surprise to them when we say we want a rock song." On the other hand, when he and colleagues Bethany Knox and Tiffany Little Canfield look over candidates from farther-flung theatre schools like Northwestern, they run into singers who haven't been properly prepared for today's rock-music styling. He tells them, "You can't sing like that and get into Rent." He warns the audition crowd, "You're 20. That's where the work is." Telsey knows that some shows hire a coach who has the rock wherewithal. For shows with which he's involved, including the upcoming High Fidelity, he may make recommendations and names two: Mary Setrakian and Matt Farnsworth.
Setrakian, whom the Disney folks also call on and whom Nicole Kidman consulted for Moulin Rouge, says a friend dubs her "the voice whisperer" for her lightning ability to size up vocal predicaments. Many of them she -- like others -- traces to breathing problems. More than that, she believes they're usually tied up with "emotional things in your life." Although she rushes to say her modus operandi is "not therapy, believe me," she adds, "Often what you're holding in your voice, you're holding in your life as well. I ask, 'What are you aware of about yourself?' "
Then she provides "tools you have to put into your back pocket." She also speaks to another trendy aspect of contemporary singing: the overuse of melisma. "This is my feeling on melisma: The people you love when they do it are connected to it emotionally. You have to add that [melismatic run of notes] because it's so emotional. You can't help but go there. If you go there just because you want to show off your voice, it's a boring, self-indulgent thing."
Another observer of and participant in the changing musical theatre singing scene is Michael Lavine, who teaches, directs, accompanies, and advises. The proud owner of a comprehensive sheet-music collection, Lavine is consulted daily, if not hourly, on appropriate audition songs. "The most frequent thing I get asked for is a rock song," he confides, "neck and neck with a funny song." And Lavine can get specific. Having played auditions for Jersey Boys, he comments, "It's very important that you show a falsetto. If you can't do that, there's no point."
Music historian Lavine knows what Agresta knows: There's more to rock than a single, all-purpose number. "One song isn't enough," he says, plumping for singers to have in their repertoires at least one song to cover each decade. If classic rock is wanted, he recommends The Beatles or Elton John. If it's melodic, Carole King. If it's something edgier and today, Alanis Morissette or Jewel. He can riff along these lines for hours. In quick succession he mentions Elvis Presley's body of work, The Beach Boys, The Partridge Family, Captain & Tennille, The Four Seasons, Heart, and Blondie. Before he's done, Lavine could impress anyone that he's the quintessential have-I-got-a-song-for-you guy. Lavine also advises singers with rock on their minds and tongues to "feel your final consonant." He calls it a "rock consonant -- a harder consonant, that final extra." Equally important, he persists, is never forgetting that "you're auditioning for a dramatic solo, and you need to act it. You need to add the element of drama, treat [the song] as if it's a monologue." He appends some talk about having a rasp, which "you got to figure out how to control." The goal is to add or subtract it, depending on the requirement.
Lavine also succinctly summarizes the prospects for Broadway rock: "In the past 10 years -- or since Tommy in 1993 -- it's never gone away. It's never had a lull." You could not only say that rock rules but that rock has significantly changed the rules.