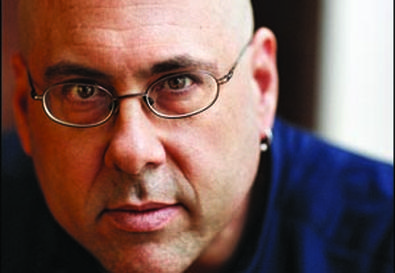 "My take on a good headshot is really simple: It should look like the person," says Rod Goodman. Originally from Los Angeles, Goodman has been a headshot photographer since 1997. "A headshot is not a portrait," he explains. "It is used to market someone the way they see themselves and the way they know they are castable. A strong headshot is really a combination of eye contact and a relaxed look."
Actor Gary Hilborn, a founding member of Re:Group Theater Company, says he had limited time to devote to getting new headshots and found Goodman an ideal fit. Hilborn took advantage of Goodman's "Mondays Suck" special, which offers a small number of shots at a low price. "I explained the look I was going for," the actor says, "and he was incredibly professional and very organized. He gave me proofs via email rather quickly, and I chose the one I wanted, and it was all taken care of within a week. It went smoothly, just as he advertised it would. Headshots can be a painful experience sometimes. His streamlining of the process made it very comfortable and non-anxiety-ridden."
Goodman takes care to create a comfortable environment at his studio, he says. "I want to have a safe and nurturing atmosphere, which allows the people who come and shoot with me to maybe let their guard down and to relax. They should feel safe to fail." He also has a hair-and-makeup artist available on-site.
"It was very relaxing to know that there's someone looking out to make sure you look the best in the shots," says Hilborn, adding that Goodman's "calming manner" goes a long way toward setting the tone.
"A headshot photographer is like a director," Goodman says. "Some directors rule with an iron fist and others are very gentle. I look at myself as a gentle director." He continues, "Quite frankly, very few people enjoy getting their headshots done. So this has to be a fun and easy experience for them. The one thing that I never do is tell anybody to smile. I would rather converse with them. There's a natural energy flow in a session, where people are a little quieter at first and then they get a little more giggly."
Goodman explains that he has various techniques to help his clients relax and be natural: "I'm pretty good at reading people and focusing on minute details that maybe they wouldn't, like tension in their shoulders or not breathing. A lot of them hold their breath a little bit when they're first being photographed, so the first thing I tell them is to take a nice deep breath."
He adds, "I'm so lucky that I get to do what I love to do. I think that's really why I relate well to creatives like actors, because actors too are doing something that they truly love and what is most important to them."
Rod Goodman, 379 Park Ave. South, 3rd floor, New York; (212) 929-1654; www.rodgoodmanphoto.com
Runners-Up:
Barry Morgenstein, (212) 647-1288,
www.barrymorgenstein.com
Sam Khan, Image Works, (212) 873-2305,
www.imageworksnyc.com
Anthony Grasso, (212) 594-9616,
www.grassophotography.com