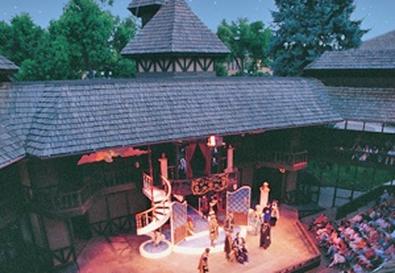 Don't be fooled by the rising stock market or other signs of economic recovery. The color of most state budgets is deep red, and arts funding remains on the chopping block. Coast to coast, theaters already offering fewer productions are set to lower their tallies further, with shows featuring tiny casts increasingly standard. Until state arts funding stabilizes—that's a big if—the number of acting jobs on stage won't rise anytime soon.
Federal funding increases for the National Endowment for the Arts aside, the matter is so dire at the state level that Americans for the Arts has compiled a 24-page list of trouble spots. Cuts in New Jersey, Florida, and South Carolina alone, for example, "represent a $15.7 million loss in state funding for the arts." Two months ago, the National Assembly of State Arts Agencies released its own analysis, pegging the total national drop at $32.8 million during the last two fiscal years. Remove Minnesota from the equation (a three-eighths-of-a-penny sales tax rise there has created a new revenue stream for the arts) and total state arts funding dropped by $54.5 million. Jobs, jobs, jobs may be the mantra, but going forward, the deal for stage actors will be more like no jobs, no jobs, no jobs.
Tales from specific theaters crystallize the looming loss of work. Consider Synchronicity Theatre in Atlanta. According to producing artistic director Rachel May, Synchronicity's story "is tied directly to the Georgia Council for the Arts," now facing an "intense" cut of 50 percent on top of a 34.3 percent cut over the last two fiscal years.
"We've taken the council out of our budget entirely, and we don't expect any funds from them," May said. "I'm not sure they'll have any money to give."
The impact on Synchronicity, which was founded in 1997 and is known for producing new plays and focusing on women artists, is hard to understate: The last two shows of its current season have been axed. "We canceled in October to focus on the productions we could do," May said, "and to give actors and artists the time to find other work."
Yet even before the collapse of state arts funding in Georgia, Synchronicity's ability to cast even moderate-size shows was hampered. "I don't even look at shows with more than six people, which is a shame," May said. "I think Atlanta actors are really concerned. There's a pool of actors we tend to work with over and over—they're part of our family of artists, and I have so little to offer them now. We did Megan Gogerty's 'Hilary Clinton Got Me Pregnant' and brought Megan in, so it's a one-person show—no roles for local actors. We did our company-created piece, 'Women and War,' with six women. I haven't had any male roles to offer this year at all."
May also made a crucial observation about the indirect effect of state arts funding on other areas of philanthropy. Currently, Synchronicity carries some debt. When Georgia arts funding falls, private and corporate giving tends to be inhibited. That, in turn, inhibits Synchronicity's ability to whittle down debt and keep producing. What begins as belt tightening can quickly become a downward spiral, which May is fighting to prevent. Part of that fight means casting is kept to a minimum.
Shakes Down
Then there is the Utah Shakespearean Festival, which has been presenting seasons since 1962. R. Scott Phillips, its executive director, noted that for a company producing classical repertory, modest-sized casting is nearly impossible. "We know, whether you're doing Shakespeare or not, you still need large casts," he said. "It still takes x actors to do 'Hamlet' as it was done 400 years ago."
Owing to cuts in state arts funding—18.1 percent in Utah last year, according to the National Assembly of State Arts Agencies—the company's budget has slumped significantly, resulting in fewer actors hired. In fact, said Phillips, Utah Shakes began slashing its budget back in 2008—a good idea, because the Utah Arts Council has been whittling down its own. (Preliminary figures indicate a decrease of 5 percent—about $190,000—for the 2010-11 fiscal year.) "We saw the writing on the wall and cut $700,000 for 2009," he said. "Then box office didn't do as well as we hoped. We took a 10 percent drop and were looking at a $300,000 shortfall we reduced primarily due to the generosity of individuals."
Coming out of 2009, Phillips added, the company's board "got antsy, so we cut another $300,000 from our 2010 budget. The ironic thing is they said we have to tighten our belts but it can't affect artistic quality. Well, you can't make those kinds of cuts and not see it on stage. We tried to find more creative ways to design our shows. Visually, we pared down." And the company downsized its acting ensemble.
"It was drastic—16 to 18 actors for our fall season down to six," Phillips said. "Instead of Shakespeare, it was small-cast shows like 'The Complete Works of William Shakespeare (Abridged)' and 'Tuesdays With Morrie.' They were good shows, but I felt guilty because we were contributing to the unemployment of artists. Yet we had to protect the bottom line."
The number of actors being hired this fall may rise, but slightly, Phillips said. The reason: unemployment claims. "Our contracts are long—actors can work 17, 18 weeks with us," he explained. "When we don't hire actors we hired previously, they go home and file for unemployment. That ends up in our budget. What had been $30,000 or $40,000 a year for unemployment has now gone to, I think, $129,000 last year. That's a huge number. And that's money that will not go to show budgets or actors' salaries." In tough times, in other words, it's actually in the financial interest of Utah Shakes not to hire actors, the demands of classical work notwithstanding.
East West and South
Tim Dang, producing artistic director of East West Players in Los Angeles, one of the nation's most influential Asian-American troupes, said relating casting to state arts funding is irrelevant, for the California Arts Council runs with a skeletal staff. Worse, he said, "there's no granting program, just a few funded entities with line items in the budget."
But Dang can correlate city and county funding in L.A. with decreases in jobs for actors. As Back Stage reported last month, a City Council proposal to eliminate appropriations for the Department of Cultural Affairs was defeated. Cuts, though, have been coming in double-digit percentages for several years now, and their impact is evident.
"East West literally cut the number of union contracts by half, which alarms Equity," Dang said, referring to Actors' Equity Association. "They said, 'How can we provide for our members if you're going from an average of 25 to 30 contracts a season to 15 or 16?' But not only with funding from government entities down but box office down 10 to 15 percent, we're taking a hit." Acting jobs, therefore, are going to be scarcer.
"We do a traditional four-show season, and cast sizes now are no more than three," Dang explained. "Also, 15 or 16 contracts—that includes stage managers. Next season, we're still looking at the first two or three plays to be minimal. For our last show next season, we hope to do a musical, something in the 10-to-12-actor range. For that we're doing more proactive work finding grants for it, trying to stack things so it's fully funded before we're out of the gate.
"We have surveys showing 70-plus percent of our audience dines and shops in Little Tokyo, thus adding to economic development," Dang added. "The pool of money for the arts in the scheme of things isn't big. If you're thinking of eliminating it, it's, like, is there something I'm missing? Those jobs will not be coming back."