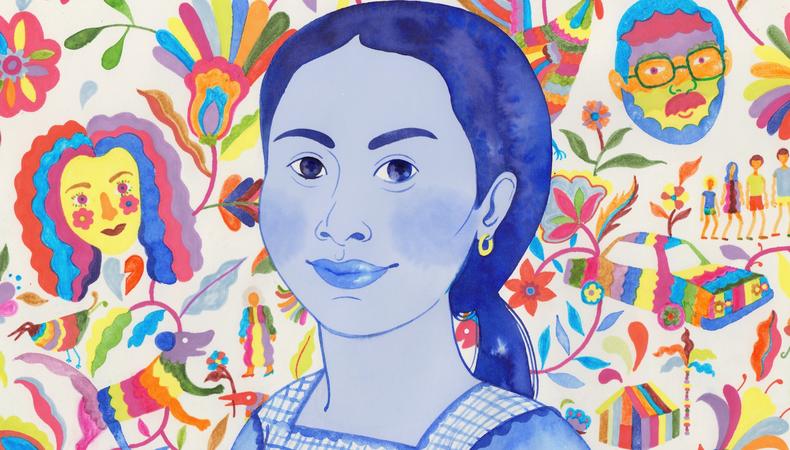 It was no surprise when filmmaker Alfonso Cuarón and Netflix's "Roma" garnered instant awards buzz upon its Venice Film Festival premiere last August. The two-time Oscar winner's deeply personal depiction of his childhood (now itself nominated for 10 Academy Awards) is stylistically striking as a Spanish-language black-and-white period piece. But one of the most notable elements of the film is its cast of almost entirely first-time actors. Cuarón entrusted actor-turned-casting director Luis Rosales with the task of finding the people who would portray his family. Rosales searched all over Mexico for nearly a year to discover actors and nonactors alike who Cuarón felt could embody these characters from his past. At the heart of the ensemble were newcomer Yalitza Aparicio (Cleo), an aspiring teacher who attended the open casting call at her sister's encouragement, and veteran actor Marina de Tavira (Señora Sofía). Both are nominated for Oscars ahead of the Feb. 24 ceremony.
Describe the casting process for "Roma."
Alfonso described the characters and his family to me. He needed two things: for every character to look like the person they are based on and for them to feel like the real person. I wanted to scout in Mexico City, but also in Oaxaca and Veracruz. I did several rounds narrowing down options. The process was very intimate with Alfonso. We talked about the characters, specific scenes, tone, and a lot about "acting" versus "being."
How did you come to cast the first-time actors in the film?
I auditioned a lot of professional actors, especially for Cleo. They were very good, but there was an energy we needed. There's an innocence about the process of coming from outside of the city and discovering the city for the first time and losing that innocence in a way. When someone lives in the big city, they lose those things; it's very subtle but very powerful. It was something about the way the character stands and embraces the scenes. When the person comes into a room, something needs to change in the energy.
What were the auditions like?
I did an interview about their life and concentrated on their childhood memories and relationship with their family and also with Mexico City. We talked about dreams. That was the first acting exercise, but they didn't know it. When someone has a recurring dream and they talk about it, their body, body language, and eyes change. They start imagining and reliving it, and that's the first impulse—this person is able to imagine. If I give them a scenario, they can put themselves there. I asked about love and relationships, and I needed to see how they walked and sat. I would show these options to Alfonso and we would arrange a callback workshop. It would be a four- to five-hour session with acting exercises using the imagination. They learned some lines and scenes, and we played around using our imaginations and emotions. I recorded everything and showed it to Alfonso, and he chose who would have a callback with him.
READ: How Netflix's Roma + Its Novice Actors Became One of 2018's Strongest Ensembles
What advice do you have for actors?
Don't lose your essence of being. You need to know a lot of different types of training because you need to find the things that work for you. Each body, mind, and background is different; what works for me as an actor doesn't work for you. Search; be hungry for knowledge about training, but never forget you are human. When you are new in the business, accept everything and be present. Be there, show up, don't be afraid of being who you are and showing who you are at this period in your life.
Why was Aparicio the right person to play Cleo?
I saw 3,000 women for that role. I wanted to go inside the town, Tlaxiaco; it's in the mystic region of Oaxaca and there were interesting faces I found there. We did this open audition there. The first time we interviewed Yalitza, I was in another town, but I saw the material and I wanted to present them to Alfonso and he wanted to see more of Yalitza. I went back to Oaxaca and did a callback acting workshop. What stuck with me in Yalitza's auditions was that she has a very strong but also very delicate presence, and when I gave her a scenario and she needed to solve it, she never doubted. It felt like she wasn't acting, or she was acting but living it in a strong and profound way. Alfonso had the final decision; at the end, we had three strong options, but Yalitza was the one who popped out.
How did you build the family Cleo worked for?
Everything about this movie felt very different because of the specifics of the story and because it was the story very close to Alfonso's heart. It felt like I was auditioning and casting my own family in a way because it was very personal. For the kids, I went inside schools. I auditioned with child actors, but it didn't work, so I opened casting inside schools. For the character Señora Sofia, my intuition told me I needed to find an actress for that role. If we had an actress there, maybe she could create a little more order or training and she could help the other actors. I had a lot of photo references. I needed the energy. It's a period piece and it's middle class in 1970; I needed to find this woman who had a mature energy so the material and period are believable. All the actors from theater know how to do this. I showed Alfonso all the options. In the end, Marina kept coming and coming and she did an amazing job. Then, we did a lot of chemistry reads with all the family. When we had our strongest options, we put them all together in a session and they were in costumes and hair and we did some exercises with them and a lot of improv and games so we could see the energy and chemistry between them. We kept switching the kids until we found the ensemble.
What do you know now about casting that would have helped you as an actor?
Now I know it's not only about talent or how talented, prepared, or trained you are or how many movies you've been in. The process is so much more complicated. I remember when I was acting, I felt like the casting director was a bad person—he's judging me and says yes or no. Now that has totally changed. Because of the way I approach the material as a CD and when I call an actor in to audition for me, I now know that I want you to get the job. I don't want you to lose your time or me to lose my time. I'm not judging, I just want you to give me the best you have and I want to create an environment in my office to help you to get the job.