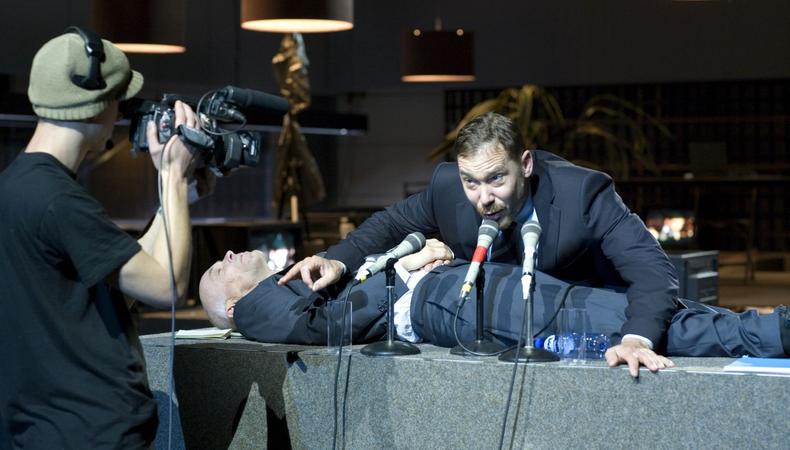 Dutch director Ivo van Hove throws down a gauntlet with "Roman Tragedies," his epic, vaguely mind-blowing five-and-a-half-hour cycle of "Coriolanus," "Julius Caesar," and "Antony and Cleopatra." There is a way to bring Shakespeare into the 21st century, and it involves Twitter.
It also involves music by Bob Dylan, video footage of Michael Phelps and Barack Obama, a news ticker showing today's headlines, an onstage bar, TV-style news segments, and streaming live video (a van Hove signature); it does not involve assigned seats or intermission. Audience members can mill around the BAM Howard Gilman Opera House stage, buying snacks, lounging on couches, reading magazines, and, yes, typing their tweet-sized reactions into a computer that feeds directly to the news ticker. This is Shakespeare for the Web 2.0 generation.
While spectators compare different seating areas, time their bathroom breaks, and munch on potato chips, they stand inches away from the rise and fall of empire and the passions of history's rulers. This ironic juxtaposition is the genius of "Roman Tragedies," which finds in its source texts a hidden history cycle in which tragedy's ingredients—great men, highborn ideals, history as such—crash land on the unforgiving landscape of modern politics. As played by members of van Hove's magnificent Toneelgroep Amsterdam ensemble, Coriolanus (Gijs Scholten van Aschat), Brutus (Roeland Fernhout), Cassius (Marieke Heebink), Antony (Hans Kesting), and Cleopatra (Chris Nietvelt) are brought to their knees by the undiscriminating forces of realpolitik. Though there is no weak performance onstage, Kesting's and Nietvelt's searing portraits will not be bested in the foreseeable future.
I've always preferred van Hove's stagings of well-known dramas by classic playwrights (Henrik Ibsen, Lillian Hellman) to his theatrical adaptations of films by star directors (Ingmar Bergman, John Cassavetes), as the former restrain his physically excessive, needlessly provocative impulses (the bodily fluids, the nonstop screaming, the rolling around in paint). With the exception of its final hour, which lingers on Antony and Cleopatra's final moments far too long, "Roman Tragedies" is a model of tight, ruthlessly cut Shakespeare. The plots move with a hurricane's bravado, the thrill of history spinning out of control and on its own terms.
But van Hove is not only interested in the end of the age of heroes. The great theme of "Roman Tragedies" is the fate of "the people," represented, for those who remain in the auditorium, by the milling onstage crowd. Do the tweeters and chip munchers notice that their view of the actors is not sharpened but obscured? As they strain to watch the video feeds scattered around the stage, might they experience the age of democracy as one in which history is more disorienting—and more mediated—than ever?
The evening ends with Octavius Caesar coldly installing absolute dictatorship in the name of "world peace" after the theater audience has been forced to return to its seats. Even as van Hove rejuvenates the classic history play for contemporary spectators, he wisely inserts another hero, whose demise might be less tragic than bewildering. "Has it come to this?" a distraught Cleopatra asks. Van Hove's production more than hints that she might be speaking for us.
Presented by Brooklyn Academy of Music at the BAM Howard Gilman Opera House, 30 Lafayette Ave., Brooklyn, N.Y. Nov. 16–18. (718) 636-4100 or www.bam.org. Casting by Hans Kemna.
Critic's Score: A