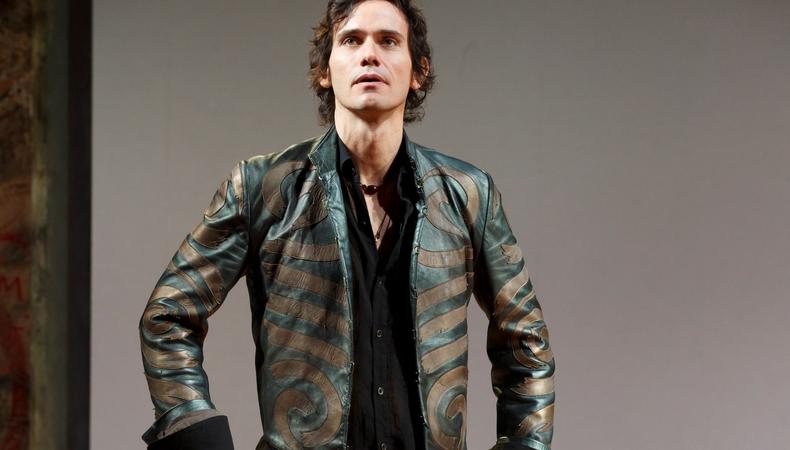 If Christian Camargo talks about acting as craft, it might be because he comes from a long line of craftsmen. His mother is actor Victoria Wyndham, and his grandfather is the late actor Ralph Camargo. The tribe extends to his wife, Juliet Rylance, and his father-in-law, Tony-winner Mark Rylance—both of whom Camargo met while in the inaugural company of Shakespeare's Globe Theatre in England.
Having a network of actors surrounding him has been Camargo's true education—though his years at the Juilliard School of Drama certainly didn't hurt. "Juilliard was fantastic, don't get me wrong," he says. "But the real knowledge was sort of growing up with a family of crafts. Going to the theater to see my mom do a play, or talking about character with Mark [Rylance] and seeing what his approach is? It's been a blessing."
If you'd like to see Christian Camargo's craft, look no further than Broadway's Richard Rodgers Theatre, where the 42-year-old actor is currently starring as Mercutio alongside Orlando Bloom and Condola Rashad headlined production of "Romeo and Juliet." Camargo brings a brazen sexual energy to the scene-stealing role, which speaks highly to Camargo's ability take a fresh look on archetypal characters.
We spoke with Camargo, known to many for his roles on "Dexter" and in the "Twilight' films, about tackling Shakespeare, perfecting his craft, and staying in the moment.
Do the work first, and then throw it out
While the language of Shakespeare might be intimidating for an actor at first, Camargo says there's plenty of information within the text to shape your performance. "Shakespeare gives you these clues—these little pieces of gold dust, I call them," he says. "They tell you so much about the story, the character, the drive, the intentions. It's like a gift." The work also shows actors how to break out of the rhythm of Shakespeare's iambic pentameter. "It has its own energy to it; its own life to the lines. Budding consonants, line endings, shared lines between two characters—they're all hints about the drive of the piece and where to emphasize the beats." Still, no matter how much work you do pre-performance, Camargo says you must walk away from it. "Put your own self in there and marry the technique with what you're feeling," he says.
Surround yourself with people who support and challenge you
Camargo's family of craftsmen allows him to pick and choose what makes sense for him in a safe, supportive environment. However, that doesn't mean there's no conflict. "Actors are the most generous people when it comes to sharing their technique. But if you grew up in a household of carpenters and you're making a table, everyone would have a different way of doing it," he says. "There's healthy competition within the craft. And sometimes, in the family of actors that I live amongst, we have completely different opinions about things and ways of going about things. But to be around many people doing the same thing, where you don't feel alone and you can ask honest questions and get honest answers and take what works for you and leave behind what doesn't? It's helped me grow so much."
Don't try to be anyone other than yourself
We all know hindsight is 20/20, but when Camargo looks back, the one thing he wishes he knew then we to be more confident in himself. "Sometimes, there's a preconceived notion of how a scene or how a work should be delivered. And I see young performers sometimes try and deliver that, and it's not really true to their voice or who they are," he explains. "Audiences pick up on that very quickly." In those cases, Camargo stresses actors bring themselves to the part. "When you are cast for a role, it's because of everything that makes you who you are in that moment in time. No one else has that. That's a unique, powerful thing to hold," he says. "People are interested in you. So be confident and allow your voice to be heard and don't try to imitate what you should think or feel at a certain moment."
Stay in the moment.
"Orlando Bloom will be unemployed after 'Romeo and Juliet,' " Camargo says, bluntly. It's a harsh statement when seen through the eyes of any fulltime employee, but for an actor, that's part of the business. "No matter how many years of experience you have," Camargo explains, "We all share the same thing: Where's our next job coming from? And that brings its own sort of nerves and hinders to the enjoyment of what we're doing right now." To shift from those nerves, Camargo stresses that we stop worrying about where you should be and start focusing on where you are. "Acting is about being present in the moment—even when you're not at an audition, even when you're not on stage. It's where you are right now that you can learn the most."
Try anything
Camargo recently took to the other side of the camera, directing a modern film adaptation of Chekhov's "The Seagull" called "Days and Nights." (Camargo also wrote the adaptation, which is due out next year.) Challenged with leading his superstar cast (Allison Janney, Cherry Jones, Mark Rylance, Katie Holmes, among others) through the project, Camargo learned just how much mutual trust goes into the process, making him feel even free to play as an actor. "If I'm feeling an instinct for something that's outside the text, I'm going to go for it and just explore it," he explains. "And I'm going to do it trusting that the director wants me to explore, just like I wanted [my actors] to explore. Don't feel nervous about it. Because nerves are what close you down and make you less accessible and enjoyable to watch."
Be positive
In an industry that often favors an actor's fall than rise, Camargo knows that remaining positive is an absolute must. "It's not easy being an artist in any medium," Camargo says. "So we have to enjoy ourselves. And if we find ourselves being creative out of conflict or out of darkness, we're actually being delusional to our creative selves. That doesn't work at all. That's going to bring tension. That's going to bring something that you won't be able to make into anything that anyone wants to watch."
Don't confuse the craft of acting with celebrity.
If you're getting into this business to be on the cover of a magazine or walk a red carpet, you may want to seek out other ways to find your notoriety. "A lot of actors, and understandably, get wrapped up in the concept of fame," says Camargo. "They use this to measure their self-worth. They think 'I'm not getting famous so I must not be very good.' And there's this sort of skewed perception of the craft versus the celebrity." In Camargo's eyes, actors must focus on the one thing they truly have control over: their craft. "Celebrity is so much up to other people. We can't just exist to be hopefully picked as a celebrity. That's out of our control," he says. "We have to make that clear distinction that we are craftsmen – just like carpenters—and we need to hone that skill." Lucky for Camargo, the celebrities he's worked with on Broadway understand that distinction. "Katie Holmes and Orlando [Bloom]—they've both really dove into their craft onstage and done the work," he says. "It's been wonderful to see that."