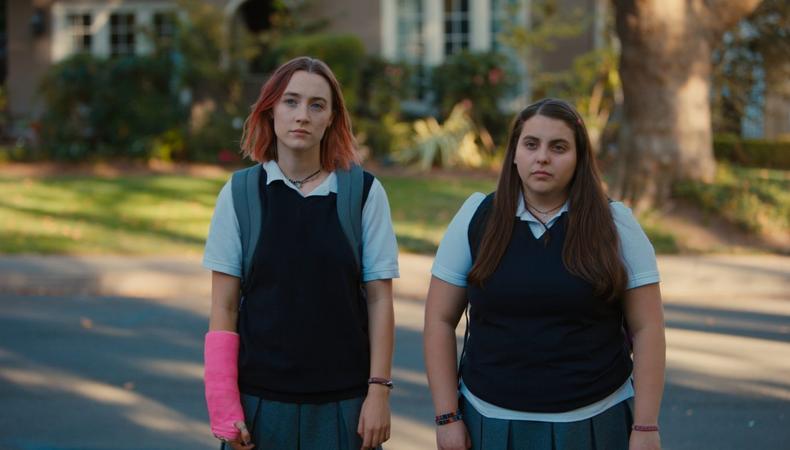 New York Film Critics Circle, another early harbinger of film awards race results, weighed in with their picks for 2017's best films Nov. 30.
Fresh off her Gotham Awards victory, Saoirse Ronan of A24's "Lady Bird" triumphed in the Best Actress category (making this her second NYFCC win in only three years; the star earned the same title in 2015 for "Brooklyn"). Greta Gerwig's film also earned NYFCC's top prize for best picture. Timothée Chalamet, another recent Gotham Award winner for Sony Pictures Classics' gay romance "Call Me By Your Name," became the NYFCC's youngest-ever winner in the Best Actor category.
READ: Greta Gerwig Talks Directing 'Lady Bird' + Her Fear of Failure
Tiffany Haddish picked up her first awards recognition of the season for her riotous performance in Universal Pictures' "Girls Trip." Winning in the supporting male category was Willem Dafoe for A24's "The Florida Project," which was also recognized for Best Director winner Sean Baker. Film critic Molly Haskell will receive the organization's special award for career achievement.
Founded in 1935, NYFCC is comprised of film reviewers from New York-based media publications. Self-described as "a principled alternative to the Oscars, honoring aesthetic merit in a forum that is immune to commercial and political pressures," NYFCC's awards are a decent predictor of bigger accolades to come.
Last year, NYFCC winners Casey Affleck and Kenneth Lonergan of "Manchester by the Sea" and Mahershala Ali of "Moonlight" went on to win Academy Awards, with plenty of other honorees nabbing Academy nominations. The year before, Mark Rylance of "Bridge of Spies" won at both NYFCC and the Oscars, but the org's 2015 selection for best picture and director were "Carol," snubbed in both categories by the Academy. Every NYFCC winner for best picture of the last decade has proceeded to secure a nomination for the Best Picture Oscar; only two also won.
For more and a full list of winners, visit the NYFCC website.
Check out Backstage's film audition listings!