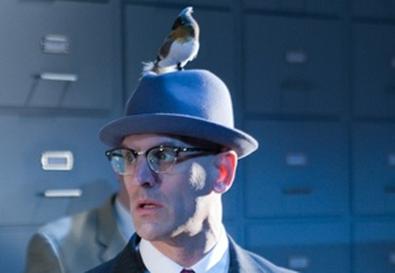 Funny for funny's sake can be a fine thing. Even if a show does not cohere dramatically and you are not sure what it all really means, if it can make you giggle and guffaw continuously for 65 minutes at unpredictably strange antics that feel somehow relevant to your everyday life, then it is an undeniably worthy affair. And that's exactly what the ace physical-comedy troupe Parallel Exit's ""Room 17B"" does and is.
A hilarious hour of silent clowning, mime, audience-involving comic business, and satiric choreography, the show is less narrative-oriented than the company's previous productions, yet just as smartly conceived and expertly rendered. Created by Mike Dobson and Joel Jeske, and directed by Mark Lonergan, ""Room 17B"" is clearly influenced by the great silent-film comedians and famous traditional forms of funny business, but it nonetheless feels highly original and quite contemporary. Set in a corporate office peopled by a tyrannical boss and his backstabbing, brownnosing assistants, the show employs scenarios of personal politics common to all working environments to instigate wildly unexpected forays into sometimes surreal territories of sidesplitting humor.
Most impressive is how much elaborate physical activity the cast accomplishes within a minimum of space. The minuscule theater in which the show plays would fit inside a typical Manhattan studio apartment, and the stage area is about the size of my kitchen. Unlike my kitchen, however, the stage has a full-size marimba in the center of it, on which Dobson frequently plays evocative music, in conjunction with a recording of a delightful original score he composed, to accompany the action.
In addition to Dobson, a classically trained percussionist who admirably holds his own among the comics, the show is performed by Jeske, a commanding and award-winning clown, and two supremely adept and appealing young performers, Danny Gardner and Brent McBeth. Kudos also to Maruti Evans, whose cunning set surrounds the actors with floor-to-ceiling columns of filing-cabinet drawers, which house bizarre items and mischievously open and close, contributing to the production's thematic portrayal of our need to control that which goes on around us and the madness to which unsettling environs can drive us.
Presented by Parallel Exit at 59E59 Theaters, 59 E. 59th St., NYC. Jan. 19–Feb. 6. Tue. and Wed., 7:30 p.m.; Thu. and Fri., 8:30 p.m.; Sat., 2:30 and 8:30 p.m.; Sun., 3:30 and 7:30 p.m. (212) 279-4200 or www.ticketcentral.com.