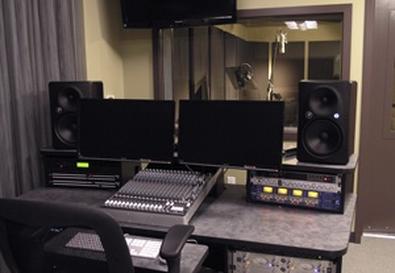 In March 2009, voice actors Paul Pape and Joe Cipriano joined engineer George Whittam to honor Don LaFontaine, their late friend and a voiceover legend, who voiced more than 5,000 movie trailers. With the Screen Actors Guild Foundation, the three worked to create and build the Don LaFontaine Voice-Over Lab, where voice performers can work on their craft and record demos and auditions. The lab is located at the SAG Foundation Actors Center in Los Angeles.
After Pape approached Marcia Smith, the foundation's executive director, about the idea, start-up funds were raised over the course of a weekend through contributions from LaFontaine's close friends and co-workers. These contributors later became the lab's advisory board.
The SAG Foundation was the perfect partner for turning this idea into reality, says Casey Lewis, construction project manager and the Actors Center's director: "Basically, our mission is to assist, educate, and inspire actors. That's what we do through our programs. So when Paul, Joe, and George came to us and said, 'Hey, we're interested in doing this; would you like to be a part of it?,' it was a perfect opportunity to continue what we do but with the support of some very high-functioning people in the voiceover industry. With that backing, we were able to say, 'Yeah, we'd love to do it.' "
Free Facilities
LaFontaine was known for mentoring voiceover actors. "One of the things he loved doing more than anything else was teaching," says his widow, Nita Whitaker LaFontaine, in the commemorative video on the SAG Foundation website. "How can you not teach when you've learned so much?" And the lab will carry on his work in its sound studios and classroom and its seminars and workshops, all offered free of charge to union actors.
It's the first facility of its kind, where actors can learn voiceover technique, hone their skills, and also create high-quality demos, making it a valuable resource for established talent and newcomers. "It's a facility where the wannabe voiceover actor can come and learn and see whether or not it's for them," says Lewis, but also "where working voiceover actors can still come in and either use the facility for education, take the seminars, or they can use it during the day for an ISDN session."
Testing Equipment
Actors who are considering buying a high-end microphone can first test it out at the lab. "Really, the only other way a voice actor can do that is to rent," says Lewis. "We've gotten so much support from mike manufacturers." One day a month, as many mikes and stands as possible will be set up for actors to check out. "One of the crowning jewels of the lab is the Manley Reference Cardioid, which was Don's mike of choice," says Whittam. They've had contributions from every major microphone and sound equipment company, as well as Apple.
The lab has a solo booth for actors working independently—recording audition material, for example—as well as a multi-booth, where several actors can work at once in animation sessions. And there's a TV monitor at the back for doing ADR (automated dialogue replacement). Seminars on careers in voiceover are available, and the lab can stream them online or record and post them. "We'll be able to have an audience far greater than just the ones that we can fit there in the classroom," says Pape.
"You've got people who work in those facilities on a day-to-day basis who'll be teaching here," adds Lewis. "So there's really no separation between what this facility has and what a professional studio has."
"Don would love everything about this," says Whittam. "The technology, the geekiness, the detail that we're putting into it…it's totally him."