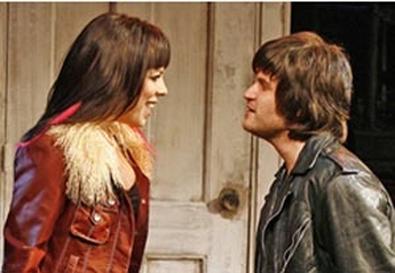 Monica (Leslie Kritzer), outgoing, ambitious, and Jewish, and Ian (Doug Kreeger), introverted, moody, and Catholic, become unlikely collaborators and lovers in Paul Scott Goodman and Miriam Gordon's genial
Rooms
:
A Rock Romance
.
Unfolding in flashback after Ian shows up on Monica's doorstep in Manhattan two years after their relationship ended, the musical charts their lives from the moment Monica asks Ian to work with her on a song she's written for a friend's bat mitzvah through their meteoric—but short-lived because of Ian's drinking—success as a punk rock team.
This familiar tale is made plausible, and curiously pleasant, by the performers, who uncover surprising depths in these Scottish youths. Kritzer easily delivers Monica's almost abrasive need for stardom even as the actor exposes the vulnerability that lies just under the character's surface. Though Kreeger overplays some of Ian's neurotic tics initially, his performance becomes increasingly rich as the collaboration and romance deepen.
Though Goodman and Gordon's book relies too heavily on the clichés of a too-rapid rise to stardom (Monica's bulimia alongside Ian's alcoholism), Goodman's songs—delivered powerfully by the performers—are a catchy amalgam of late-1970s rock styles fused with musical theatre tradition. The lyrics are well-crafted, often surprising, and even a little satiric, particularly when the duo are performing in their punk personae.
Director Scott Schwartz's production unfolds with ease on Adam Koch's set, which resembles a warehouse that's been converted into a performance venue. Two chairs and a rolling door are all that's needed to whisk the pair from their childhood homes in Glasgow to London and finally New York. Alejo Vietti's costumes, like the score, comment wittily on period styles, and though the musical never fully convinces, it's an amiable and powerfully performed trip back to the late '70s.
Presented by Van Hill Entertainment and Red Griffin Mediaat New World Stages, 340 W. 50th St
.,
NYC
.
March 16
–
May 10. Mon
.,
Wed
.–
Fri
.,
8 p.m
.;
Sat
.,
2 and 8 p.m
.;
Sun
.,
3 and 7 p.m
.
(
212
)
239-6200
, (
800
)
432-7250, or www.telecharge.com
.
Casting by Cindi Rush Casting
.