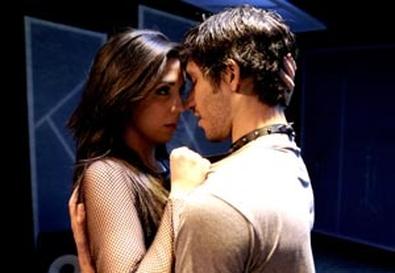 Every love story has a hook or a gimmick, not just to hold audience interest but also to carve an identity apart from every other romantic tale. Paul Scott Goodman and Miriam Gordon's 2009 Off-Broadway musical has several, any one of which would probably be sufficient. Taken together, they weave a story that's sweet but not saccharine, quirky but not strange, and just offbeat enough to capture and keep our attention.
Though the two characters are young punk rockers, most of Goodman's nearly two-dozen songs are mainstream rock, buoyed by deft touches of the nascent punk scene of the late '70s. Director Patrick Pearson's vibrant staging adds emotional heft to the story, as do the credible performances of Robert Wallace and Melinda Porto as residents of Glasgow who meet and begin working together. Goodman and Gordon's script takes them first to London, then to New York City, and while collaborating they become emotionally and then physically involved. With dialect coaching from Lora Miller, the pair's Scottish brogues are pungent but never absurd, and Pearson and music director Robyn Manion have them retain their accents even while singing. The story's "opposites attract" conceit avoids staleness by attaching moving motives to Ian's nearly pathological desire to hide from the world and Monica's almost equally obsessive hunger to see as much of it as possible.
Wallace's Ian seems obsessively reclusive, and the actor's portrayal is so complexly shaded that Ian's alcoholism earns our sympathy. Monica's verbal assaults (she labels him a "dipso" and an "antisocial wanker") make us feel for both characters. Porto's Monica is so bursting with energy, talent, ambition, and optimism that we're convinced she can absorb the blows of being with Ian even if her attempts to affect his behavior prove futile. The duo's singing of the intelligently written songs is dynamite. The live playing of Manion (keyboards), David Lee (guitar), Gary Fields (bass) and Brian Cannady (percussion) pumps the score with raw energy, and aspects such as Bradley Lock's period rock costumes, Joe Holbrook's forced-perspective set, and Holbrook and Matt Schleicher's kinetic projections add a physical dimension that causes the story's multiple themes to resonate.
Presented by and at Chance Theater, 5552 E. La Palma Ave., Anaheim Hills. Feb. 4–March 4. Thu. and Fri., 8 p.m.; Sat., 3 and 8 p.m.; Sun., 2 and 7 p.m. (714) 777-3033 or www.chancetheater.com.