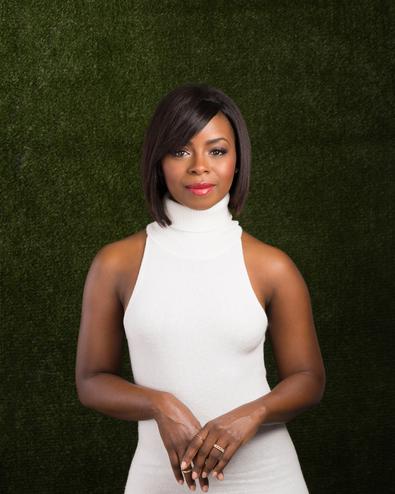 Erica Tazel is featured among a starry ensemble on History's adaptation of "Roots." She portrays several decades of life as Matilda, the mother to Kunta Kinte's eight great-grandchildren.
On source material.
"Anika [Noni Rose] and I went to the Whitney Plantation, which is the only museum in the country that is from the perspective of the enslaved person.... I picked up a book of slave narratives of women from the part of the country we were in. I started every day with one of these tales, just to get me into the time and the mentality and the extraordinary circumstances that these women were able to live under."
On the importance of women in 'Roots.'
"We are literally the physical carriers of this lineage that begins with Kunta Kinte and Alex Haley—from giving birth to these incredible people to also passing down what I've called the ancestral torch, which can be anything from familial traditions, cultural customs, religious faith, whatever we got from our mothers and our dads."
On audience takeaways.
"The one thing is reminding [audiences] that as African-American people in this country, our history does not begin with slavery. That we were people that predated [slavery]. Our time in Africa, whichever part of the coast, we came from a wonderfully deep civilization. If we have done our job well, there is potentially a child unborn who will see this and be excited about who he or she is and where they come from, and will be inspired to connect to his or her own roots, despite race, gender, and socioeconomic background."
On the ensemble cast.
"We became a family. Regé-Jean [Page] and I were given the opportunity to play Matilda and George from beginning to end; we didn't have to share those roles with another actor. Anika and I had sort of known each other around town over the years. We both started in theater, obviously, and because she's an amazing singer and I don't sing at all, we took different tracks, and it was great to finally land and meet her. We all just jumped in and were very supportive of one another. We laughed and cried and screamed and hollered and all of that, the way a family does."
On how Shakespeare informs her screen acting.
"When I went into graduate school, I was the one student who did not have any Shakespeare [credits] prior, so it's always very funny to me that I was the one who ended up having the Shakespeare career! He paid all of the bills for about five or six years. Writers like August Wilson and Shakespeare, they have these extraordinary worlds to play in and extraordinary circumstances that the actor gets to create. In many ways I think without that work, or my work in the theater in general, I'm not sure how interesting I would be on camera—assuming I am! But it definitely helps with preparation of things that are really deep. Things like 'Roots' and something as simple as maybe a guest star on a procedural... it gives me a lot of stamina, too!"
Inspired by this post? Check out our television audition listings!