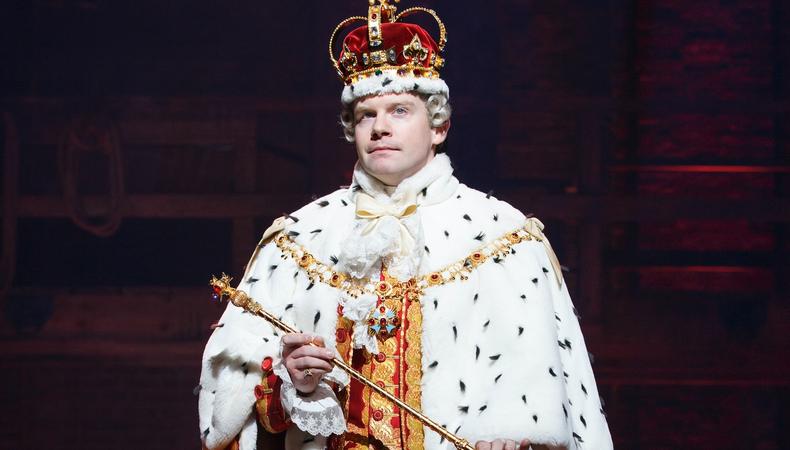 The below Career Dispatches essay was written by Rory O'Malley, a Tony nominee for "The Book of Mormon" who just wrapped his run as King George in "Hamilton" and can currently be seeing co-starring on Jenji Kohan's "American Princess," airing on Lifetime Sundays at 10/9 p.m. central.
Tough memories of early career struggles in my 20s are so clearly branded in my brain that they remain like memorials to my most desperate and vulnerable days. There was that day I was going to celebrate with a friend who had just booked his Broadway debut, but couldn't because I had to stay late at my temp job until the filing was done. There was a night I was watching a late night talk show and heard that a former acting classmate was the next guest up; I was so excited to see him on TV, but couldn't stay home and watch because it would have made me late for my overnight shift at the hotel I was working at. There was that time I was so excited to have booked a role in a new play that I ran into my restaurant to quit my waiter job only to find out the show would pay a measly $7 per performance and parking and gas would cost much more. I had to sheepishly ask for more shifts just so I could afford to do it.
These moments were not the only times in my early career that I had to choose my side job over my dream job, but they are just a few examples of when I felt the most defeated. The truth is, most days I was showing up to these jobs feeling like a failure, as though they were proof that I was on the wrong path. Many of my classmates and friends were getting acting jobs while I was struggling to even get auditions. I was convinced that I had failed before I was even given a chance to start. I became resentful of those friends who didn't have to find side work because their careers were on a roll, or because their bills were on their parents' bankroll.
It just didn't seem fair. I had worked my entire life to be a professional actor. My time was supposed to be spent memorizing Shakespeare, not the menu specials at my restaurant!
After several years of some success but not the kind of acting job that would consistently pay my bills, I finally got a life-altering call while sitting at my temp-job desk. It was a casting director saying that the "South Park" guys were doing a reading of a new musical about Mormons. She wanted to know if I could get off work for a week to participate. I went to my supervisor who said, "Cool! I love South Park!" He gave me the week off and over the next three years, I went back and forth between a desk job and the workshops of what would eventually become "The Book of Mormon" playing the role that would earn me a Tony nomination. That temp job is the only reason I was able to survive in New York City long enough to have that opportunity.
Of course, I no longer look at that job or the countless other jobs I had during that time as failures. Those gigs were the building blocks of my career. Not only did they keep me fed and put a roof over my head, they also gave me the gift of gratitude that I am still benefiting from today. It's easy for me to be thankful now in hindsight, but I wish I could have embraced that time with more pride and respect for that work because it was a part of my story as an artist. I spent too many years being resentful of the jobs that were providing me with the most valuable resource that an artist can have: Time.
Time for my dream to unfold.
Time to get better at my craft before the spotlight was on me.
Time to meet other actors and figure out what I want to say as an artist.
It certainly doesn't always feel like it, but waiting on a table, answering phones at a desk, or checking someone into their hotel room is an important stop on the path to your dream. Don't despair while you are there. Try to respect the time and find the gratitude. If nothing else, it will make your shift go by faster!
What advice would you tell YOUR younger self? Get more Career Dispatches right here!