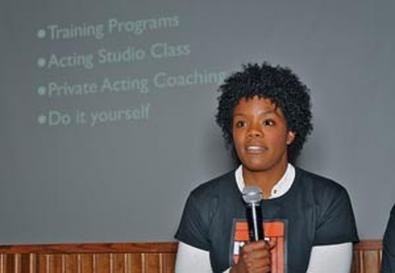 Why did actor Rosalyn Coleman Williams go into teaching? Because her parents were educators, because she learned a great deal from the people who taught her and wanted to pass that knowledge along, but also because she was dissatisfied with many of the training programs available to young actors.
"It's all based on money and the bottom line," she says. "It bothers me that if you can't learn the method that a school is teaching, then there's something wrong with you. Every actor works differently. All the greatest actors get there in their own way. You're supposed to help people discover their own method, give them power and ownership of their process."
Williams, who was the on-set acting coach for the HBO series "In Treatment," brings that approach to the film and TV classes she teaches through Actors Connection, the Actors Center, and the Margie Haber Studio, among other places. She found her way to teaching while appearing on Broadway in August Wilson's "Seven Guitars" in 1996. The Yale School of Drama graduate says colleagues would ask her for help with auditions and roles they were working on. Then Williams went to California and enrolled in Haber's on-camera workshop. She went on to teach the studio's intermediate class.
Actor Irina Belkovskaya praises Williams not just for her acting expertise but also for the way she imparts that knowledge. "She has a real gift for teaching," Belkovskaya says. "Her passion just shines through. Also, as an actress, she is well aware of how sensitive we actors may be. Her critique is thorough, to the point, but never insulting. Even though it wasn't a one-on-one class, she noted for each one of us areas we had to work on from the very first class. I use her tips when I prepare or go to auditions all the time."
Williams has also embraced new media to get her point across, co-hosting a podcast, "Everything Acting," with Darbi Worley.
"If I woke up tomorrow and won the lottery, I would still teach," Williams says exuberantly. "I get so much from my students. They keep me fresh."
Rosalyn Coleman Williams, Red Wall Productions, 400 W. 43rd St., New York; (917) 579-5227; www.redwallproductions.com
Runners-Up:
- Bob Krakower,
www.bobkrakower.com
- Ron Burrus, Stella Adler Studio of Acting, (212) 689-0087,
www.stellaadler.com
; Art of Acting Studio (Los Angeles), (323) 601-5310,
www.artofactingstudio.com
- Patricia Stark, (212) 501-2013,
www.patriciastark.com