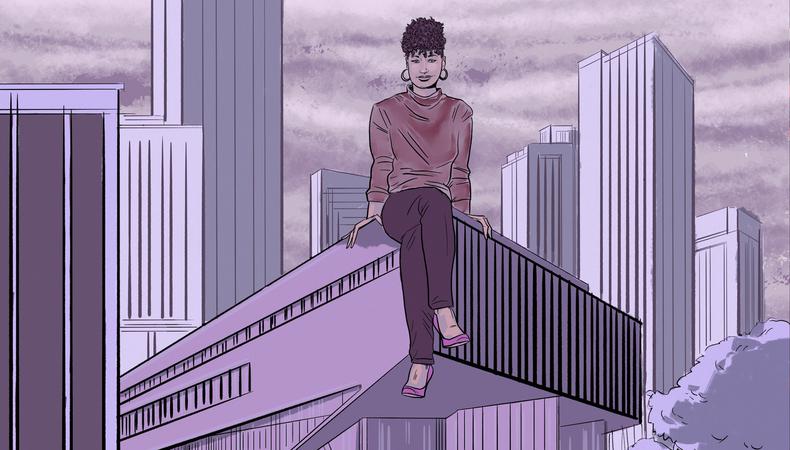 The following Career Dispatch essay was written by Rosanny Zayas, who stars on "The L Word: Generation Q" and is a graduate of the Juilliard School.
How do I even begin to talk about college? It's such an important decision we ask 18-year-olds to make. To go, or not to go, that is the question. For many, it's our first real encounter with the world, leaving home to discover new parts of ourselves. For others, it could be what our parents told us was the right thing to do. Either way, I hope I can impart some wisdom and help you on your journey with a few tips.
"Actors, in a way, are all caretakers. We take on the impossible task of being the emotional mirror to the world—but of course, that can't happen if we don't care for ourselves first."
I went to a few institutions in my day, one of which I only just recently graduated from: Juilliard, that massive glass building next to Lincoln Center. Yes, it was incredibly difficult to get into, and somehow, I graduated. But like many students entering graduate studies or universities, I couldn't afford to go there. How could anyone? To live in New York City is crazy expensive—and I was born there, so believe me, I know. But it wasn't until I graduated that I felt a particularly painful kick in my ass: loans. That's right, I borrowed money to hang out with these fancy people. Uh-oh—now I had to pay it back. But I was determined to stick to the plan:
1. Take as many TV and film classes as humanly possible
2. Book a fancy job on TV or in film
3. Get my momma out the hood and pay off my debt with the money from my fancy job
Well, sorry to burst young Rosanny's bubble, but that didn't happen. I didn't work for a while, and I spent any savings I did have on classes. And guess what? My student loan payment due date was creeping up behind me like Penn Badgley's character on "You." I had to make a tough decision: Keep taking acting opportunities that didn't pay, or find a survival job.
READ: 'The L Word: Gen. Q' Showrunner on
Making Your Own Work
I needed the peace of mind of being able to get through the day financially, so I found a job that didn't suck the life out of me. Caretaking kept me sane and helped redirect my ideas of "success." It isn't always what we see on the internet or TV; it starts by looking inward.
If I could go back to drama school, one of the things I'd do differently would be to explore more fearlessly. I remember a really great comedian came and taught us a funny bit in which you intentionally trip yourself going up the steps. I couldn't do it. How could I fall? Even though I knew I'd be there to catch myself, I couldn't let go of the fear of looking bad. Now I say: Let yourself fail. Try something new, and discover who you become.
This story originally appeared in the Oct. 7 issue of Backstage Magazine. Subscribe here.
Looking for remote work? Backstage has got you covered! Click here for auditions you can do from home!