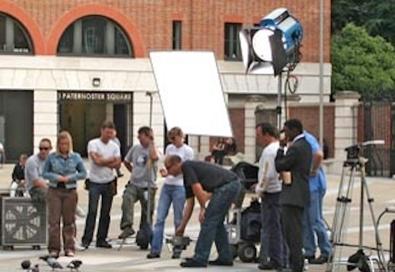 After a 15-year hiatus from acting, Rosie Cosch is back doing what she loves. In mid-June, she saw a casting notice on BackStage.com for "Love Stinks," a one-act play in New York's Midtown International Theatre Festival, and she thought it would be a great way to get back into the industry. Cosch hoped that getting cast would be an opportunity to network and build a new—or, in her case, second—career.

The Westchester County, N.Y., native had always thought she was an actor: putting on plays in the neighborhood as a little girl, running through the house singing songs from "Annie," participating in school productions from grammar school through college. But her family had strong ideas about her going into the established family fashion business.

"My father was a designer," Cosch explains. "I never thought I'd have the possibility to fulfill my own acting dreams." So she got two degrees from the Fashion Institute of Technology—while starting a theater club there—and dutifully entered the fashion world. A decade and a half later, Cosch found herself with three sons, the eldest with special needs; a husband; and mysterious tumors on her spine.

"I had some serious health issues," Cosch says. "I was depressed. And why? I was denying myself the dream of being on the stage and acting. This is what I feel deep down." She doesn't know what her health issues may be in the future, she says, "so I live every day and just go for it."

Cosch, a member of the Screen Actors Guild and the American Federation of Television and Radio Artists, submitted herself for the role in "Love Stinks" by emailing her headshot and résumé directly to the writer through Back Stage's online system. The submission process was "a piece of cake," she says, owing to the technological advances since she began auditioning in the mid-1990s. The playwright emailed back to invite her to read. A few days later she got the news, via email, that she'd been cast.

"The thing that stands out most is her dedication," says Matthew Arkin, an actor and acting teacher who has been working with Cosch for about a year and a half. "She came back after being away and has really thrown herself in. I was harder on Rosie because I know she really wants this. And once you get it, you own it. She would really keep hammering at something until she got it."

After such a long absence, Cosch still gets the rookie jitters, but deep down she's more confident and secure than when she first contemplated launching an acting career. Her biggest fear in returning was that missing out on 15 years' worth of auditions, rebuffs, and networking had somehow blunted her senses and put her at a distinct disadvantage. She found the opposite was true.

"That's 15 years of life experience," she says. "Everything I've been through, I wouldn't do it differently."



Has Back Stage helped you get cast in the past year? We'd love to tell your story. Be in the weekly column by emailing [email protected] for New York or [email protected] for Los Angeles with "I Got the Part" in the subject line.