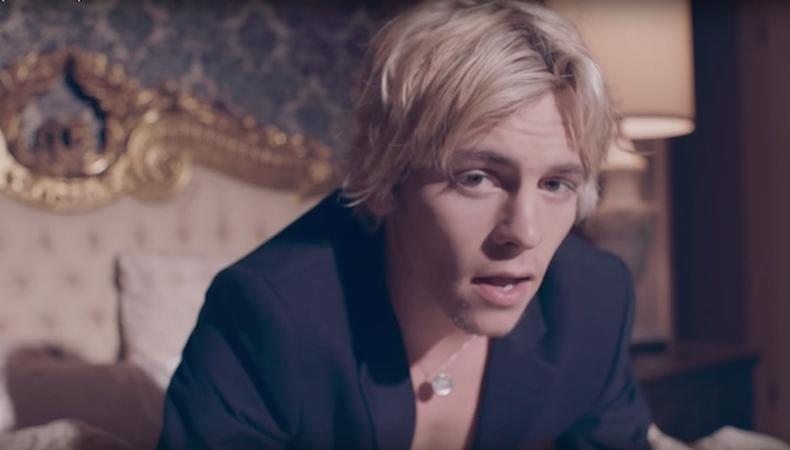 This last month has seen actor and R5 frontman Ross Lynch go from Disney to Dahmer—and he sticks the landing. The 21-year-old multi-hyphenate takes on serial killer Jeffrey Dahmer in writer-director Marc Meyers psychological thriller "My Friend Dahmer." But rather than focus on the atrocities we know him for today, the film locks in on his formative high school years, where he was a bit of an outsider and recluse—a young man uncomfortable in his own skin. Lynch recently came by Backstage HQ in Brooklyn to discuss the film, how it marks a change of pace from his "Austin & Ally" and "Teen Beach" days on Disney Channel, and how he finds balance between touring as a musician with his brothers in R5, auditioning on the road, and filming on the in-between.
Lynch couldn't let the Dahmer we know today influence his high school incarnation.
"[Meyers] was wanting me to not necessarily go too far into what Dahmer would become because our story did take place before any of that happened. But I did think it was necessary to go pretty extensively into everything that he did and especially to watch a lot of his interviews where he goes through his high school years. He talks to his dad on camera—he explains why he was doing the things that he did. So that was really good stuff. I pretty much know everything there is to know about Dahmer."
READ: 6 Tips for Getting Cast on the Disney Channel
Playing a real figure was new territory for Lynch.
"Playing a real person, it does add an extra level of thoughtfulness. You're portraying someone who actually existed, so instead of saying, like, 'OK, I think this would make the scene better,' it's more a question of, 'What do I think the real Jeffrey Dahmer would do?' Whereas you have a little bit more creative freedom, maybe, if you're playing a made up character and you can do kind of more unexpected things, with this character, it was very much about learning about the way he moved and his physicality and somewhat the way he spoke."
His goal was always to move beyond Disney.
"I took the role initially because it's a fascinating story and it's a great character to play for any young actor, and that's ultimately what I want to do, is to have that great challenge and to explore and to try new things. Although I started at Disney Channel, the goal was to always eventually do something like this. But I'm really proud of those days, too. I had a good time on those sets and I learned a lot as an actor. But this was definitely the next step in order for me to show versatility. And I think it worked out really well. It's really actually helped with a lot of opportunities since the film has come out."
His music and acting 'definitely go hand in hand.'
"It's nice to have a variety in creative work that I like to do. Sometimes I don't refer to myself as—and I got this from A$AP Rocky of all people, but [he said] it's not that you need to be an actor or a musician or a painter or a stylist or whatever it is, you can just be an artist and just explore creatively."
The key to self-tapes is a good reader.
"It's hard because especially with self-tapes, sometimes you just can't really find a good actor to work with. There's obviously a lot of friends that I have, but maybe they're working or their schedules don't line up, but it's really hard to find someone who can give you a good rhythm and good push and pull because a lot of acting is really musical, it's let's play off of each other and let's get something going because a lot of times with self-times, you find yourself not necessarily connecting with the other actor, and that makes you look worse because you're not having that chemistry. So that's definitely a big tip with that."
READ: 3 Things to Know About Casting for Disney Channel
It's challenging to keep his personal and professional lives balanced.
"It's definitely challenging. It's challenging because it's hard to make them even, you know what I mean? One is going to sacrifice [itself] for the another. Especially when I filmed 'Dahmer' and these other films, R5 definitely had a moment where people were like, 'Oh, are they still around?' Nowadays, if you're not posting and you're not staying up and current on social media, then people just assume that you're not going anymore. And vice versa with touring—yeah, I'm still sending in self-tapes for films and stuff, but it is hard. I'm trying my best and right now it's really great because the momentum of Dahmer can help my music and vice versa. So the work part is harder to keep balanced, but if one is really succeeding, then it helps everything…. There are times when you sit down and you're just like, 'Man, I don't know if I can do it right now.' Take a second—go to the woods and just hang out or go to Yosemite and check it out, be in nature for a little while, clock out—which is super healthy, especially for creative types. Honestly, for everyone. Everyone needs that at times. And sometimes with a career where you have these multiple outlets, it's hard to find that time, but I really have a lot of ambition and work ethic and I want to do a lot of stuff."
Want more from Lynch? Check out our full video interview on our Facebook page!
Ready for the big screen yourself? Check out Backstage's film audition listings!