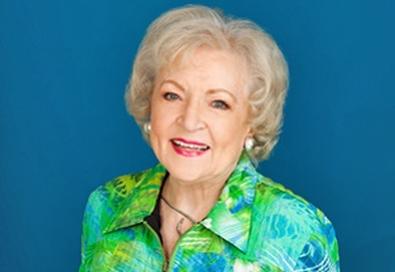 Modesty is the last thing Betty White should be indulging in before she accepts a Life Achievement Award for her legendary 61-year career, to be presented at the 16th annual Screen Actors Guild Awards, airing Jan. 23 on TBS and TNT. But when faced with the statement that practically everyone in the free world has grown up with the dimpled comedian and adores her natural presence, impeccable timing, and hilarious quips, the 87-year-old shakes her head. "Oh, have I got you fooled," she says with a smile. "No."
Yes. If audiences didn't first notice White as Rose Nylund telling St. Olaf stories on "The Golden Girls" in 1985, then it might have been as the man-hungry "Happy Homemaker" Sue Ann Nivens on "The Mary Tyler Moore Show" in 1973. Some might even recall when White produced and starred in "Life With Elizabeth" in 1953. All three roles earned her Emmys. Even kids born in the 1990s enjoyed her work as Noriko in Hayao Miyazaki's animated film "Ponyo" and her scene-stealing yet touching performance as Grandma Annie in last year's "The Proposal," opposite Sandra Bullock and Ryan Reynolds.
White's appeal is timeless, and she's not slowing down anytime soon. So there's no sense in being coy about the guild's most prestigious accolade. "You can't be coy," she says, because life achievement awards "don't happen that often in your career. You have to be not only deeply grateful but deeply excited, because it's your peers making the judgment." She adds, "I keep thinking they've made a mistake and they're going to correct it. But I'm thrilled, needless to say." There's that modesty again. From game shows to commercials to variety shows to FunnyorDie.com sketches, White may have performed in every genre at this point—except sci-fi.
"No, and I'd love that because I'm a big sci-fi nut," reveals White, who recently finished a four-day stint on her very first soap opera. "I died, and I got to act a lot. Oh, I died very dramatically. Alley Mills is a regular on 'The Bold and the Beautiful,' and she's wonderful. She's married to Orson Bean, who's an old friend. So Orson wrote me a note saying that he had heard about the SAG Award and he said, 'I'm freaking proud of you, Betty.' So I wrote him back and thanked him for the note. I said, 'I'm on a roll. I just got nominated for president of the FOAS,' and I put a star and then I translated it at the bottom: the Freaking Over-Acting Society."
Here the self-deprecating star looks back at six decades of hard work, happy memories, and applause.
Back Stage
: Some people joke that you started out in "silent television," but it's kind of true. Tell me about the time you did some scenes from "The Merry Widow" in 1939 on this revolutionary invention called television.
Betty White
: I was in high school [in Beverly Hills] and was graduating. In fact, I wore my graduation dress. The graduating class president, Harry Bennett, and I were the "Merry Widow" couple. And we danced and we did the scenes. It was a new thing that they were experimenting with in New York, but we had nothing like it out here [in Los Angeles]. So they turned the fifth floor of the Packard Building downtown into a studio for that night, and the lights were so hot and so bright. We wore brown makeup and brown lipstick. We were just dripping sweat. If folks wanted to come see it, they had to walk around among the cars down on the show-room floor and there would be a little monitor. That's as far as we went, from the fifth floor to the first floor. It carried sound, not well, but it carried. It was an interesting experience. Little dreaming that I would wind up with my livelihood being television.
Back Stage
: Did you ever have any formal acting training?

White
: It's terrible to say, and please don't take this wrong, but I avoided acting lessons like the plague, because I never want acting to show. So many of the people that I knew who were studying very heavily in acting—all of a sudden they'd be one person, and then you'd see this performance start, and I thought, "I never want to do that. I just want to bring as much natural as I can." I'm not saying that people who take acting lessons are false. They're much better than I am, but it doesn't work for me. Let's put it that way.

Back Stage
: I read that you considered your four years on "Hollywood on Television" with Al Jarvis to be like "television college."

White
: That's where I learned. Whatever happened, you had to think on your feet. Any celebrity who came through town would come through us. Five and a half hours a day, six days a week, and no script, no nothing. We were always running late because we would have so many commercials. The most commercials we ever did in one day was 54, and that's a lot. They'd sneak in off-camera and put a piece of copy in front of you, and you were supposed to look at it and then sell it. Al and I would make up these silly sketches. We wouldn't know where the other guy was going, but we knew each other so well and worked well enough together. It was great fun.

Back Stage
: Due to your many appearances on game shows like "Password," "The Hollywood Squares," "Match Game," and "The $20,000 Pyramid," people started only thinking of you as a TV personality. It took "The Mary Tyler Moore Show" to really remind audiences and the industry that you are one hell of an actor.
White
: Thank you for that, but it did. It was a breakthrough that was wonderful. Instead of a quote "personality," you had to play a role. Sure, she was a neighborhood nymphomaniac, but it was a good role.
Back Stage
: "The Golden Girls" was really groundbreaking and successful because it reinvented the concept of family and the idea that older people could be polished, fun, sexual, and vibrant beings.

White
: And some of us abused the privilege of being sexual, like Rue McClanahan. When they first cast it, they asked me to do Blanche and Rue to do Rose. Well, our director for the pilot was Jay Sandrich, who had directed most of the "Mary Tyler Moore" shows, and in his wisdom he said, "If Betty plays another neighborhood nymphomaniac, it's going to feel like Sue Ann Nivens all over again." He said, "Why don't we switch them?" Well, it was great fun, because we each had new territory to investigate, and Ruesie took Blanche out into orbit where I never would have had the guts to go. She was wonderful! [Rose] was great fun to play. Everybody would say, "Oh, Rose was so dumb." She wasn't dumb. She had a Viking temper, but she was terminally naive. She was the innocent of the Western world, which was a challenge. What I loved about the script [was] we weren't there for economic reasons. We were there for friendship reasons, which made a difference. Sure, we didn't always all get along, but you knew underneath they all loved each other as we did. They would always ask us in interviews, "Would you be interested as you get older in having that kind of relationship?" And as a chorus we would always say, "No!"

Back Stage
: You tackled some serious stuff in the show. Rose alone dealt with an AIDS scare, prescription drug addiction, heart attack, unemployment, among other things. There was a healthy balance of comedy and drama.

White
: The writers were so smart. I always use the analogy that we were like four points on a compass, because our characters didn't slop over into each other. We were four distinct characters, and the writers would throw a situation in the middle of the table, and the audience, knowing the characters so well, would wait to see how each character responded to that situation in kind. It was a wonderful opportunity to get inside a character and really know how she breathed and thought. Oh, it was a lovely experience—seven of the best years of my life.

Back Stage
: I have to ask you about Bea Arthur since her passing last year. Can you say something about her?
White
: It was the same when Estelle [Getty] left us. You cannot be that close professionally and not be a family. We had to let Bea go. She was so ill. She was in terrible trouble, but it doesn't make it easy. And I still—every once in a while, I'll be signing pictures or something like that and it hits you all over again that she's not there anymore. I really loved that lady. She was so good. Oh, she was so good.

Back Stage
: What is your fan base like these days? Is it still 70 percent people under age 25?

White
: Oh, at least maybe 50 percent. And lots of—I say males, probably gay males, but I'm always amazed at the gender and the age bracket. Now we've been off the air for 20 years, and they still have these "Golden Girls" clubs in college and all that. It's amazing that it would sustain for that long, and at one point for years we were on four times a day. So the audience knew the lines better than we ever did. So when the DVDs came out of all the seasons, I thought, "Who's going to buy the DVDs?" But when we first came out, we were the top DVD set. It's just phenomenal. Again, it goes right back to those writers.

Back Stage
: What's next for you?
White
: I just finished playing Grandma Bunny in "You Again," with Sigourney Weaver, Jamie Lee Curtis, and Victor Garber. It'll be out in September. There are not too many good parts for old broads like this. I'm always Grandma somebody, but it was great fun. She wasn't a mean granny or a dirty granny or a silly granny. She was just kind of an ordinary granny that had her shortcomings. I've also got a commercial coming out for Safe Watch, which is a wonderful product, and I'm doing a guest shot on a pilot in January.

Back Stage
: How would you like to be remembered?

White
: Probably for my animal work. Hopefully, having changed a little thinking somewhere. I've been with the Morris Animal Foundation for 43 years. They're a health organization. We fund humane studies into health problems of dogs, cats, horses, and zoo animals and wildlife. And I've worked with the Los Angeles Zoo for 43 years as well, and I think we've come a long way in the animal business—a long way. The animal world has really come to the point where we realize what a major part of our lives they are, so that's how I'd like to be remembered.

Back Stage
: I hear your fifth book will be a coffee-table book with pictures and anecdotes about animals in the L.A. Zoo. When can we expect to see that?
White
: Well, naturally, working that closely with the zoo for 43 years, some of these animals are my personal friends. Tad Motoyama is our wonderful photographer at the zoo, and through the years he's always given me all the pictures of the animals. So I use Tad's magnificent photos, and then I write up a personal anecdote or story about that individual animal. I've been working and traveling so much lately. I've got to buckle down and get back on that book. I'm about halfway through it.

Back Stage
: You've said in the past that you stay in show business to pay for your animal work. What do you love most about animals?
White
: [Animals] won't lie to you, that's for sure. And if you pay attention, you learn to read them, but never as well as they read you. They're something.
'Thank You for Being a Friend'
Betty White's friends and co-stars reflect on the actor's life and career.
Edward Asner
"Betty White is one of the most delightful strumpets I've ever met—and believe me, I've met a lot of strumpets. As someone said of Caesar, 'Why man, he doth bestride the narrow world like a colossus.' That's Betty, except her narrow world is the wide one of showbiz. She is a master—or mistress, if you prefer—of sincerity and talent. Few can match her ability that when you're talking to her, you won't get bullshit as a response. She's an ageless, talented straight arrow, and so deserving of this award and any others."
Sandra Bullock
"What can I say about Betty White other than she is a tender lover, and that she smells really nice. I guess all that is left is this: If at Betty's age, I have accomplished a quarter of what she has in memories, love, and laughter, I would consider myself the luckiest person in the world. Any honor bestowed upon Ms. White will never equal the blessings she has bestowed on the rest of the world. So let this Screen Actors Guild Award be the beginning of many more to come!"
Jay Sandrich
"Betty is a director's dream to work with. Fun, easy, and amazingly creative—just mention an idea and she's off and running. And she always approaches every job like it's her first one. But as brilliant a performer as she is, she's even more amazing as a person. She cares about people—and any animal that's lucky enough to be nearby. But even more important, she's a wonderful, wonderful friend. Plus she's a great hugger."
Carol Burnett
"She's too pretty to be that funny. We've been friends for over 40 years. Betty was always one of the favorite guests on my show in her many appearances. Wow, six decades—congratulations!"
William Shatner
"Her white hair and few wrinkles belie the adolescent turmoil in her soul."
Rue McClanahan
"No one is more deserving of this award than Betty."
David E. Kelley
"What else can be said of Betty? The world loves a dirty old lady. Well-known as the dirtiest, it's nice to see her finally recognized as the oldest. By the way, she also happens to be a gifted actress, comedienne…and a simply wonderful person."
Orson Bean
"I go back to the Stone Age with Betty. After dinner at her house, I watched the Beatles' first American TV appearance, on 'The Ed Sullivan Show,' then got into the cooking sherry and went to sleep on her dining-room floor. She was very understanding. More recently, she died with enormous grace playing my wife's mother on 'The Bold and the Beautiful.' One of my favorite people on earth, she continues to grow as an actress and a human being."
Valerie Harper
"I always liked her. That sweet smile and charming voice on our black-and-white TV. Then I met her socially through Mary Tyler Moore and I really liked her. Then I got to act with her on 'The Mary Tyler Moore Show' and it was sheer love. Still is. Betty, bless your dear perennial heart."
Harold Gould
"A few words about Betty: An acting career of artful cheeriness, cunning cleverness, and stunning dumbness, and all the nuances in between, combining genuine warmth with a laserlike focus in both her art and any cause she undertakes—that defines Betty for me. Relaxed, heavily X-rated talk offstage before our entrance [on 'The Golden Girls']. But when we opened the door and stepped onto the set in front of cameras and audience, the raunchy lady I'd been speaking with snapped instantly into bubbly, empty-headed Rose. The lightning speed of that ready convertibility has afforded her a long life in this business."
Anne Fletcher
"[I] can't sum Betty up in a few words or sentences even. She is truly a one-of-a-kind person. Layers upon layers of genius, heart, humility, humanity, and talent touches ever so slightly on what makes up Betty White. I love this woman dearly and am the luckiest person to be able to call her my friend. She is a true professional. The younger generations could and should learn from this woman, not only her professionalism but her talent. Bar none. She's always on time; she's always in earshot of set. Busts her tail and works above and beyond. She's happy to be at work, and with all of that you also get take after take of genius performances. Betty can hilariously take you down in one sentence, without raising her voice or using vulgarity. Her wit, timing, and her creative intelligence are what make her classic, classy, and brilliant. When Betty first came to set to start shooting 'The Proposal,' there was a blanket of awe and giddiness from the cast and crew that only Betty can achieve. I realized in that moment that there wasn't one person on that set, no matter what age, that didn't grow up with her. She means so much to most everybody. A fixture of brilliance in the industry and a fixture in all of [our] hearts forever!"
Craig T. Nelson
"I had the pleasure of working with Betty White for the first time on Disney's 'The Proposal,' and she is just beautiful....a fantastic lady! She is extraordinarily talented and has promised to put me in every movie she ever makes from this day on."
Craig Ferguson
"Betty White is simply the most beautiful, talented, vivacious, fragrant, sultry, and downright sexy actress there has ever been. If you don't love Betty White, go and join your friends in al-Qaida."