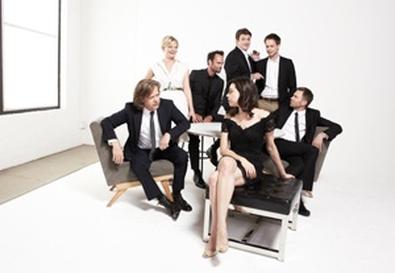 The 2011-2012 television season again proved that some of the best storytelling can be found on the small screen. As the Emmy countdown begins, Back Stage gathers several actors, representing the best in television drama and comedy, at Studio 1342 in Los Angeles to discuss how they booked their roles, what it's like to be nominated for their work, and how they handle being fired.
The participants are two-time Emmy winner William H. Macy, who stars as the alcoholic father on "Shameless"; Walton Goggins, whose performance as former white supremacist Boyd Crowder on "Justified" earned him his first Emmy nomination last year; Martha Plimpton, who also scored a nod last year playing the hilarious and outspoken grandmother on "Raising Hope"; Patrick J. Adams, whose work on "Suits" as a brilliant lawyer practicing without a degree earned him a surprise SAG Award nomination this year; Nathan Fillion, who has played the charismatic title character on ABC's "Castle" for four seasons; Aubrey Plaza, who deadpans brilliantly in the stellar ensemble cast of "Parks and Recreation"; and Joel McHale, who pulls double duty as the host of "The Soup" and as a lovably narcissistic student on "Community."
Walton Goggins (Dan Busta)

Walton and Martha, you were both first-time Emmy nominees last year. How did you get the news of your nomination?WALTON GOGGINS:
My little boy had woken up and the announcements were coming relatively soon. And I handed him over to my wife and said, "Can you handle this please, so I can just go downstairs and watch?" Tim [Olyphant] was announced first, so I started screaming. And my wife said, "Please be quiet, I'm trying to get him back down!" So when I heard my name was called, I had to be really quiet. I couldn't even celebrate, to be quite honest. But it was so unexpected.
MARTHA PLIMPTON:
I was on vacation; I was renting a little summer house. And I didn't want to know [when] they were announced. That's just stressful. And the truth is, we were in our first season, and it's very unusual to get any recognition that first year. I was just happy to have the gig and not really thinking beyond that. So when I did get the call, it was really surprising and really thrilling and wonderful.
Martha Plimpton (Dan Busta)

And William, you've been nominated several times and won twice.WILLIAM H. MACY:
I remember the second time, we were lying in bed and the phone rang at a quarter to zero in the morning, and I turned to Felicity [Huffman, Macy's wife] and I said, "Well, either a family member just died or I got nominated."
JOEL MCHALE:
Or both.
What's it like to actually hear your name called as the winner?MACY:
I'll tell you this, and this is God's honest truth: It's better to win.
GOGGINS:
Did you practice the speech? Did you have an idea what you would say?
William H. Macy (Dan Busta)

MACY:
Of course. The schmucks that get up there with nothing to say, they should take a look at what they do for a living. Get writers, man. But the loneliest time in the world is when you go home and you haven't won. You've taken off your freaking tuxedo, and there's this speech that you didn't get to give that's so much better than the speech that won.
Patrick, you earned a SAG Award nomination this year, and I understand no one was more surprised than you?PATRICK J. ADAMS:
Yes! I had a similar situation to Martha -- I mean, I wasn't at my summer house because I don't have one of those yet. But I had no idea it was the morning of the nominations, and we were in our first year, and it was so unexpected. I was just happy to be working when I had been fired from something just six months before --

Nathan FILLION:
Fired?
Nathan Fillion (Dan Busta)
ADAMS:
Fired. From a terrible pilot that everyone got fired from, but I was the first. I was fired after the table read.
Since you've opened the door, I have to ask: Have the rest of you been fired from jobs?
MACY:
Sure. And it sucks; it burns. You carry it around for weeks.
PLIMPTON:
I was 12 years old when I was fired. It was like a double trauma whammy. It was this musical called "American Passion" -- Robert Downey Jr. and Jane Krakowski were in it. They called me in and fired me to my face, to my 12-year-old face! And my mom had already gotten me a dress for opening night.

AUBREY PLAZA:
Do you think that made you more determined -- like, "I'm going to show everyone"?
PLIMPTON:
Well, I cried hard for a night. But maybe two months later I got a lead in a movie, my first movie, "The River Rat," with Tommy Lee Jones and Brian Dennehy. And had I been doing that musical, I wouldn't have been able to do that movie, so it's like one door opens when another closes. And kids are resilient.
Aubrey Plaza (Dan Busta)


PLAZA:
I've never been fired, but I also haven't been in this for long, so I'm sure I'll get fired someday. But I have been rejected so many times. So much rejection, and so many ways to be rejected.
MACY:
I like "They decided to go a different way."
FILLION:
When I was a waiter I was fired twice from the same restaurant. I guess I was that good of an actor but that bad of a waiter.
GOGGINS:
I've never been fired. But on "The Shield," after they watched the pilot episode they said, "You know what, this guy's fired." And I had four fucking lines in the pilot. How can you fire someone with four lines?
MACY:
Wow. You must have been really, really bad.

GOGGINS:
Right? And Shawn Ryan, the creator, said, "No, just trust me with this guy." And then he wrote the second episode for me, and I didn't know that until the very end of the first season. He said, "The reason why you had a big second episode is so that you could keep your job."
How did you book your role on your current show? I imagine some of you probably auditioned, some got offers?
MCHALE:
For "Community," it was actually the creator's girlfriend at the time who liked "The Soup" and said, "You should call that guy in." And they brought me in, and I read with the producers and then did the network test. Which did not convince them, so they put me on tape, and then I got the OK. I was like, "What was the difference?"
FILLION:
So you're saying you do better when you're not in the room?
MCHALE:
Apparently. Network testing is a very unnatural thing. [To Macy] You've probably never had to.
MACY:
Oh yes, I have. And I'd say that's the lowest part of our business. Going to network has to be…if it's not the bottom, it's really close to it. Sitting in that room with five other people.

FILLION:
It's a colossal mind screw. Almost half of getting the job is if you can survive the process.
ADAMS:
There was something that happened after getting fired; something kind of snapped inside me. I just don't give a shit anymore. And then I picked up "Suits," and the pilot is this guy that's at the bottom of the barrel. He screwed up his life and he feels like he's got nowhere else to turn. And he gets one chance. So it was not a hard thing to go into an audition and understand the stakes. My audition scene was from the pilot where I'm asking Harvey Specter to give me a chance: "I can do this. I've learned this. I've done my time." It was not hard to say those words.
William, was yours an offer situation?MACY:
Yeah. I'm a big fat cheese. [Laughs.] It was simple: I read the script, I saw the British version, I said yes. It took about 20 minutes. But the other question was to do TV or not to do TV. And I'm loving it. I just love it so much, I can't tell you.

ADAMS:
You must have gotten a ton of stuff before that came along. How did you decide this is the one?

MACY:
I'm torn between telling you that I don't get a ton of stuff and letting you continue thinking that I get a ton of stuff.
Patrick J. Adams (Dan Busta)


ADAMS:
With people in your position, is there kind of like an announcement to the industry, like "Hey, I'm considering taking a TV show; send me stuff"?

MACY:
Yes, you do that. And I did do that. And it was about three years and no, not a ton of offers.

PLIMPTON:
I was working on a movie in Canada, and I got a call that there was a pilot script coming my way. I guess they'd been looking for an actor for quite some time and hadn't been able to really find anyone. So I flew out to test, which is also very stressful. But the support that I had from Greg Garcia, the creator, and the director of our pilot, Mike Fresco, really helped. So going through that network and studio process was much easier because I knew they had my back, and I knew that they were behind me.

FILLION:
I had one of those deals with ABC. They put a stack of stuff in front of you, and "Castle" just happened to be the last one I read. I had a meeting with the producers, and I literally told them, "Stop looking. I'm right here." I don't typically do that.
What was it about the script that grabbed you?
FILLION:
I think that I enjoy watching characters who are flawed. I used to want my characters to be perfect and really cool and likable, and I learned quickly that they're not relatable and really impossible.
Walton, is it true you were only going to be in the pilot of "Justified"?GOGGINS:
Yeah, it was a favor for some old friends, and it was just to do one episode. And I just fell in love with this character, but Boyd got killed in the pilot. I was kind of off doing other things, and they called back after they had tested it and they said, "Do you want to continue?" And I said, "Yes, if he can now find God in a real way." I loved the opportunity to meet a guy in the pilot who changes and you see who this guy really is.

Aubrey, how did you get involved in "Parks and Recreation"?
PLAZA:
I was living in New York, and I came to L.A. for a week. I was kind of working with an agent, but I wasn't signed with them or anything, and I auditioned for "Funny People," which is the first movie that I was in. Then they just sent me on a bunch of meetings. I met with Mike Schur and Greg Daniels, who were creators of "Parks and Recreation." We talked for an hour about nothing that had anything to do with the show, and then at the very end they said, "We were actually thinking about having an assistant to Amy's character, which could maybe be like a blonde kind of airhead type, like a spin on that." And I said, "What if it was a college student that kind of stumbled into that job because she needed the credit and she hated everyone, but she's really smart?" They were like, "That's really funny." And they wrote me into the pilot. They actually used my name in the original script. So I never had to audition for it, but then they made me come in one time and read one scene on camera, so that they could give it to someone.
People like to use the term "big break," but when was the moment you first felt you'd really made it as an actor?
FILLION:
I think it was the first time I got a lead, which was "Firefly." And it was a surreal moment, because I was going to be a high school teacher. I thought I would get my degree first, and four months shy of graduating I got a call from New York saying they found a year-old audition tape of mine. They said, "If you're still acting and interested, we'll fax you the script and you FedEx us a tape." And two weeks later I'm living in New York City.
PLAZA:
I had a very intense week where I literally got "Funny People," "Scott Pilgrim," and the show. Right before I got them, I called my old restaurant manager to see if I could get a job there because I had no money and I was living in Queens. And I was joking to everyone, "Well, I'm probably going to get all three of these, so I'm going to be really busy and can't hang out with you."

GOGGINS:
For me it was "The Apostle." I was 24 years old and getting an opportunity to work with Robert Duvall. It changed my life. He called me with the news, and I saved that message for as long as I possibly could. Duvall was amazing. The first day, we were in Lafayette, Louisiana, and we went out to dinner and I didn't say anything the entire time. I just looked down at my plate. I didn't want to get fired or say something stupid like "Hey! I like 'The Godfather'!"
FILLION:
Would you consider him a mentor?
GOGGINS:
Absolutely. I was at that age where I was extremely impressionable, and I finally got up the courage after being with him for a month to say, "How do you do it, man?" And he just said, "I don't do anything. I just play pretend. A child's game." Which just fucking floored me.
ADAMS:
I just had a similar experience working on "Luck" with Dustin Hoffman. We were shooting for like a 12-hour day, and I'm fried and exhausted. We're shooting in this fake elevator and there are these digital buttons that tell you what fake floor you're on. I see him staring at these buttons as they test 1 to 12 and back to 1. He catches me staring at him and just looks around and smiles and goes, "That's pretty fucking cool, huh?" He could not get enough of it. And then he started pretending how he could act the elevator moving. He was like a little kid, just totally immersed. And I thought, if I could keep that kind of curiosity and just joy for something as small as those buttons, I would be fine.

PLIMPTON:
I've got a lot of those moments where I could say, "Jesus, this is unreal -- I can't believe my good fortune." But the second that is over, it's back to square one. I just never feel that sense of landing anywhere. But doing "The Coast of Utopia," the director Jack O'Brien said something that really helped me. He said, "There is no Coast of Utopia; it does not exist. The ship leaves port, and it never really lands again. And everywhere you do land is just another mirage, just another island in the distance. Now you've got to keep going." That was when I sort of realized, I don't have to resent this state of living; I can actually enjoy this!
Joel McHale (Dan Busta)

MCHALE:
The moment in my career where I realized things were different was when I got asked to be on "Sesame Street." It was such a big deal to me.
Was that more or less thrilling than being referenced on "Saturday Night Live" in a "Fifty Shades of Grey" sketch?
MCHALE:
That was pretty awesome.

Were you watching at home?
MCHALE:
No. I have a seven- and a four-year-old, so I collapsed. But there were a lot of tweets. It was really cool. That was a big moment and so was the first time I walked out to do "Conan O'Brien." I was like, "I can't believe I'm here. At one point, I was in the audience!"