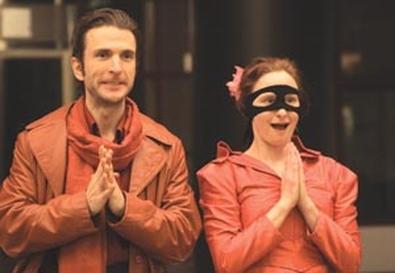 Aphra Behn was certainly the first woman to make a living writing in English. Virginia Woolf even contended that Behn was the first female professional writer anywhere and an inspiration to all women who came after her: "It was she who earned them the right to speak their minds." In Behn's heyday, the 1670s and 80s, she wrote some 15 plays, along with well-received novels and poetry. "The Rover," from 1677, was an instant hit that has been largely lost to later audiences. This lively production is a welcome return to the repertoire.
Behn was no better at plotting and dialogue than her male contemporaries, led by the two Williams, Congreve and Wycherley. But her instant popularity and enduring importance to literary scholars stemmed from her reversal of traditional leading characters. Here the women don't have all the lines, but they do have the power and freedom of expression of their desires, a radical notion in the late 17th century. That makes the men more like mere playthings.
Two sisters disguise themselves as gypsies during pre-Lenten carnival in Naples, looking for love in the "wrong" places. Florinda (Kersti Bryan) intends to defy her brother's insistence that she marry the rich Don Antonio (David Ryan Smith) and instead pursue her true love, the English general Belvile (Cooper D'Ambrose). Hellena (April Sweeney) doesn't yet know who the object of her dalliance will be, but she is overtly determined to experience sex and escape her imposed life "designed as a nun." (Behn herself was rumored to have been a postulant before breaking out into a colorful life that included both living in Dutch Guiana and working as a spy for King Charles II in Belgium.) Pretending to be a palm reader, Hellena attracts her worst opposite, Willimore, the title character (M. Scott McLean). ("Rover" in Behn's time meant "womanizer," so it was also a daring title.) Angelica Bianca (Vanessa Morosco), a Paduan prostitute claiming to make a thousand crowns a month selling her favors, arrives in Naples during Carnivale, open for business. While she starts out on the dark side, she ends up being dueled over by two men who don't care about her past trade and prefer to see Angelica living up to her name.
The leads are all excellent, and director Karen Coonrod keeps her cast of 12 (some of whom double as musicians playing Lucian Ban's evocative tunes, and all of whom double as ushers) moving along with the action—and the audience. The 90-minute production progresses every 10 minutes or so throughout the 3.5-acre World Financial Center complex. The audience, when not on the run, mostly sits on the floor or stands. Wisely, Coonrod has kept her players in Behn's proper period, abetted by Oana Botez-Ban's colorful costumes. Voice and speech coach Camille Mazurek deserves special praise for eliciting from her cast uniformly apt accents, as if indeed the actors are all in the same play and the characters all actually know one another.
The inevitable modern intrusions of the venue, such as escalators, six-story-high palm trees, and late-working stockbrokers on their way home are mostly cute, but the sound "system" is decidedly not. Many of the stops have ceilings that are just too high for the mercifully unmiked actors to be clearly understood, and sometimes they try to compensate by speaking louder than their situations or dialogue call for. Still, it's not every day you get a chance to see a decent production of "The Rover," and the price is right: It's free.
Presented by Arts World Financial Center at One World Financial Center, 220 Vesey St., NYC. March 2–20. Wed.–Sun. 7 p.m. (Additional performance Tue., March 8, 7 p.m.) Tickets are free; no reservations required. For further information: (212) 945-0505 or www.artsworldfinancialcenter.com.