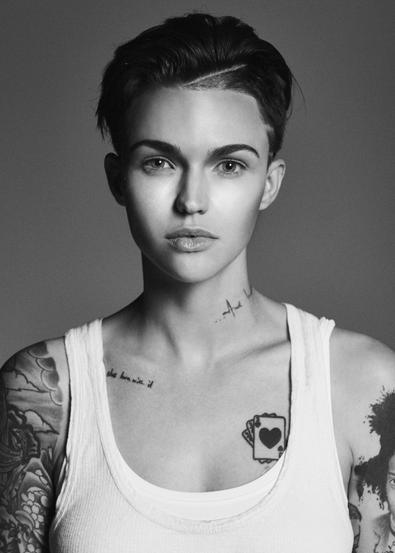 Australian-born Ruby Rose is checking into Litchfield Penitentiary on "Orange Is the New Black" as inmate Stella Carlin for Season 3. The actor chats about snagging the gig, what it's like on set, and what she can tell us about her character.
On getting the role.
"Because we don't have Netflix in Australia, which, thankfully, we're getting now, [my manager] didn't really know anything about 'Orange' [when casting director Jen Euston's office reached out]. So he was, like, 'Would you like to audition for this show?' And as someone who's been in America for the last few years and is very aware of how enormous the show is and a huge fan, I fired back and was, like, 'Oh my God. Yes, yes I do. Please write back to them immediately, you crazy man!' "
On her character, Stella.
"There's really not much I can say because anything can be considered a spoiler, but Stella is sort of androgynous. She's cool. Her being in there definitely spices things up. She's a charismatic character, and she's quite smart. I really, really enjoy playing her."
On what it's like on set.
"I've always had a really strong work ethic in everything that I've done, and I don't think I've ever been surrounded by so many people who also have that work ethic. It's the kind of thing where you can shoot for 15 hours and then go and want to do more. Like, 'I want to go write something,' or 'I want to run a marathon'—it's so inspiring. It just fills you up."
On advice for her fellow actors.
"There are two things: One is to always, always, always keep learning. And that's with anything, but definitely with acting. Never think you've got it. Keep learning about your character, keep learning about the craft, learn different methods, learn different accents, learn different mannerisms—whatever it is. Thankfully, it's a subject that we can continuously study, so we can continuously get better at it. And then the other thing is to have fun. I know it's been said, but really have fun, because if you're having fun and you're enjoying what you're doing, it's going to come across on-camera. If you stress too much about the little things and if you don't allow yourself to let go in that respect, that's going to show on-camera as well. At the end of the day, if you have a smile on your face, you're succeeding."
Like this story? Read more of our Spotlight On interviews!