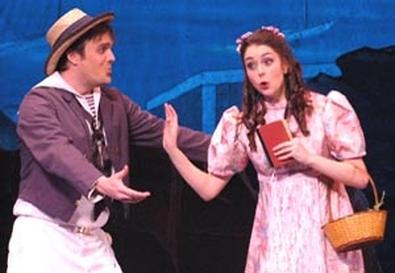 "Ruddigore" is one of the least performed of Gilbert and Sullivan's classic whimsical operettas. A satire of melodramas popular during the time of its premiere (1887), Gilbert's jibes and quips are dated, and too much of Sullivan's music lacks the bounce found in abundance in the more popular "Mikado" and "Pirates of Penzance." However, there are many isolated gems that the reliable New York Gilbert & Sullivan Players polish to a bright sheen in this new production, part of its current season at City Center.
As with most G&S outings, these sparkling moments involve the comic supporting players, chief among them Caítlín Burke as the love-distracted Mad Margaret and Richard Alan Holmes as Sir Despard Murgatroyd, the villainous baronet forced by his ghostly ancestors to commit one crime per day. Burke is a daffy delight as she cavorts about the stage like a demented child, always one step off from the chorus. To hear her dryly deliver lines such as "Have you ever murdered anyone?" is worth the price of admission. Holmes is equally adept at conveying excessive behavior as if it were the most natural thing in the world. Got up in a foppish black suit by costume designer Gail J. Wofford as if he were Quentin Crisp on his way to a funeral, he matter-of-factly sings of robbing banks and frightening small children. When these two expert comics combine for their duet "I Once Was a Very Abandoned Person," their passions bubble just beneath the surface as they cut restrained capers.
The highlight of the show is the trio "My Eyes Are Fully Opened," a delirious spoof of G&S rapid-fire songs, in which the authors poke gleeful fun at their own convention of employing "particularly rapid unintelligible patter" to twist performers' tongues and delight their Savoyard audiences. (This number was inserted into the 1981 Broadway revival of "The Pirates of Penzance.") Here Burke and Holmes are joined by David Macaluso as Robin, Despard's disguised brother. In directors Albert Bergeret and David Auxier's staging, the silly plot points lose all meaning as the three singers expertly spit out the intricate words faster and faster, reaching a dizzying and delightful climax.
Another entertaining sequence comes when the Murgatroyd portrait gallery of ghoulish progenitors comes to life. Led by the thrilling baritone David Wannen, this eerie chorus of ghosts makes "When the Night Wind Howls" into a satisfyingly blood-freezing Halloween treat. Unfortunately, despite the best efforts of Bergeret (who is also the able musical director and conductor) and Auxier (serving double duty as choreographer), there are long, dull stretches between these high spots. Macaluso gets a good deal of comic mileage out of the timid Robin's attempts to turn evil, and Sarah Caldwell Smith makes a charming ingénue as his beloved. Dan Greenwood, Ted Bouton, Erika Person, and Jennifer Piacenti also have their moments in the spotlight. But these isolated bits fail to hang together, and the result is an uneven "Ruddigore."
Presented by New York Gilbert & Sullivan Players at New York City Center, 131 W. 55th St
.,
NYC. Jan. 14
–
17. Remaining performances
:
Sat
.,
Jan. 16, 8 p.m
.;
Sun
.,
Jan. 17, 3 p.m
. (
212
)
581-1212 or www.nycitycenter.org
.