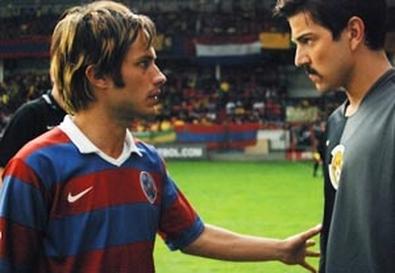 Hoping there's yet more box office and creative magic in this combination, stars Gael García Bernal and Diego Luna and screenwriter Carlos Cuarón have followed their surprise 2001 international hit,
Y Tu Mamá También
, with
Rudo y Cursi
, a tale of two soccer playing half-brothers that is funny and rich but not quite on the knock-your-socks-off cinematic level of their previous collaboration. Here, Cuarón directs, a task his brother Alfonso handled in the first flick. Cuarón (nominated for best original screenplay Oscar as co-writer of
Y Tu Mamá
) has most significantly managed to retain the spirited dynamic and chemistry of his stars, even though the two have considerably less screen time together this round.
Verdusco brothers Beto (Luna) and Tato (Bernal) work as fruit pickers, live with mom (Dolores Heredia), and dream of someday building a big house on the beach for her. Beto is goalkeeper for the local soccer team and an addicted gambler with a wife (Adriana Paz) and two kids, while Tato plays lineman and is a good soul whose heart lies in forging a singing career. When fate intervenes in the form of soccer talent scout Batuta (Guillermo Francella), the opportunity arises for bigger things as Tato gets a tryout for an important Mexico City team. After initially feeling betrayed, Beto gets a shot at a lesser team. This unexpected success leads to camaraderie and then a new sibling rivalry in which both learn the lessons of quick fame and good fortune—and not necessarily in a good way.
Once the scout comes into the picture, Beto and Tato go their separate ways, and the film follows their stories without much interaction between the two. This unfortunate flaw in the screenplay's arc robs us of the Luna-Bernal pairing that was so vital to
Y Tu Mamá
. It may be a minor quibble, but these two are such a good acting team, we want them onscreen together at all times—à la Laurel and Hardy, Abbott and Costello, or Lemmon and Matthau. Both stars are terrific, even though Bernal pulls off the movie's most hilarious scene—singing an ear-aching version of "I Want You to Want Me" in a lowbrow video. What makes the overall picture work especially well is that, lightweight as this concoction may be, there is an underlying sense of darkness and reality that makes this tale of the pitfalls of true brotherhood ring so true.
Standing out in the supporting cast is Francella, flawlessly playing off both stars in a performance that doesn't contain a single false note. Heredia and Paz don't have a lot to do but are also fine in a generally top-notch cast.
This is the first effort from the imposing producing trio of award-winning directors Alfonso Cuarón, Alejandro González Iñárritu, and Guillermo del Toro. Although
Rudo y Cursi
is nowhere near the level of some of this group's considerable individual achievements, it still registers as a promising start for their company.
Genre: Comedy/Drama
Written and directed by: Carlos Cuarón
Starring: Gael García Bernal, Diego Luna, Guillermo Francella, Dolores Heredia, Adriana Paz