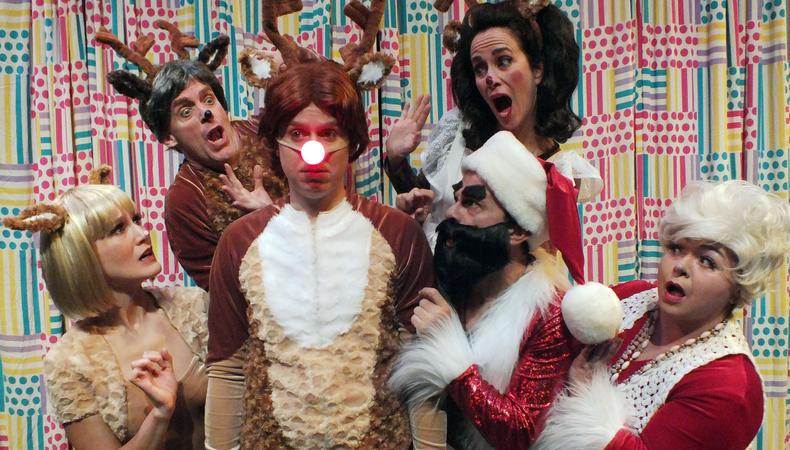 You know Dasher and Dancer and Prancer and Vixen, Comet and Cupid and Donner and Blitzen, but can you recall the most famous reindeer of all as an airborne, clarion-voiced, nutbar rocker? I thought not. So goes "Rudolph the Red-Nosed ReinDOORS," now at Falcon Theatre, and in Troubadour Theater Company's uproarious mash-up of Jim Morrison and Rankin and Bass, the nonpareil troupe weathers a few ragged patches through sheer subversive élan.
The time-tested Troubie elements—commedia-skewed showmanship, musical theater panache, and seat-of-your-pants spontaneity—carry this take on everybody's favorite flying Rangifer tarandus. From first in-joke—a video by KNBC fixture Fritz Coleman about a killer storm hitting the West Coast—to the leaf blower–fueled flurries of the finale, the essential contours of the 1964 animated television classic butt antlers with retooled Doors standards such as "Light My Fire," "Break on Through," and of course "Riders on the Storm." Indeed, half the fun comes from guessing the next interpolation within the teleplay's scenario of outcast young buck with a glowing proboscis, misfit elf with dental ambitions, and Santa's blizzard-imperiled Dec. 24th deadline.
The other supreme pleasure, as ever, is the company, a force of gonzo nature with few peers. Under the brisk direction of chief lunatic Matt Walker, who portrays a demented Donner and an eerie Charlie-in-the-Box, these triple-threat clowns negotiate the sometimes ungainly collision of psychedelic rock and stop-motion cutes without blinking. Troubie debutante Steven Booth reveals wailing chops and high-wire hilarity as Rudolph, well-paired with choreographer Molly Alvarez's tap-happy Clarice. Kyle Nudo's adenoidal Hermey and Mike Sulprizio's gravelly Yukon Cornelius scarily resemble the cartoon templates, save for the saucy ad libs. Paul C. Vogt gives Sam the Snowman louche aplomb, and if Lisa Valenzuela is underused as Mrs. Claus, as always she hits our solar plexus. That goes double for the unpredictable Rick Batalla, his Morrison-cloned Santa riotously coping with chest hair and wardrobe malfunctions, and the invaluable Beth Kennedy, whose work as an alcoholic Blitzen and a stilt-walking Winter Warlock (from "Santa Claus Is Coming to Town," a signature Troubie character I once misidentified as Gandalf) almost steals the show. Only limited space prohibits citing each standout in a ruthlessly gifted corps.
Musical director Eric Heinly's righteous band keeps the chestnuts roasting, and the deceptively simple physical production is ambitiously effective. Set designer Jeffrey McLaughlin creates multiple perspectives for Christmastown, the Island of Misfit Toys, and especially an Abominable Snow Monster with Irritable Bowel Syndrome (don't ask). Jeremy Pivnick's wondrous lighting incorporates twinkle, black-light, and strobe effects, and costumer Sharon McGunigle provides many loopy throwaways.
The show could stand even more—I kept waiting for Comet to produce kitchen cleanser—and the darkness and fadeout endings of the Doors catalogue don't always create proper song buttons, which prevents Donner's LSD-fueled Act 2 "Strange Days" from stopping the proceedings. Walker and company could pilfer more from the original Johnny Marks songs, and this "Rudolph" is a tad racy for tots, but the festive fracas will convulse devotees.
Presented by Troubadour Theater Company and Falcon Theatre at Falcon Theatre, 4252 Riverside Dr., Burbank. Dec.7–Jan.13. (818) 955-8101 or www.falcontheatre.com.
Critic's Score: A-