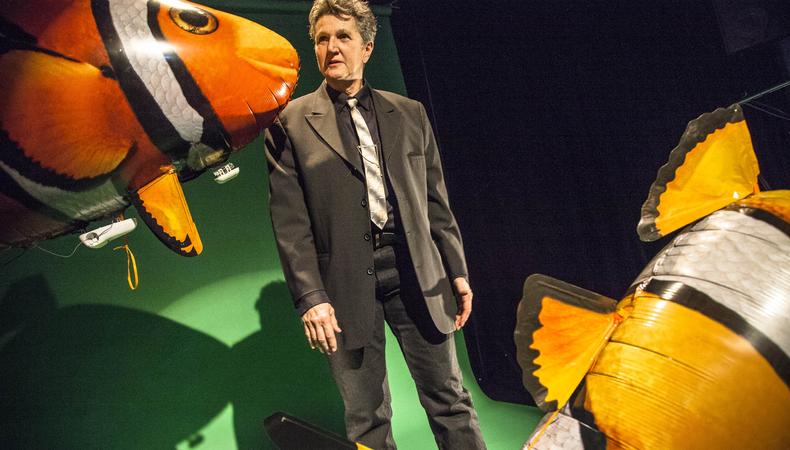 It's not easy for Peggy Shaw to ask for help. As the nation's reigning queer feminist performance artist since 1980, when she founded the company Split Britches with Lois Weaver and Deb Margolin, Shaw has modeled how to sail through radically changing political and social norms with confidence and, in her word, "swagger." But in "Ruff," Shaw's latest solo work, created under the auspices of the Ethyl Eichelberger Award and now part of PS 122's Coil Festival, she responds to her latest and arguably greatest challenge: a stroke she suffered in 2011.
The show she has conceived, with Weaver as director and co-author, resembles not at all the sentimental narrative of survival one might expect from this subject. Instead, Shaw offers a freewheeling cabaret of anecdotes, songs, images, and confessions. Her mind, it seems, is like a diorama that has been vigorously shaken, unearthing some memories, burying others, and generally leaving things displaced and disordered. In "Ruff" she surveys the newly arranged landscape, describing family members, imitating performers who have inspired her, reciting lyrics that have lodged in her recollection. In this context many otherwise innocent cultural tokens become charged, from "The Hokey Pokey" to "If I Only Had a Brain." Shaw's somber rendition of the latter, delivered like a prayer for sanctuary, will rewrite the song in your own memory forever.
But "Ruff" is also an exploration of what it means to perform with a compromised brain. Rather than hide the three Teleprompters that keep her on task for the evening, she makes them her most prominent stage props. Shaw warns us that sometimes she will break into coughing fits and acknowledges that she's skilled at "performing wellness." She still talks and walks like a lower-class gangster from a Hollywood film ("As I like to say," she tells us, "Sean Penn looks like me"), but her vulnerability is palpable.
All the more impressive, then, that she stands alone on a green stage—an ironic tribute to the late Ellen Stewart, who hated the color—with only a video projection of a band, played by a motley crew of friends, to support her. Set and media designer Matt Delbridge, lighting designer and video photographer Lori E. Seid, and composer and sound designer Vivian Stoll make her bare stage seem rich and endlessly adaptable. Their contributions, plus the generosity Shaw draws from her audience and returns tenfold, remind us that there is no better medium for staging the fruits of communal support than performance art. The kinetic vibrancy of Shaw's performance is the sign of an artist who finds, when she needs a few outstretched hands, that they've been there, holding her for decades.
Presented by Performance Space 122 and Dixon Place as part of the Coil Festival at Dixon Place, 161A Chrystie St., NYC. Jan. 10–19. (212) 352-3101, (866) 811-4111, www.theatermania.com, or www.ps122.org.
Critic's Score: A-