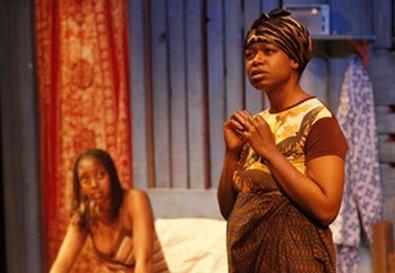 Lynn Nottage's astonishing play was developed following extensive research on atrocious real-life events. Nottage and director Kate Whoriskey traveled to the Democratic Republic of Congo to interview victims or observers of the horrendous sexual abuse that men inflict on women there, which became particularly widespread during the prolonged Congo Civil War. The play offers a fascinating blend of splendid atmospherics, rousing ethnic music, sharp humor in the unlikeliest of places, and sobering truths about the human capacity for inflicting extreme cruelty. Our ability to survive and maintain dignity in the midst of almost unimaginable degradation is eloquently portrayed in this disturbing but ultimately hopeful work. Co-producing this rendition with Seattle's Intiman Theatre, where it was previously staged, the Geffen now brings it to L.A., with most cast members remaining from the Chicago premiere at the Goodman Theatre and the subsequent New York run. The effort feels fresh and vital, driven by the director's masterful staging and the triumphant efforts of a fine cast.
Originally conceived as a loose re-imagining of Bertolt Brecht's "Mother Courage," the play is set in a Congo rainforest, where a bar and brothel are run by Mama Nadi (Portia), a cagey and thick-skinned entrepreneur, who, we gradually learn, is more compassionate than is initially apparent. Amid the horrendous battles plaguing the nation, Mama attempts to stick to business—purchasing commodities for resale and offering a haven for beleaguered women. Among the play's most eye-opening ironies is that working as a prostitute in this establishment is considered preferable to the more appalling physical and mental abuse the women endure outside this refuge. Some, in fact, are said to be "ruined," meaning physically damaged by rapists to the point where intercourse is difficult or impossible.
Leading the remarkable ensemble, Portia is funny and formidable, a force of nature who's fully in control of a tense situation, as gunfire rages outside her doors and she carefully avoids taking sides among the warriors. In the final scenes, we make new discoveries about Mama, and Portia's portrayal comes full circle here, leading us to a surprisingly optimistic conclusion. As Christian, a salesman and ersatz pimp with a touch of the poet, Russell G. Jones is sublime. Playing the new working girls introduced by Christian, Condola Rashad is radiant as Sophie, who is broken down physically and emotionally yet retains a beautiful spirit and a spark of humor, and Quincy Tyler Bernstine as Salima, a woman abducted from her home, gives a wonderfully poignant characterization. Adding to the excellence of the ensemble are Tom Mardirosian, Cherise Boothe, and other actors and musicians. Also noteworthy are Derek McLane's resplendent scenic design, Dominic Kanza's original music, Nottage's lyrics, Warren Adams' choreography, Peter Kaczorowski's lighting, and sound design and music direction by Rob Milburn and Michael Bodeen.
Though this endeavor occasionally feels like too much of a good thing—judicious edits would help—it's an important and eloquent piece, exploring urgent social issues with immediacy, compassion, and brilliant insight.
Presented by Intiman Theatre in association with and at the Geffen Playhouse, 10886 Le Conte Ave., L.A.
Sept. 15–Oct. 17. Tue.–Fri., 8 p.m.; Sat., 3 and 8 p.m.; Sun., 2 and 7 p.m.
(310) 208-5454. www.geffenplayhouse.com.