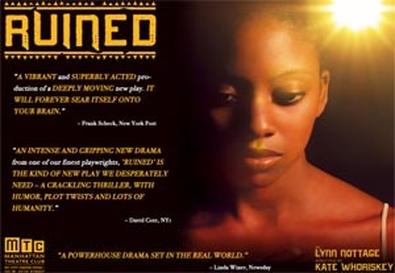 Rarely does a play take you to a corner of the world you hardly ever think about and force you to care fiercely for the people in it. Lynn Nottage's shattering work
Ruined
, presented by Manhattan Theatre Club in a co-production with Chicago's Goodman Theatre after a successful run there, does just that.
The setting is a mining village in the Democratic Republic of the Congo, where civil war has been raging for decades. The issues of the conflict are never clearly delineated, and it doesn't matter. At one point a white diamond trader moans that he doesn't know whom to trust, because the sides keep changing. Nottage is not concerned with the politics of the war but with its victims—particularly Congolese women who are savagely raped by soldiers on both sides. Brutal sexual assault is used as a weapon to destroy communities and degrade the populace. Derived in part from interviews with survivors of this inhuman violence, the play documents a real tragedy largely downplayed by the American news media. Abused and tortured, the women are often rejected by their families and villages as damaged goods—"ruined"—if they escape.
Nottage brings this harrowing situation to stunning life through the story of Mama Nadi, the Mother Courage–like owner of a combination bar and brothel, realized through Derek McLane's imaginative set and Peter Kaczorowski's rain forest lighting. Played with just the right balance of toughness, charm, and pathos by Saidah Arrika Ekulona, Nadi takes in stray women to "entertain" the local miners and soldiers. Like Brecht's anti-heroine, she chooses no side in the war and uses the materials she has at hand—the refugee women who cannot return to their homes—to turn a profit. In the affecting first scene—tragic in its matter-of-factness—Nadi examines two new prospects as if they were cattle.
In director Kate Whoriskey's steely and moving production, each member of the stunning ensemble, in addition to the brilliant Ekulona, creates a heart-rending character who will stay with you long after the final blackout. Quincy Tyler Bernstine as Salima delivers a frighteningly detailed recollection of the morning she was abducted by a regiment for their pleasure. Condola Rashad as Sophie, the most damaged of Nadi's women, conveys every violation she has suffered in her painfully real physical life. Her sad smile as she warbles Dominic Kanza's music is devastating. As Christian, the intellectual merchant with a crush on Nadi, Russell Gebert Jones skillfully charts a spiraling journey downward as he succumbs to alcoholism and despair. Cherise Boothe is zestfully nasty as Josephine, the daughter of a former chief, who responds to her fall from grace with bitterness. Chiké Johnson, Chris Chalk, and Kevin Mambo also carve indelible portraits as soldiers and leaders in the mad war.
There are a few slips into familiar territory. Without giving away too much, I didn't quite buy Nadi's last-minute conversion to altruism nor the play's somewhat happy ending. But these minor flaws cannot ruin the magnificent
Ruined
.
Presented by Manhattan Theatre Club and the Goodman Theatreat New York City Center Stage I, 131 W. 55th St
.,
NYC
.
Feb. 10
–
Sept. 6. Tue. and Sun
.,
7 p.m
.;
Wed
.–
Sat
.,
8 p.m
.;
Wed
.,
Sat
.,
and Sun
.,
2 p.m
.
(
212
)
581-1212 or www.nycitycenter.org
.
Casting by Nancy Piccione and Adam Belcuore
.