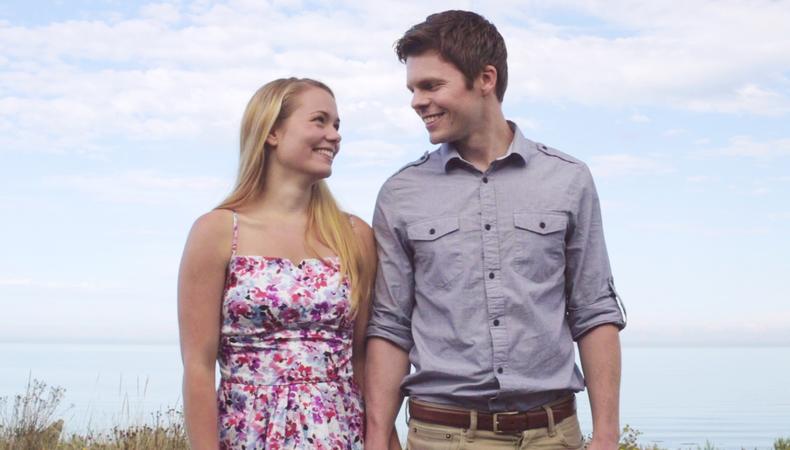 Having found success in writing for animated television, Biola University film grad Matthew Wilson turned his focus to features. After winning the Amazon Studios Best Movie contest, he wrote, directed, and produced the "The Virgins." The indie romantic comedy tells the story of couple Nick (Blake Webb) and Mary (Sonya Davis), who chose to wait for marriage based on their shared faith only to have their wedding night turn into a comedy of errors with countless obstacles in their path. Wilson knew the most important key was finding actors who would engage audiences with the story.
"I had a lot hesitancy of making a movie like that because I was deathly afraid of being labeled as a Christian filmmaker," says Wilson. But he loves movies that present opposite viewpoints from his own. "I love Woody Allen movies and he's probably one of the people who believes the most polar opposite of what I believe in the world." However, despite landing the agent who put Diablo Cody on the map with "Juno," the film was a hard sell in Hollywood because it wasn't a typical Christian film, but it also wasn't a typical raunchy comedy. So Wilson just decided to make it himself…in Seattle.
Although Wilson had done casting sessions before as a filmmaker, it wasn't his forte. "The first time doing it I just listened to the actor read and I was like, 'OK, thanks.'" Wilson's friend pointed out that it was OK to ask the actor for adjustments. "It was definitely a learning process for me going from writing…to here's real live people right in front of me who are bringing out what they imagined out of these characters."
Leading man Blake Webb stood out from the beginning. "I thought, I really feel like this is going to be our guy," says Wilson. Webb wasn't an exact match to Wilson's mental picture, but his singular interpretation of the character really fit with Wilson's vision. "It's in the way that he speaks and his manner of delivery. I would have never imagined when I was sitting there writing it, but [he] put his own personal stamp on the character. I think in the end it made it better."
Finding the leading lady was not as easy. "It was picking from many different great options [to find] one that really meshed well with Blake." But Wilson says Sonya Davis and Webb just naturally connected. They were even reading together while they waited to audition.
Wilson was casting locally due to his budget, but Webb surprised him. After seeing a write-up on the project on Backstage, Webb decided to apply even though he was in Salt Lake City. Wilson didn't realize Webb had driven all the way from Utah just to audition. "The subject matter was something [Webb] had a personal passion for, so the notice being on a national board was a great thing because it allowed someone like him to discover this and for me to discover him."
"The Virgins" hits digital platforms July 18.
Pictured: Blake Webb and Sonya Davis.
Inspired by this post? Check out our film auditions!