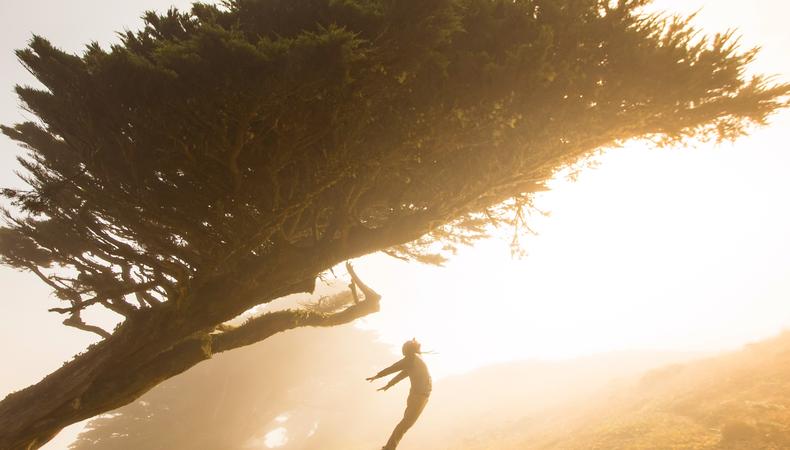 My greatest joy in life comes from being able to share the wisdom I've learned with fellow actors that will enable them to gain a greater love and understanding of their craft. I've always felt that when I'm fortunate enough to experience a form of success others are striving for, it's my artistic obligation to share what I've learned in the process.
A great example of this type of knowledge is how to remove limits from your acting or, as I like to call it, "limitless acting." If you feel like you've been missing out on roles or auditions or experiences in your career, it's likely a result of not quite being ready to step into your full availability of creativity—but that will change right here.
It's my prime objective to help you discover your highest potential as an actor, and that starts with limitless acting.
Fear is where breakthroughs happen.
Have you ever experienced a breakthrough while performing that didn't occur while you were preparing? Embrace that! Even if you're not prepared or it catches you off guard, you must act on those moments.
Grab that fear and hold onto it; it's only a challenge if you fight it. Instead, let it in and let it help you grow as a performer and be a gateway to discovery. As an artist, you should always be searching for and using those undiscovered parts of yourself to create.
Listen.
While "acting" may revolve around a script, the one thing that stands out most in incredible acting is one's ability to listen. Think about a mind-blowing performance you saw recently; chances are that actor not only heard what his co-stars said but also deeply processed and accepted it in that moment.
This ability to truly listen also allows you to respond in the most natural way possible since two significant things are unfolding here: You are no longer acting, you are being and you're able to build a deep connection with your scene or stage partner.
READ: How to Find Success in L.A. With 3 Words
Recognize that mediocrity attacks excellence and ambition.
When someone tells you that you can't do something, don't listen; they're only projecting their own fears, hesitancies, experiences, and limitations onto you. This is easier said than done, but know that the voice inside your heart guiding you is always louder than any critic you could ever face.
Most people will stop at nothing to justify their limitations on you. If your heart says move from New York to L.A., do it. If it says show up to the top agency's office to drop your headshot/resume because you may run into someone who can help you, do it. If it tells you, you're on the right path as an actor, embrace it! Your inner guidance will always give you what you need so there's no need to look outside yourself for validation. YOU have the deciding vote.
Stop worrying about the next thing.
Instead of thinking about the next role you're going to book for, leave it all on the floor for the role you're currently in. And if you're not working, give everything you have to preparing for your next audition. Give every fiber of your being to being the best actor you can be.
All we have is right now to dive in and experience endless joy in the craft we love. A great mentor once told me that "a successful career is not built by thinking about all of the roles you plan to book, it's about giving your all to the role you're playing right now." Give of your acting instrument relentlessly and you'll be surprised by the art you're capable of creating.
Limitless acting comes down to understanding that there are an unlimited number of ways to enable yourself to be your very best. The joy comes in the journey of unfolding all of that artistic treasures that are within. If the world is your stage, then you are the production company. Show us what you've got!
Shaun Grant is a dynamic "entreperformer" who is a recognized authority in personal performance and transformation. He is the author of Prosperity Secrets: How to Live the Life of Your Dreams." He is also the creator of The Vibrational Actor and hosts his own podcast called The Actor's Area. Shaun has been acting, writing, and coaching for the past 10 years. He teaches the concept of vibrational acting and vibrational consciousness to performers around the world. His soul purpose is to inspire, uplift, and motivate actors through cutting-edge mental and spiritual practices. He's at his happiest when his students experience successful breakthroughs in mind, body, and spirit as it relates to their acting careers. Shaun has acted in over 40 projects, working alongside some of Hollywood's brightest stars, and has written and produced his own projects as well. When Shaun isn't acting, writing, or coaching, he enjoys engaging in his love of travel and creating life-changing content through his blogs.
Visit www.shaungrantacting.com and www.uplifterentertainment.com for more career information. Find Shaun on Facebook, Twitter, and Instagram.
Check out Backstage's Los Angeles audition listings!
The views expressed in this article are solely that of the individual(s) providing them,
and do not necessarily reflect the opinions of Backstage or its staff.