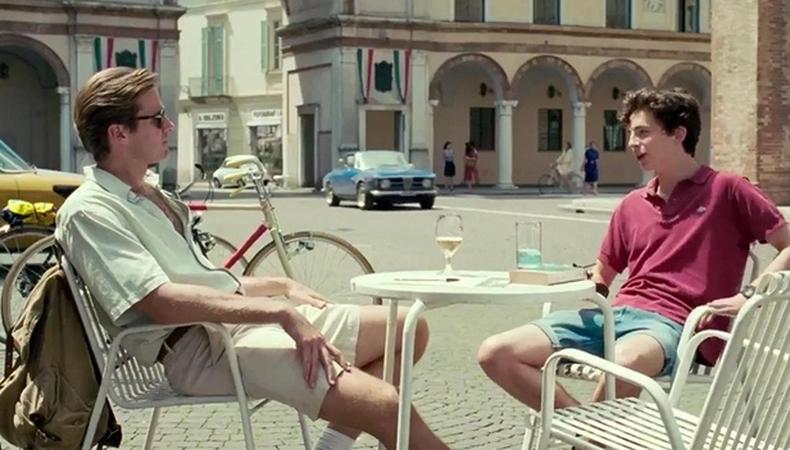 Welcome to Rumorville! Here you can learn about casting news that's about to break in Hollywood. These speculations might be only rumors, but that doesn't mean you can't follow the trail all the way to the audition room.
"Call Me By Your Name" sequel
Oscar-nominated "Call Me By Your Name" is a masterpiece on its own, but director Luca Guadagnino isn't quite done with the story. The film is based on a book, but Guadagnino shifted the story back a few years before the story in the book took place. The book ends with the next 20 years of the characters' futures, so Guadagnino wants to use that material to make a sequel and possibly more, like the "Before Sunrise" trilogy, which spans more than a decade. "In my opinion, "Call Me" can be the first chapter of the chronicles of the life of these people that we met in this movie, and if the first one is a story of coming of age and becoming a young man, maybe the next chapter will be, what is the position of the young man in the world, what does he want—and what is left a few years later of such an emotional punch that made him who he is?" Guadagnino told The Hollywood Reporter. If he gets the team back together expect Stella Savino to be back populating the future worlds of the 2017 film.
"The Mighty Ducks"
2018 is off to a similar start as the last few years: it's reboot central. The latest comes in the form of a "Mighty Ducks" series based on the early 90s trilogy, and it's in the very early stages of development by the films' original writer and producer. There are extremely few details attached besides those two names and that ABC Signature Studios is behind it, but no network or CD yet. If you know a young actor who has some skills on the ice, once this project takes more definite form, it might be in search of exactly someone like them.
"The Marvelous Mrs. Maisel"
When Amazon picked up the now multi-award-winning "Marvelous Mrs. Maisel," they picked it up for two seasons. Season 1 began streaming at the end of November, and now plans are being made for Season 2. The second season will start shooting in March in New York City and the surrounding area while Midge and her manager Suzie take their show on the road, but the next installment won't just feature more of the same characters viewers came to know and love in Season 1. In fact, Amy Sherman-Palladino's original star, Lauren Graham, is vying for a spot on the new show, and ASP wants to make it happen. Graham has pitched ideas to the "Maisel" creator, and it just might happen that we see her familiar face in the 1950s. That being said, we don't know who else the show is looking to add next season, at the hands of CD Jeanie Bacharach, who seems to be taking over the reins from a very busy Cindy Tolan.
"Truth Seekers"
Simon Pegg and Nick Frost are hard at work on developing a series for TV, a comedy about paranormal investigators called "Truth Seekers." They're hoping the project starts off small-scale and grows to embrace a wider reach. It will follow a monster-of-the-week structure, so that means a lot of potential for fresh casting with each episode. So far there is only a team of writers attached so it's not in the casting stage yet, but U.K. actors can sharpen their comedy chops for a chance to get into that room once auditions begin.
"Duke Nukem"
John Cena is in talks to bring the video game character to life, likely in a more modern way than the character's 90s persona. There is no confirmation yet on whether he's stepping into the role and what that will look like but Michael Bay's production company is said to be backing what will probably be a commentary on the action-adventure satire character. Paramount has the rights and the film has a writer, so next up a director and casting director will be expected to populate those surrounding Nukem and his victims.
Reed Morano + Lucasfilm
Kathleen Kennedy, head of Lucasfilm, reportedly met with Reed Morano, director of the pilot episode of "The Handmaid's Tale" (and more). Kennedy appears to have been a fan of the series and called a meeting with the filmmaker. There isn't much more news to report, but Lucasfilm does pretty much one thing: Star Wars and Star Wars universe films. Let the speculation begin, as the last of the main trilogy will be directed by J.J. Abrams and there are no more spinoff films currently announced that need directors. Rian Johnson has his own trilogy to attend to. No women have yet been tapped to direct a Star Wars or adjacent film, so it's possible Morano could be the first. Her directing projects outside of television don't seem to use casting directors, but a Star Wars film certainly would. Could Nina Gold be on the search for more unknowns bound for stardom? Jina Jay and McCarthy/Abellera casting have also cast the Star Wars universe films and could always come back on board for another.
Got a tip? Submit it to castingsleuth@backstage.com!
Get all of your acting questions answered by peers and experts on the Backstage Community forums!