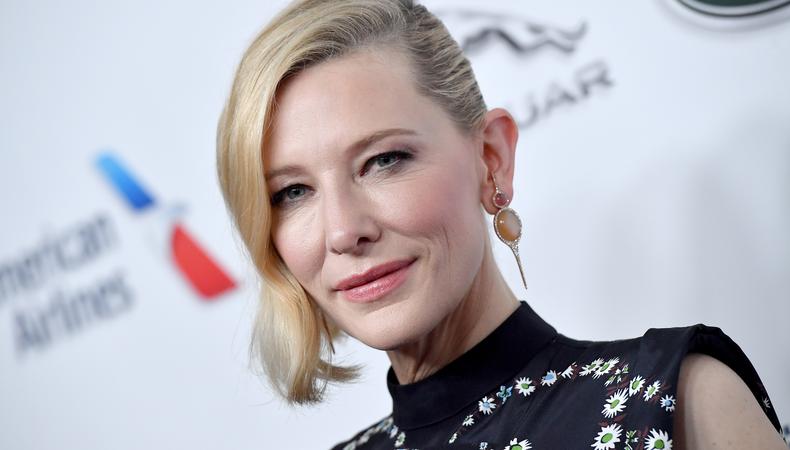 Welcome to Rumorville! Here you can learn about casting news that's about to break in Hollywood. These speculations might be only rumors, but that doesn't mean you can't follow the trail all the way to the audition room.
"Borderlands"
Pandora is reportedly opening its gates for Cate Blanchett. According to Variety, the Oscar winner is currently in talks to star as Lilith in the Lionsgate adaptation of "Borderlands." Craig Mazin ("Chernobyl") has written the latest screenplay draft, which, like the game franchise, is set on the frontier of the sci-fi world of Pandora, a planet that has been abandoned by a mega-corporation prior to the game's events. The planned feature, which will be directed by Eli Roth, will join the slate of upcoming major game-to-film adaptations, including the highly anticipated and seemingly ill-fated "Uncharted." "Borderlands" might have better luck, including sealing the deal with Blanchett.
"Scream 5"
Neve Campbell can't seem to escape "Scream." In a recent conversation, the actor revealed that she is currently in talks to return as Sidney Prescott in a new movie in the franchise. Campbell says she has been discussing her return with new directors, "Ready or Not" helmers Matthew Bettinelli-Olpin and Tyler Gillett, who will take the reins from the late Wes Craven. Conversations for her return to the pseudo-reboot only started up a month ago, she says, but, "Hopefully we can all see eye to eye on the project and find a way to make it." It's been nine years since "Scream 4," so it's uncertain who else would be involved in the project at this time, other than Campbell, Bettinelli-Olpin, and Tyler Gillett, but keep an eye on the 2011 film's CD Avy Kaufman to see if there is any movement in the coming months.
"Demolition Man 2"
In a recent Instagram Q&A session, Sylvester Stallone fielded questions from fans and answered a question that's been on a lot of their minds: is there ever going to be a "Demolition Man" sequel? And according to the actor, yes—sooner than you thought! Says Stallone, "We're working on it right now with Warner Bros. and it's looking fantastic." The original, starring Stallone and Wesley Snipes, hit theaters nearly 30 years ago in 1993, and fans of the cult film have been calling for a part two for as many years. There's no official word from Warner Bros. yet on the film's status or even its existence, but it does sound like it has at least gotten far enough off the ground to be excited about it. Keep an eye out in the coming months to hopefully get more news from the studio if Stallone doesn't beat them to it.
"National Treasure" Series
There is apparently even more treasure to uncover at Disney than we previously suspected. In a recent interview with Collider, producer Jerry Bruckheimer revealed that not only are they working on "National Treasure 3" as previously reported, they are also working on a "National Treasure" Disney+ TV series. That project will reportedly feature a new, younger cast, while the film will bring back the usual cast, including Nicholas Cage, Diane Kruger, and more. And it might come as a surprise, but the series, according to Bruckheimer, is actually further in development than the film, which is still in the scripting process. They'll be looking to start casting the pilot and film after lockdown, so be sure to watch out for future casting calls to be a part of that.
"Bright 2"
Netflix's next film move is looking even brighter than before. First reported by Deadline, the streamer is currently negotiating with Louis Leterrier to direct "Bright 2," a sequel to the 2017 film starring Will Smith and Joel Edgerton. Both Smith and Edgerton will return for the project under the new direction. The previous film was helmed by David Ayer, who was initially attached to the sequel but is currently working on rewrites for Warner Bros.'s "Dirty Dozen" and other projects at Netflix. Ayer, however, did write the script for the sequel alongside Evan Spiliotopoulos with a rewrite by T.S. Nowlin. Expect original casting directors Lindsay Graham and Mary Vernieu to also return.
Looking for remote work? Backstage has got you covered! Click here for auditions you can do from home!