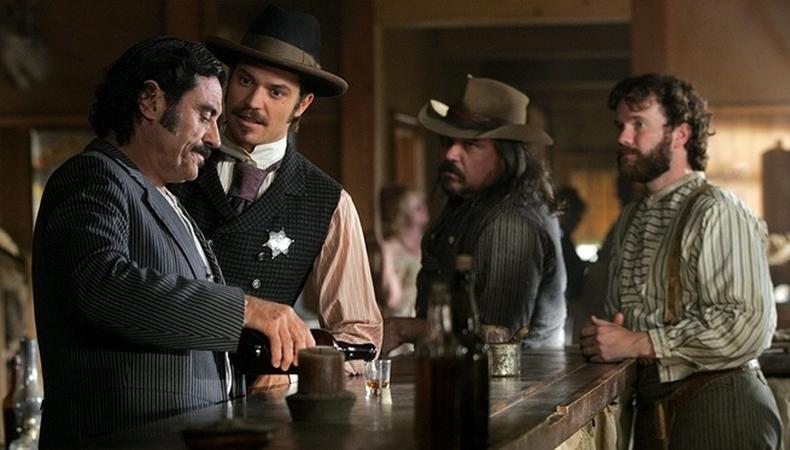 Welcome to Rumorville! Here you can learn about casting news that's about to break in Hollywood. These speculations might be only rumors, but that doesn't mean you can't follow the trail all the way to the audition room.
"Deadwood"
Fans of "Deadwood" who have anxiously been awaiting the reality of a movie might have some hope. We know there's a script, but TVLine reported this week that the team has secured financing and will go into production in fall 2018. They also say HBO hasn't given the film a "formal green light," but it's more progress than has been made since the show went off the air. Casting isn't even a consideration on the project as of now, but it's worth noting that Junie Lowry-Johnson and Libby Goldstein cast the series, so they could be back if the movie gets the official go ahead.
Quentin Tarantino #9
After parting ways with The Weinstein Company, Quentin Tarantino's latest script has landed at Sony after a bidding war that came down to three major studios, and a long night between Sony and Tarantino's team. The story, currently called #9, will take place in Los Angeles in 1969 and involve the Manson murders. Margot Robbie is in the conversation to play Sharon Tate, but as of now, but she is not officially attached. Other names floating around the ensemble project include Tom Cruise, Brad Pitt, and Leonardo DiCaprio for lead roles. Now that the script has a home, the production is eyeing a mid-2018 start date and a 2019 release. As the story is set in L.A., it's likely it will also film there. In terms of a casting director, like talent, nobody is attached, but Tarantino has worked with Vickie Thomas on his last two projects, and Johanna Ray several times on previous films.
"Boss Level"
Joe Carnahan's next action thriller, "Boss Level" is eyeing Mel Gibson and Frank Grillo. The film follows Grillo as a retired special forces veteran who is living a never-ending loop that ends in his death. He will take on a search to figure out who is responsible for the reality he's suffering. Once the leads are attached, the remainder of casting will likely begin. Carnahan doesn't have a go-to CD, but he's worked with Sharon Bialy, John Papsidera, and Deborah Aquila and Tricia Wood on past films as a director.
Super Mario Bros.
A new Super Mario Bros. film might be coming to theaters in a few years if a deal between Illumination Entertainment and Nintendo comes through. The last big adaptation came before the 21st century with the live action version starring Bob Hoskins and John Leguizamo, but this would be an animated film along the lines of Illumination's other projects like "Despicable Me" and "The Secret Life of Pets." In terms of casting, it's way too early to make a call, but if the studio's other films are any indication, the film will go for big names to voice the lead roles.
"Rio"
Benedict Cumberbatch and Jake Gyllenhaal are already on board Luca Guadagnino–helmed "Rio," and Michelle Williams is in talks to join them. The story follows a reporter who goes to Rio de Janeiro to visit a friend but instead ends up tied in a plot to help fake his friend's death. Only Cumberbatch and Gyllenhaal are attached to the project, and Williams would make three. No CD has been announced, but Guadagnino usually works with Stella Savino to fill out the cast lists.
Got a tip? Submit it to castingsleuth@backstage.com!
Looking to get cast? Apply to casting calls on Backstage.