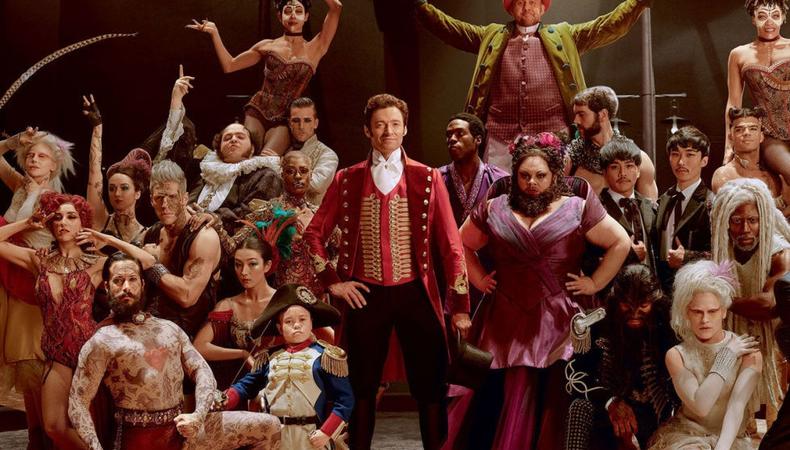 Welcome to Rumorville! Here you can learn about casting news that's about to break in Hollywood. These speculations might be only rumors, but that doesn't mean you can't follow the trail all the way to the audition room.
"The Greatest Showman"
How many films surprise you in the way that "The Greatest Showman" managed to surprise everyone with its box office turnaround? After a disappointing $8 million opening, the film has made the greatest comeback and become a financial success. Now, it looks like the show might be going on the road and taking advantage of that success. There's currently some chatter about adapting the film into a musical for the Broadway stage. No further details have been announced, but if it does make its way onto The Great White Way, Benj Pasek and Justin Paul, who wrote the music for the film, might have another big hit on their hands following the success of "Dear Evan Hansen." The film lends itself to the stage, though, especially with a cast of veteran talent, including star Hugh Jackman, of course, who would be the safe (and financially most successful) bet if he wants to make his return in style. It would be no surprise if Telsey + Company and Tiffany Little Canfield populated the stage with talent as well.
"Men in Black" Spinoff
Here come the "Men in Black"—again. The upcoming spinoff of the popular sci-fi film got put into high gear this fall when "Iron Man" writers Matt Holloway and Art Marcum were passed the pen to the script. Now, the hunt for the director is on and it looks like "Straight Outta Compton" and "The Fate of the Furious" director F. Gary Gray is leading the race. Gray would be a great fit for the project, but regardless of who gets ahold of the helm, in the end, the spinoff is a guarantee, with a planned release for next May. Will Smith and Tommy Lee Jones won't be reprising their roles in this new series, which means a new cast with a lot of room for new talent. All three films in the original franchise had different casting teams behind them, so it's safe to assume Gray would choose his own, and since he hasn't been loyal to one as a director, his potential choice, as of now, is not clear.
"Planet Kill"
It looks like Studio 8 will be running the show for the next Steven Soderbergh action thriller, "Planet Kill." But while Soderbergh is producing the flick, he may also jump on to direct it, as well. Scott Z. Burns and James Greer will be writing the script for the project, the details of which are being kept under wraps, but it's good news for everybody if Soderbergh agrees to direct. Both writers have worked with Soderbergh before—Burns on 2011's "Contagion" and Greer on the upcoming "Unsane." And if you're looking to get in the room to be cast, it might be worth assuming Carmen Cuba, who was in charge of casting on both films, will be the name to look out for.
Netflix Luc Besson Films
Netflix remains hard at work in its attempts to produce everything. Its current venture, it seems, is to get the French filmmaking giant Luc Besson to direct and produce several Netflix Original movies over the next few years. Theoretically, it gives both Besson and Netflix the opportunity to play around a bit, and in multiple languages, if Netflix is willing to play even more. Besson is fairly loyal to Nathalie Cheron as a casting director, including some of his more recent projects, "Lucy" and "The Family," and with a history dating back to "Léon: The Professional" and beyond. If the deal ends up happening, European and American actors alike can expect to see a lot of work.
New Broadway Musicals From Hal Prince
How do you celebrate your 90th birthday? Well, if you're Broadway legend Hal Prince, you get to work at hopefully adding to those 21 Tony wins with a new project...or projects. The director-producer is currently working on another two musicals at the moment, including one about New York financier Diamond Jim Brady and his relationship with actor-singer Lillian Russell. Prince will join longtime collaborator Alfred Uhry, as well as composer-lyricist Craig Carnelia on that one. Details as far as a production timeline have not been announced, but plan on it being a very New York-centric show with a heavy eye on New York talent. Prince tends to work with Mark Simon for casting, especially when directing a Uhry show, it seems, as is true with both "Parade" and "LoveMusik," so keep an eye out for those calls!
Got a tip? Submit it to castingsleuth@backstage.com!
Looking to get cast? Apply to casting calls on Backstage.