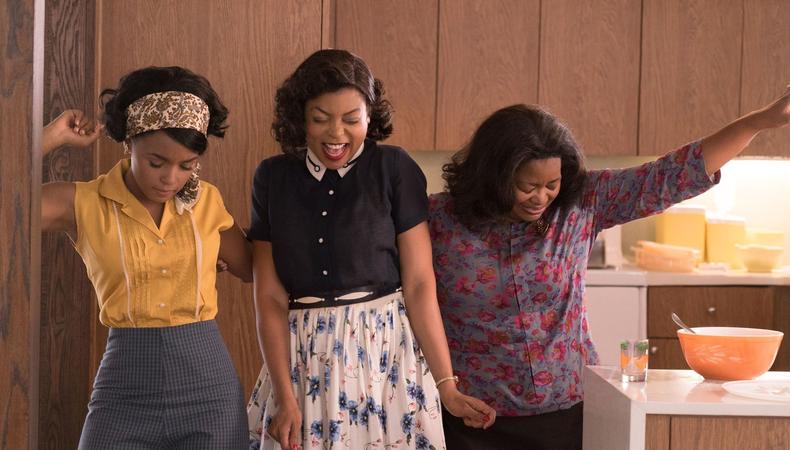 Welcome to Rumorville! Here you can learn about casting news that's about to break in Hollywood. These speculations might be only rumors, but that doesn't mean you can't follow the trail all the way to the audition room.
"Hidden Figures"
Nat Geo is shooting for the stars of late, making a push to create and release scripted content that can go head-to-head against other networks. Its Geoffrey Rush-led (and soon-to-be Antonio Banderas-led) "Genius" got it started for them last year, and now, the network's higher-ups have their eyes on their next series. According to Variety, a "Hidden Figures" show is in development. Based off the book of the same name, as well as 2016's hit feature film starring Octavia Spencer, Taraji P. Henson, and Janelle Monae, it will expand the true story of the Black female mathematicians who were instrumental in the early days of the American space program. Peter Chernin and Jenno Topping, who executive produced the film, will also be producing the show, so Victoria Thomas could be an easy choice for casting director on this. Surely, she will do as great of a job as she did on the film.
"Against All Enemies"
While FX's "Atlanta" is one of the biggest shows of the moment, it won't take long for its stars to be recruited for other projects. So it's a good thing Zazie Beetz is allegedly in talks to join Kristen Stewart in the Jean Seberg biopic "Against All Enemies." There's no word yet as to who Beetz would play in the film, which tracks the FBI's attempts to discredit the actress Seberg in retaliation for her support of the Black Panther Party. Benedict Andrew will be directing, who's pretty exclusively worked with the National Theatre in the past, along with CD Julia Horan so stage-based actors could get an opportunity to shine on screen here. Andrews has also worked with Kahleen Crawford on the film "Una." It's not the only film she's in negotiations to join, with the Jon Hamm and Natalie Portman–led astronaut drama "Pale Blue Dot" directed by "Fargo" and "Legion" executive producer Noah Hawley also in talks.
"High Fidelity"
The world is certainly trying to provide more roles for women, especially after the events of last year. According to Deadline, a gender-swapped TV version of Nick Hornby's 1995 novel and the 2000 feature starring John Cusack is in the works at Disney. Written by Veronica West and Sarah Kucserka, the series will be a departure from the book and the movie but still capture both of the originals' spirit, chronicling a record store clerk speaking straight to the audience as she, in this version, recounts her past relationships. West and Kucserka both worked on "Ugly Betty" and "Bull," so it's possible that when this finally comes to light, they could pull one of ABC's casting directors, such as Junie Lowry-Johnson and Libby Goldstein, or they could return to the film's casting director, Victoria Thomas. Either way, keep your eye open for those notices!
"Feud: Charles and Diana"
The Ryan Murphy collection of shows went through some changes this week. The American Crime Story that focused on the Monica Lewinsky scandal has been scrapped, but one update might mean the next "Feud" story is on its way forward. A Twitter leak suggested the already-greenlit Charles and Diana saga is ready to start filming in May with Rosamund Pike and Matthew Goode as the titular royal couple. This hasn't been confirmed anywhere else, but the second season of the series is due out in 2018, so spring production would not be a surprising development. If the project is gearing up, expect Murphy go-to Ulrich/Dawson/Kritzer casting to be filling out additional roles, as they also staffed the first Emmy-nominated season.
Got a tip? Submit it to castingsleuth@backstage.com!
Looking to get cast? Apply to casting calls on Backstage.