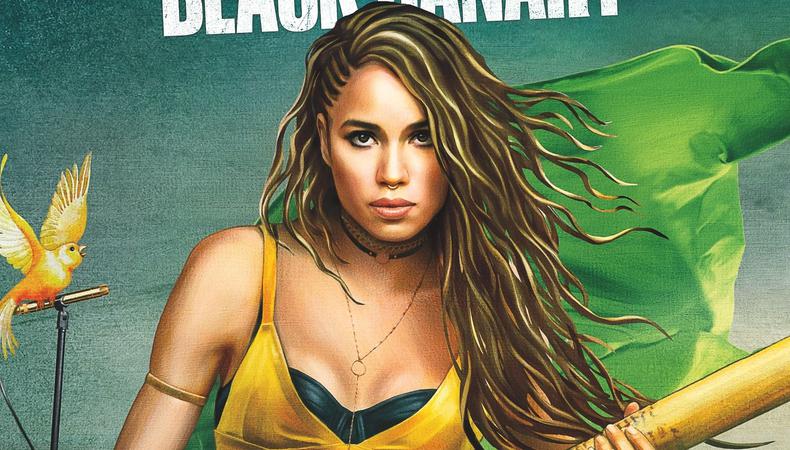 Welcome to Rumorville! Here you can learn about casting news that's about to break in Hollywood. These speculations might be only rumors, but that doesn't mean you can't follow the trail all the way to the audition room.
Black Canary "Birds of Prey" Spin-Off Movie
Back together again: "Lovecraft Country" and "Underground" creator Misha Green and Jurnee Smollett are once again teaming up to develop a "Birds of Prey" spin-off project for HBO Max with Smollett's character Black Canary. Smollett confirmed the news on Twitter, writing, "Guess the Canary is out of the cage! So excited to finally embark on this adventure with my creative soul sis." The pair have long expressed their interest in teaming up for a Black Canary project, including in an interview last year with Variety, where Green said that if an opportunity to work on a Black Canary project presented itself, she'd be excited to sign on. This will be Green and Smollett's third major collaboration, following the aforementioned historical drama series "Underground" and HBO's horror drama series "Lovecraft Country." Rich Delia was the casting director for "Birds of Prey," but the third common denominator in both of the Green-Smollett projects was casting director Kim Coleman.
"Yellow Bird"
First reported by Deadline, Paramount+ has snagged the rights to "Yellow Bird," a one-hour drama series based on Sierra Crane Murdoch's Pulitzer Prize finalist "Yellow Bird: Oil, Murder and a Woman's Search for Justice in Indian Country." The project comes from Sterlin Harjo, the co-creator of the hit series "Reservation Dogs," as well as writer-director Eric Tremblay, Beau Willimon, and Jordan Tappis' Westward Productions, and Michael London's Groundswell Productions. Described as "a true-crime series, a family drama and an immersive look at modern Native American life," "Yellow Bird" follows the newly freed from incarceration Lissa Yellowbird, who returns to her reservation in North Dakota in the midst of one of the largest oil booms in modern history and ultimately exposes a sweeping criminal conspiracy of murder and corruption. Harjo and Tremblay will co-create and executive produce the potential series with Willimon and Tappis of Westward Productions and London and Shannon Gaulding of Groundswell. Murdoch and the book's subject, Lissa Yellowbird, will also be executive producers of the show. Casting has yet to be announced, nor has a casting director, but "Reservations Dogs" CD Angelique Midthunder may be Harjo and Tremblay's first choice.
"Prêt-à-Porter"
It's back to the runway for Robert Altman's fashion industry satire "Prêt-à-Porter," which is reportedly getting a TV series adaptation from Paramount+. The streamer is developing a series based on the feature comedy-drama co-written, directed, and produced by Altman. The original 1994 film, released in the U.S. as "Ready to Wear (Prêt-à-Porter)," chronicles the interconnected lives of a group of people in the lead-up to the 1994 Paris Fashion Week. The series will be written by Ava Pickett and, according to Deadline, focus on the next generation, "revolving around young people on the first rung of success' ladder." The movie featured a star-studded international ensemble cast including Sophia Loren, Kim Basinger, Lauren Bacall, Julia Roberts, Tim Robbins, Forest Whitaker, and more, and while casting has yet to be announced for the series, it will also reportedly be international and multicultural.
"Broadmoor"
CBS Studios will reportedly bring "Broadmoor," a drama series intended for the U.K. and international market now in the works, to life. Created by screenwriter/playwright Jeffrey Hatcher, the series is inspired by true events and based on the famous British high-security psychiatric hospital and "features overlapping stories about the staff, the visitors and, of course, the patients that included maniacs, stranglers, slashers, and serial killers." Fulwell 73 will produce in association with CBS Studios and Miramax Television. Casting has yet to be announced.