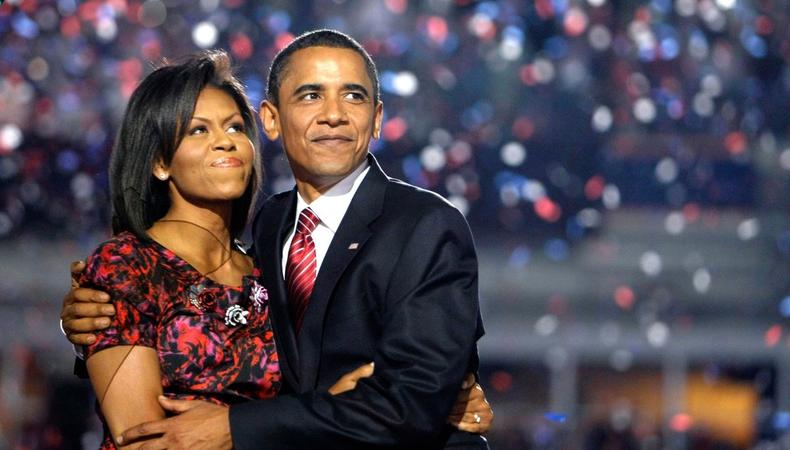 Welcome to Rumorville! Here you can learn about casting news that's about to break in Hollywood. These speculations might be only rumors, but that doesn't mean you can't follow the trail all the way to the audition room.
The Obamas on Netflix
Out of all of Netflix's proposed 700 movies and shows this year, its latest announcement may turn out to be the most anticipated. It's no secret to former President Barack Obama and former First Lady Michelle Obama that they're feeling missed, so they're doing us the favor, reportedly, of producing a series of shows for Netflix. According to The New York Times, the former First Couple is aiming to highlight inspirational stories. Some ideas on the table already include Barack moderating conversations on issues important to his own presidency, as well as one where Michelle will speak on various topics like nutrition. How many shows constitutes a series, they have not specified, nor did they indicate what these shows will need in terms of casting, crew, or talent, but it'll certainly be a great way to take your mind off of less inspirational current events.
"The Room" on Broadway
Unlike his character in "The Room," Tommy Wiseau is not quite fed up with this world. On the heels of the success of "The Disaster Artist," and a renewed interest in the man behind "the worst movie of all time," Wiseau's got his sights set as high as ever. According to his most recent interview with Screenrant, on top of wanting to reshoot, not re-release, the movie in 3D, he's back on plans to bring it to Broadway. It's not the first time this has been his goal of his, however farfetched it may seem, but that doesn't mean it couldn't see life on stage in some form. Still, it's impossible to get into Wiseau's mind so there's no word if he's taken the reins and put anything in motion yet like he did way back when with his own movie. If it does, it's highly likely he'll star in it himself. Casting for "The Room" was an unclear process, so it wouldn't be a Wiseau production without a similar way of staffing a stage production.
"Death of a Salesman"
Joe Mantello might finally make his dreams a reality. The Tony-winning actor-director has long expressed a desire to either direct or just see Nathan Lane on Broadway in "Death of a Salesman." Now, according to a recent Vulture interview with Lane, there have been conversations to have him play Willy Loman, opposite Laurie Metcalf with Mantello directing. Lane currently is in the Broadway transfer of "Angels in America," and Metcalf is just coming off her Oscar nomination for "Lady Bird" and her Tony-winning performance in "A Doll's House, Part 2." Plus, Mantello has experience with both of them: Lane in 2005's "The Odd Couple" and Metcalf in the upcoming "Three Tall Women." As for the rest of the cast, all of Mantello's more recent productions have been produced by the Shuberts and cast by Caparelliotis Casting. Keep an eye out for another addition.
"Logan's Run"
It seems like there's no time like the present for works of dystopian fiction. Between reboot fever and a news cycle that at times seems dystopian, a reboot of 1976's "Logan's Run" has legs. It's been three years since there's been any movement on it when then-developer Simon Kinberg took over the project, which had already been sitting on someone else's desk since 2004. Bryan Singer and Joseph Kosinski have entered and subsequently left the director's spot and then the idea just gathered dust. But now, Kinberg allegedly is subscribing to the idea that if you can't find someone to do something right, do it yourself and closed a deal this week to direct it, with "Hunger Games" writer Peter Craig on the script. So, "Logan's Run" is seemingly back in business—at least for now. There has been talk about switching up the genders for casting, and it won't be announced who will do the honors of helping put together a cast list. Kinberg worked with Alyssa Weisberg and Kenyon Wells on the upcoming "X-Men: Dark Phoenix" so maybe he'll tap them again for another stranger than fiction project.
Got a tip? Submit it to castingsleuth@backstage.com!
Looking to get cast? Apply to casting calls on Backstage.