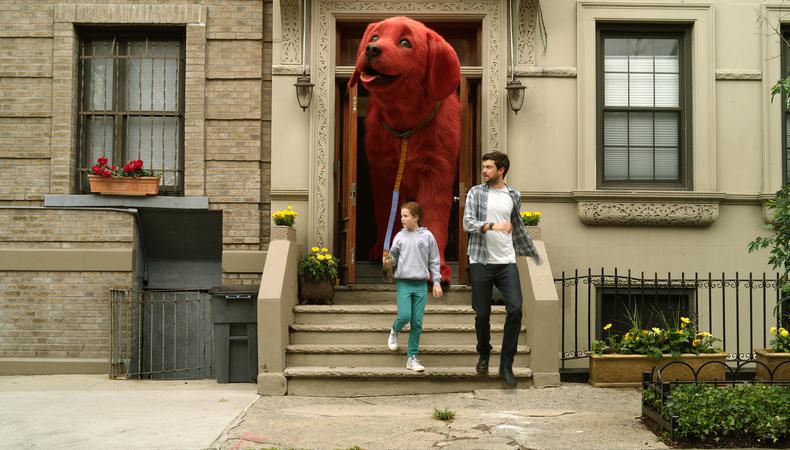 Welcome to Rumorville! Here you can learn about casting news that's about to break in Hollywood. These speculations might be only rumors, but that doesn't mean you can't follow the trail all the way to the audition room.
Wondering what's on the development table this week? We've already reported on the upcoming "Blade Runner" and "Alien" series but turns out there's more production news in the works. We've heard through the grapevine that Paramount is developing a sequel to the live-action feature "Clifford the Big Red Dog." Plus, Netflix is teaming up with "DMZ" creator Roberto Patino for a possible "Nocturna" adaptation.
"Clifford the Big Red Dog" is getting a sequel.
He's back and bigger than ever: a week and a half after its theatrical release, Paramount Pictures has confirmed it is beginning development on a sequel to "Clifford the Big Red Dog", per Deadline. It's still very early in the process and Deadline says deals are only now underway, but "there's a hope to bring back the original filmmaking team," which included director Walt Becker, writers Jay Scherick, David Ronn, and Blaise Hemingway, and screen story writers Justin Malen and Ellen Rapoport. As of publication, the original movie, which starred Jack Whitehall, Darby Camp, Tony Hale, Sienna Guillory, David Alan Grier, and more, has grossed over $34.6 million nationwide. No release date has been set yet for the potential sequel. If Paramount is looking to get the whole band back together, S2 Casting and Mackey/Sandrich were the casting teams for the first film.
The sci-fi comic "Nocterra" is coming to Netflix.
In closing a new overall deal with Netflix, Roberto Patino ("DMZ") has set his first project with the streamer. According to Deadline, the multihyphenate is now developing a series adaptation of the sci-fi comic "Nocterra." The story follows Val Riggs, "a 'Ferryman' who relays people and goods through a world enveloped by a lasting darkness that turns the living into monstrous creatures called shades." Patino is set to write and serve as showrunner on the project, which, according to Deadline, "is in the early stages of development." Additionally, Patino will executive produce with James Wan's Atomic Monster, Michael Clear, and Rob Hackett. Considering the early stage of development, no casting or further creative team information has yet to be announced. Patino is the creator and showrunner of HBO's upcoming "DMZ," which is filming now. Aisha Coley is the casting director for that series.