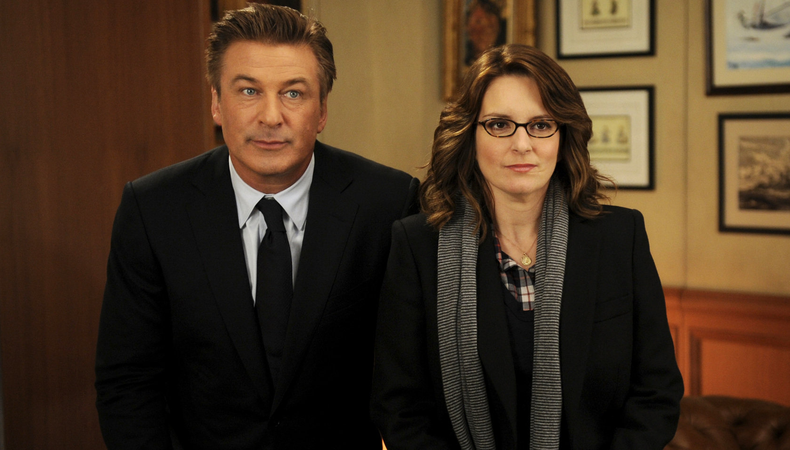 Welcome to Rumorville! Here you can learn about casting news that's about to break in Hollywood. These speculations might be only rumors, but that doesn't mean you can't follow the trail all the way to the audition room.
"30 Rock" Revival
It seems like every show is getting a reboot or a revival, some more anticipated than others, and the quirky cast at Rockefeller Center could be next. According to Jane Krakowski, anything is far from confirmed, but there have been talks to bring the Emmy-winning NBC comedy back on the air. NBC Entertainment chair Bob Greenblatt has not been shy about wanting to bring back the network's legacy shows, especially after the recent success of the "Will & Grace" reboot, so he could make Krakowski and, seemingly, the rest of the cast's dreams come true. It seems like the ultimate decision will be left up to the creators Tina Fey and Robert Carlock, the former with some new free time now that "Mean Girls" is officially open on Broadway. At the very least, keep your eyes open for any notices coming out of Jessica Daniels' office—Rockefeller Center needs a lot of background actors.
"A Dry Run"
When David Simon works on a show, he does it right. He's currently got a hit at HBO with the 1970s-set "The Deuce," and his last smash hit "The Wire" will probably always be considered one TV's best shows. So, the news that he's got another new series in development will probably make prestige TV fans happy. Simon and Spain's MediaPro, the minds behind "The Young Pope," are currently collaborating on "A Dry Run," a new drama following members of the Abraham Lincoln Battalion who came to Spain from the U.S. to fight fascism during the Spanish Civil War. As it stands, the show will be a six-part mini-series, but that won't necessarily remain as they get into the further stages of development. Simon has used prominent New York City casting director Alexa Fogel on both of those major projects, so hers will be the door to watch.
"Jagged Edge"
When Halle Berry signs onto a movie, you can assume it will probably be good. It seems like another leading role is on the horizon at Sony Pictures, which is allegedly in the early stages of a "Jagged Edge" remake. The original 1985 thriller starred Glenn Close and Jeff Bridges, but so far, Berry is the only actor potentially attached yet. Doug Belgrad and Matti Leshem look to be producing this one, but there's no casting director officially attached yet or any further production news, so this will just have to be one to look out for, for now.
"Empire Records"
TV is making the old new again, and Broadway is following suit with a slew of film-to-stage adaptations either on The Great White Way or working their way there ("Frozen," "Mean Girls," in-development "Beetlejuice," and "Tootsie" musicals, just to name a few). Now, another upcoming show can be added to the list. The 1995 cult film "Empire Records" looks to be getting a musical adaptation, written at least in part by the film's original writer Carol Heikkinen and with new music and lyrics by 2018 Jonathan Larson Grant winner Zoe Sarnak. Set in a record store and packed with music, the premise seems to fit right in with the musical format. Producers are working hard to get it up for a 2020 Broadway bow, which would coincide with the movie's 25th anniversary. No news yet as to which company will get it, but there will likely be a fight to capitalize on new talent and get Sarnak in their doors. Keep an eye out for a Telsey + Company call, they're not officially attached, but they seem to be the likeliest choice at this point for casting.
"It: Chapter Two"
The sequel to 2017 smash hit "It" was in the works before it was even greenlit by the studio. Its success quickly led to sequel approval and director Andy Muschietti got to work on casting the 27 years older versions of the Losers Club. Jessica Chastain has always been in the conversation to play adult Beverly, both based on her matching red hair with Sophia Lillis and her friendship with Muschietti. She posted a photo on Instagram Thursday, when additional casting rumors came out, that made it seem like she might be more than just in consideration for the role. Those rumors said James McAvoy and Bill Hader are in talks to join the adult losers to play Bill and Richie, respectively. According to Variety, the conversations are in the early stages, but the script is in progress with Gary Dauberman and there is already a release date for the film: Sept. 6, 2019. Rich Delia, who cast the kids in the first film, has signed on to staff the second one, so his is the room to get into for your chance to be a Loser.
Got a tip? Submit it to castingsleuth@backstage.com!
Looking to get cast? Apply to casting calls on Backstage.