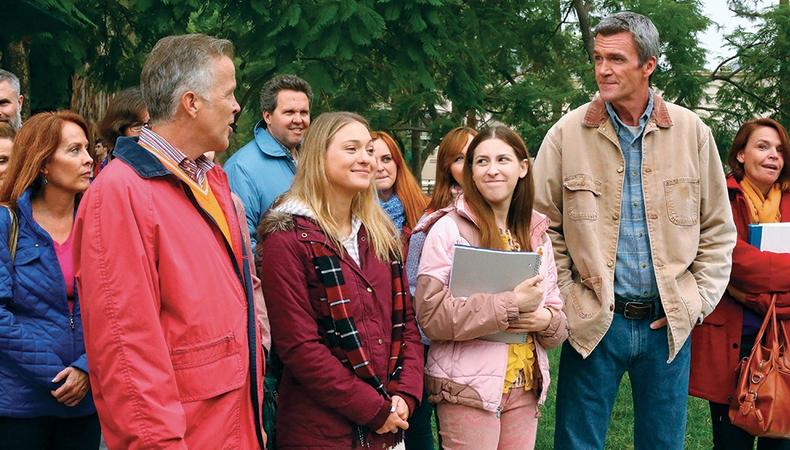 Welcome to Rumorville! Here you can learn about casting news that's about to break in Hollywood. These speculations might be only rumors, but that doesn't mean you can't follow the trail all the way to the audition room.
"The Middle"
In its nine-year run, "The Middle" was one of ABC's most popular shows, and fans of the recently-departed comedy might have another chance to watch the characters they loved so much. According to Variety, the network is allegedly developing a new spin-off series that would center around the series' socially-awkward daughter Hess, played by Eden Sher. ABC is not commenting yet on the possibility, but the cancellation of "Roseanne" has opened up programming opportunities in the fall schedule. Keep an eye on the door of "The Middle" casting director G. Charles Wright, especially for young adults in supporting and background roles if the spin-off gets the green light.
"Little Dancer"
One of musical theater's most successful duos has come together again for yet another collaboration, and New York actors should start lacing up their dancing shoes in preparation. Lynn Ahrens and Stephen Flaherty will have a big-name industry reading of their "Little Dancer," directed by the legendary Susan Stroman. The show made its world premiere four years ago in Washington, D.C., and the reading, which will feature Kate Baldwin, Karen Ziemba, and more, is the next step in the show's road to Broadway. After the June 8 reading, it will go to Seattle, Washington for a West Coast premiere in March 2019, so actors and dancers in Seattle, Washington and New York City looking to make their way into the final cast definitely need to keep their eyes on updates about the show. Stroman almost exclusively works with Tara Rubin for her casting and will likely continue to work with her for this project.
"The Expanse"
The age of streaming has been particularly good for recently-canceled shows. Platforms like Hulu and Netflix have given shows like "Arrested Development" and "The Mindy Project" a new life. Next up, fans of "The Expanse" might be able to maintain some hope. After its cancellation on SyFy, Amazon is currently in talks to revive the space drama. If Amazon goes through with the move, it will continue as planned with its fourth season airing on the streaming giant. John Papsidera will likely continue to do the casting if the series is revived.
"Primates of Park Avenue"
For those who can't get enough of the world of the "Real Housewives" and the lives of the rich and wanting-to-be-famous, good news: Wednesday Martin's infamous memoir "Primates of Park Avenue" reportedly is being developed into a TV series. There's no word yet on which network is doing the distribution, but Lionsgate has got it in development as a half-hour comedy series, with Martin co-writing the pilot. With no other staffing announced, there's no prediction of who will be in charge of casting the series, but a good bet would be a NYC casting director, likely one who has experience in comedy like Jennifer Euston or Cindy Tolan. New Yorkers, keep your eyes open for future casting opportunities.
Got a tip? Submit it to [email protected]!
Looking to get cast? Apply to casting calls on Backstage.