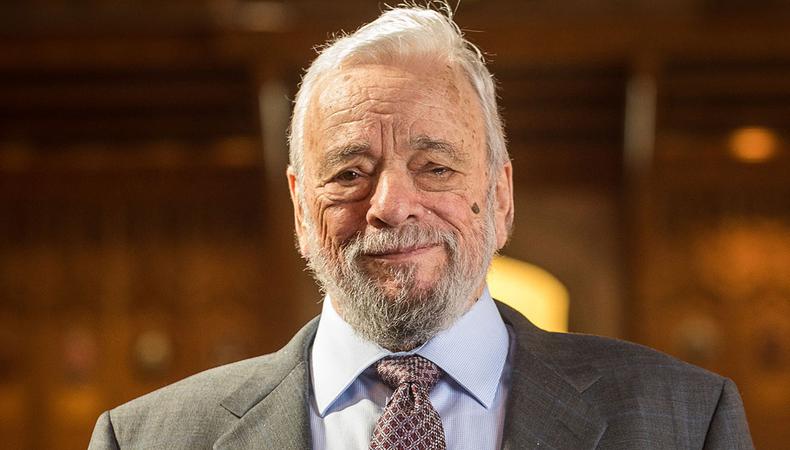 Welcome to Rumorville! Here you can learn about casting news that's about to break in Hollywood. These speculations might be only rumors, but that doesn't mean you can't follow the trail all the way to the audition room.
"Square One"
Stephen Sondheim is ready to give us more to see. The legendary composer stopped by "The Late Show with Stephen Colbert" earlier this week on Sept. 15 for a brief-but-busy interview to discuss not only his busy present—his "Sunday in the Park With George" collaborator James Lapine's new book "Putting It Together", the upcoming Broadway production of Company, and the upcoming film West Side Story—but also his soon-to-be-busy future. The Pulitzer Prize, Tony, Grammy, and Oscar-winning composer revealed he has been working on a new musical for the past couple of years with playwright David Ives that is titled "Square One" and that following a recent reading, they "were encouraged" and are pushing forward on plans to hopefully bring it to Broadway next season. Sondheim and Ives were previously working on a new musical based on the works of Spanish surrealist filmmaker Luis Buñuel, but Sondheim reportedly told The Public Theater earlier this year it was no longer in development. Earlier on Wednesday ahead of Sondheim's "Late Show" appearance, stage and screen star Nathan Lane, who has previously starred in three Sondheim musicals in different phases of development, revealed during an appearance on "The Today Show" that he had read for the aforementioned workshop with Sondheim veteran Bernadette Peters. There is no absolute guarantee that this will make it to the stage, of course, but with Sondheim and Ives both feeling encouraged and considering this would be the first newly mounted Sondheim show since 2008's "Road Show" Off-Broadway at The Public Theater, the chance of this one being put together seems high.
"Indiana Jones"
Will the "Indiana Jones" franchise continue without Harrison Ford? According to a report initially highlighted by The Daily Mail, the upcoming "Indiana Jones 5" will be the last adventure for Ford's Jones and that producer Kathleen Kennedy is set to make "big, bold" changes for future incarnations of both the franchise and the character. Part of that would be a replacement that has reportedly already been lined up: Phoebe Waller-Bridge, Ford's upcoming "Indiana Jones 5" co-star. It was announced back in April that Waller-Bridge would be joining the franchise as an as-yet-unknown character opposite Ford. It is The Daily Mail, so give it a spoonful of salt, and other than the Mail's "gossip on set," these reports remain unverified with no one involved has issued a response. Nina Gold and associate Martin Ware are the casting team for the upcoming "Indiana Jones 5," which is currently due out on July 29, 2022.
"She-Ra"
First reported by Variety, She-Ra may soon be getting a live-action world of her own. DreamWorks Animation is executive producing a live-action series at Amazon, which is in the very early stages of development with no writer attached. (DreamWorks is also producing the Netflix animated series "She-Ra and the Princesses of Power.") The live-action version will be a new, standalone story and would mark the first live-action adaptation of the She-Ra character after first debuting onscreen in the animated film "He-Man and She-Ra: The Secret of the Sword" in 1985. The aforementioned "She-Ra and the Princesses of Power" ran for five seasons and 52 episodes, with the fifth and final season dropping on Netflix back in May 2020.
"Batman" Penguin Spin-Off Series
Switching to the dark side, the DC Universe is reportedly growing at HBO Max, where a series involving the classic Batman villain Oswald Chesterfield Cobblepot, a.k.a. Penguin, is in the works. The project is in the early stages of development and is being executive produced by "The Batman" duo Dylan Clark and Matt Reeves. Lauren LeFranc ("Agents of S.H.I.E.L.D.") has been tapped to showrun the project, which is being described as a "Scarface-like" series about the rise of the Penguin character. The potential series joins a slew of other DC-related projects in the works at the streamer, including J.J. Abrams-executive produced takes on Madame X and Constantine and also the Joe Barton-showrun series "The Batman," which was given a series commitment last summer. HBO Max has declined to comment on the Penguin project at this time.