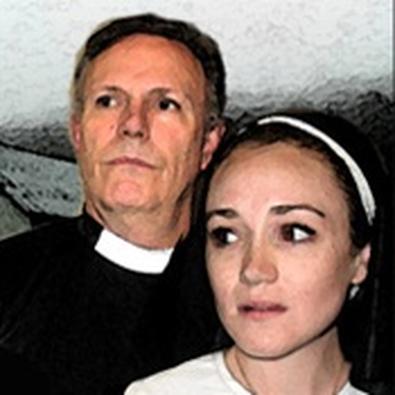 I believe I just sat through someone's first run-through, the one at which the director tells everyone to press on and if you can't remember your line, well, you know where the scene is going so just make something up. There seems no other explanation possible for such a staggeringly inept production of Milan Stitt's courtroom drama about the tradition-bound priest and the nonconformist nun who loves him and ends up dead, putting the priest in the dock. However, it must be said that the performance of Joanna Strapp, in the role of wimpled maverick Sister Rita, is just about perfect. She has a firm grasp of her lines and her character; she's vital, she's interesting, and she's articulate. It's a touching performance that, if nothing else, should inspire her fellow actors to at least attempt to meet her midway.
So what's up with the rest of this mush-mouthed cast that performs as if it missed the last week of rehearsal? Lindsey Ginter plays the role of the unwitting love Father Rivard as little more than an abashed child always threatened by a trip to the principal's office, and he plays his character with so little dimension that even a hungry puppy would have trouble finding a reason to love him. In the role of the Catholic convert Mrs. Shandig, Father Rivard's proprietary housekeeper, Marie O'Donnell splits the difference. She knows her lines, and we can hear her, but her character's profound devotion to Catholicism and, by extension, Father Rivard, are apparent only because they're on the page.
What little of Donald B. Shenk's pace-free direction was there was deplorable. We shall draw the veil over the name of the actor portraying Rivard's lawyer, but the defining moment of the show was when he was stumbling through a court scene in a fog and finally announced that the prosecution was calling for "a...a...well, what would you call it?" "Privileged communication?" the (not much better) actor playing the prosecutor warily replied. "Yeah, that," the defendant's lawyer responded. I'll just bet those were not the words Stitt wrote.
Presented by the Stillspeaking Theatre at San Marino Congregational United Church of Christ,
2560 Huntington Dr., San Marino.
Fri.-Sat. 8 p.m., Sun. 3 p.m. (Sat. 3 p.m. only Apr. 26.) Apr. 11-May 4.
(626) 292-2081. www.stillspeakingtheatre.org.