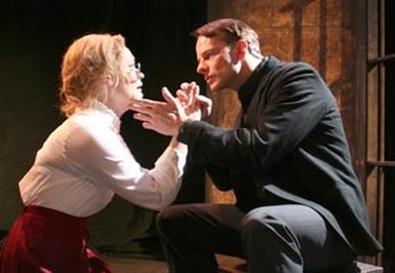 Why on earth isn't "The Runner Stumbles" revived more often? Milan Stitt's 1976 drama had a healthy Broadway run, was made into a high-profile (if badly reviewed) Stanley Kramer film, requires a small cast and minimal production values, and is a smacking good play. Or rather, three smacking good plays: a courtroom drama, a whodunit, and a treatise on the acceptance and rejection of faith and why God has put us here.
Father Rivard (Christopher Patrick Mullen), stuck on the cold Michigan plains of 1911, thinks he knows why, but his assumptions are about to be sorely tested with the arrival of Sister Rita (Cassandera M.J. Lollar). I hesitate to reveal much more than that, except to say that Stitt, basing the proceedings on the actual murder of one Sister Mary Janina, whips us around the jail where Father Rivard is being held, the courtroom where he's tried, and the parish on the hill where these two, tested by feelings they're not allowed to have and aren't even sure they're feeling, will agonize over their thoughts, actions, and the lies they've told to themselves and others.
The Richmond Shepard Theater is a plain, intimate black box, and that's an asset here, as we can be thrust up close to the proceedings, clearly hearing every actorly whisper. Except for a couple of awkward moments when different playing areas bleed into each other (an actor in the parish, needing a chair, grabs one off the witness stand), we always know where we are, and Stitt's flashes backward and forward in time are never confusing. Credit Peter Zinn's lucid, subtle direction, and some splendid performances.
Mullen, in a juicy role that must be awfully tempting to ham, plays Rivard naturally and low-key until his façade cracks: Mullen has Rivard's emotions wash slowly over his face, allowing us to share and despair over the crumbling of his beliefs and the unraveling of his universe. Lollar, whose Sister Rita declares early on, "I had to be a child then to be a nun now," delicately shows us both: the eagerness and openness of the girl becoming a woman and the questioning and thoughtful contemplation of her role as a nun. I wanted a bit more expressiveness from Heather E. Cunningham's housekeeper, Mrs. Shandig, admittedly a woman for whom repressed feelings are second nature, and Jim Boerlin is practically motionless as the authoritative, severe Monsignor Nicholson. But Becky Byers' calculating, flirty Catholic-school student; Ric Sechrest's methodical lawyer; and Alisha Spielmann's mistreated, terrified-of-loneliness housewife all have wonderful moments.
Stitt organizes his narrative brilliantly and gets us to care about these small-town innocents with seeming effortlessness; a gesture as simple as the laying of one hand on another is fraught with meaning and compels us to lean forward and wonder what will happen next. A play this good has no business being forgotten, and this Retro Productions effort does more than honorably by it.
Presented by Retro Productions at the Richmond Shepard Theater, 309 E. 26th St., NYC. Nov. 8–20. Mon.–Sat., 8 p.m. Sun., 2 p.m. (No performance Thu., Nov. 10, and Tue., Nov. 15; additional performance Sun., Nov. 13, 7 p.m.) (212) 352-3101, (866) 811-4111, or www.retroproductions.org.