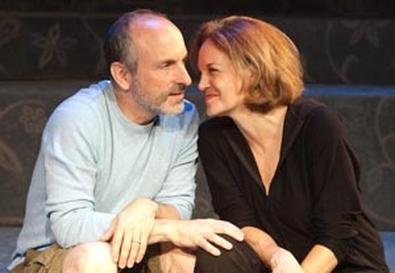 Arlene Hutton has written some good plays, including "The Nibroc Trilogy." But "Running," a two-hander about a late-night reunion between two 50-something ex-flatmates, is a yawn.
One of the characters mainly wants to go to sleep, and you can't blame him. Stephen (Seth Barrish) plans to run the marathon in the morning, but he becomes a reluctant host when his wife's old friend Emily (Lee Brock) arrives with no place to stay. Barrish appeals in a low-key Richard Dreyfus way, but he hits the same note of passive-aggressive irritation over and over. Brock gives Emily's selfish neediness a humorous edge, but that still doesn't make the character's shrillness interesting.
Late-night chats about deferred dreams rarely seem revelatory to anybody but those having them. The impressively improvisatory-sounding dialogue never leads anywhere; the play resists theatricality to a fault. "Running" might make a sweet one-act, but as a full-length play it crawls.
Presented by the Journey Company as part of the New York International Fringe Festival
at the Cherry Pit, 155 Bank St., NYC. Aug. 13–20. Remaining performances: Mon., Aug. 16, 7:30p.m.; Tue., Aug. 17, 2 p.m.; Fri., Aug. 20, 4:45 p.m. (866) 468-7619 or www.fringenyc.org.