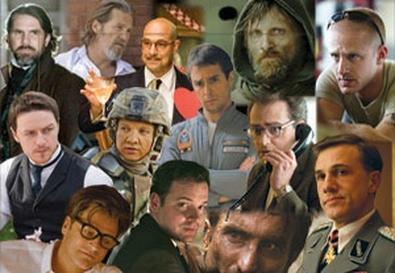 As awards season arrives, Back Stage takes a look at the actors who've stood out over the last year for their film performances.'
Actors like Morgan Freeman ("Invictus"), Peter Sarsgaard ("An Education"), and Jeremy Renner ("The Hurt Locker") have all caught the eye of viewers and critics alike this awards season. Back Stage looks at the remarkable roles they've played and examines why the critical heat is trailing them.
The Man for the Job
Film critics pick likely nominees for best-actor awards. Kevin Lally of Film Journal International, Sean Smith of Entertainment Weekly, Kristopher Tapley of InContention.com, Anne Thompson of IndieWire.com, and Pete Hammond of the L.A. Times debate the contenders.
Crazy for Him
When Jeff Bridges was approached with the script for "Crazy Heart" and was asked to play its leading man, Bad Blake, he saw vast potential in the role. And he turned it down.
Glory Days
Even if Christoph Waltz had not been cast as Col. Hans Linda in "Inglourious Basters," the experience of auditioning for Quentin Tarantino would have been enough to satisfy him.
Shades of Grey
Peter Sarsgaard has played his fair share of, shall we say, ethically dubious characters. The actor excels at making audiences question what's under the polite surface.
Gentle Giant
Colin Firth has been showing up around Los Angeles dressed in a stylish suit, white shirt, and tie. Why not? He's speaking about his role in "A Single Man."
In the Moment
From the beginning, Viggo Mortensen was the only choice of director John Hillcoat ("The Proposition") to play the role in "The Road."
A Soldier's Story
Some roles are hard to shake. Ben Foster ("3:10 to Yuma," "Alpha Dog," "Six Feet Under") found this out the hard way on a recent promotional tour for his new film "The Messenger."
Valentin's Day
Who better to play Tolstoy's naively idealistic secretary Valentin than James McAvoy, in one of the most delicate, detailed, heart-rending performances in his notably brilliant career.
A World of 'Hurt'
Jeremy Renner's virtuoso performance in 'The Hurt Locker' has already earned him Spirit Award and Gotham Award nominations and a Hollywood Breakthrough Award for best actor.
'Lovely' and Amazing
Earlier this year, two-time Golden Globe and Emmy winner Stanley Tucci made audiences sigh and wonder where they could find a doting, supportive husband like Julia Child's mate Paul.
Beginner's Luck
Although Sharlto Copley has always been known among friends and colleagues for his virtuosic ability to make up characters on the spot, he never seriously considered acting as a legit career.
Seriously, Now
Michael Stuhlbarg had worked on stage with Frances McDormand, Joel's wife, and had met both Coens socially. But he admits to being intimidated at his first audition.
'Star' Quality
A friend of Paul Schneider's recently referred to him as "the reluctant actor," a label Schneider disputes. "I'm not reluctant," he explains, choosing his words carefully.
He Said
"I'm a good director's actor. I want to serve them. I don't go in there with my own agenda. I want to find out what they're after and deliver." - Clive Owen
Which Craft
"Once you get into the emotional truth of it, it has to be your emotional truth, otherwise the camera will see through it in a flash," said Brendan Gleeson