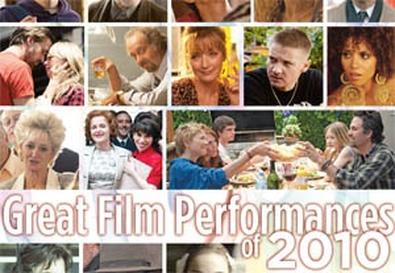 As awards season arrives, Back Stage takes a look at the actors who've stood out over the last year for their film performances.
Actors like Ryan Gosling, Colin Firth, Robert Duvall, and Jeremy Renner have all caught the eye of viewers and critics alike this awards season. Back Stage looks at the remarkable roles they've played and examines why the critical heat is trailing them.
Career Highs and a 'Low'
Robert Duvall's career spans a series of classic characters and performances in several of cinema's all-time greatest films
The Cut-Up
In "127 Hours," James Franco runs the full gamut of emotions, from elation to despair to full-on delirium.
Young at Heart
Even before his breakthrough role in Alexander Payne's "Sideways," the industry had caught on to Paul Giamatti.
Man About 'Town'
Jeremy Renner turns in another explosive performance, this time in 'The Town.'
Straight to 'Network'
Let's get this out of the way: Jesse Eisenberg does not use Facebook, but he does embody a media mogul in 'The Social Network.'

Best Firth Forward
Colin Firth leaves Mr. Darcy far behind with a shattering portrayal of King George VI.
Complicated Character
Javier Bardem is not one to shy away from challenges. In "Biutiful," he plays a dying man racing against time to ensure that his children are left in good hands.
Scenes From a Marriage
Ryan Gosling and Michelle Williams break hearts in 'Blue Valentine,' a film about a couple falling in and out of love.