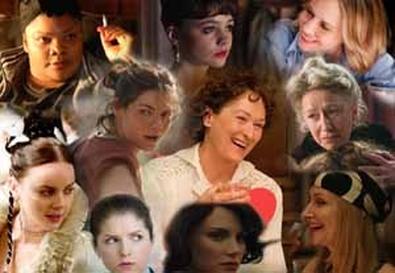 As awards season arrives, Back Stage takes a look at the actresses who've stood out over the last year for their film performances.
Actresses like Mo'Nique ("Precious: Based on the Novel Push by Sapphire"), Vera Farmiga ("Up in the Air"), and Carey Mulligan ("An Education") have all caught the eye of viewers and critics alike this awards season. Back Stage looks at the remarkable roles they've played and examines why the critical heat is trailing them:
The Distaff Discussion
Film critics pick likely nominees for best-actress awards. Kevin Lally of Film Journal International, Sean Smith of Entertainment Weekly, Kristopher Tapley of InContention.com, Anne Thompson of IndieWire.com, and Pete Hammond of the L.A. Times debate the contenders.
U'Nique
At 10 o'clock one night, Mo'Nique got a call at home from director Lee Daniels. "I have something for you that might f*** up your career," the filmmaker told her.
Count Her In
What an ideal role for the world's grande dame of acting! In "The Last Station," Helen Mirren portrays Countess Sofya Tolstoy, wife of the Russian writer Leo Tolstoy (Christopher Plummer).
Prize Pupil
Carey Mulligan honed her patience waiting for "An Education" to get green-lighted. She read for it "about three or four times," she says, one of which was opposite fellow star Peter Sarsgaard.
The Greatest
First, she channeled Julia Child in "Julie & Julia." Later this month, Meryl Streep will play a divorcée torn between Steve Martin and Alec Baldwin in "It's Complicated."
Poetic Justice
In "Bright Star," Abbie Cornish depicts Fannie Brawne, the lover of Romantic—and doomed—poet John Keats.
Keep on Truckin'
When Michelle Monaghan was sent the script for "Trucker" by writer-director James Mottern, she knew she had found, in her words, "the role of a lifetime."
Southern Gothic
Bryce Dallas Howard is a busy woman. She is literally doing this interview while running to a location in Portland, Ore., to see its view and approve it for the next Gus Van Sant film.
Women's Ware
In a career spanning almost 25 years, Patricia Clarkson has tackled a spectrum of roles on Broadway, on television, and in film.
Good to the Bone
Since her breakout role as a cocaine-addicted housewife in the 2004 indie "Down to the Bone," Vera Farmiga has amassed an impressive résumé.
Surer Footing
Anna Kendrick left her "Up in the Air" audition convinced of one thing and one thing only: It didn't go well.
She Said
"I was very surprised to realize the poverty of her family and her situation. The fact that she had no education and was able to achieve so many creations is very, very surprising." - Audrey Tautou.
The Unusual Suspects
Almost every year, it seems there are complaints about it being a bad year for women's roles. For some reason, that buzz is especially loud for 2009.