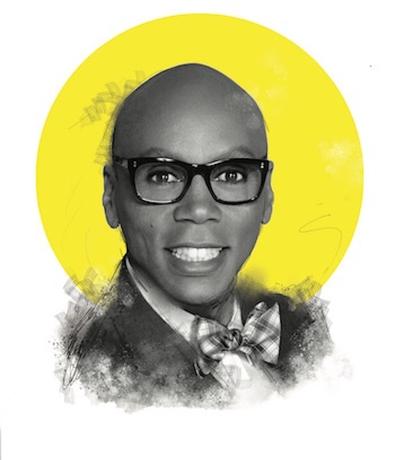 RuPaul Andre Charles, better known simply as RuPaul—supermodel of the world and groundbreaking drag pioneer—could be seen last year snatching scenes on Comedy Central's "Broad City." Could he win an acting Emmy to match his two statues for hosting reality hit "RuPaul's Drag Race"? Gracing Backstage with his queenly presence, RuPaul overflows with practical advice for actors and nonactors alike.
What's your top piece of advice for aspiring performers?
Know thyself. And that's not just for performers, that's for everyone on this planet. Don't be afraid to live in your own body, know thyself. You see so many people on their smartphones trying to escape themselves. They can't stand to be in a room by themselves in their own thoughts. Your job, whether you're in show business or not, is to find your rhythm, find your frequency. Yesterday I just finished shooting an arc on "Grace and Frankie." And I'm watching these brilliant actors doing their thing and trying to pick up what they're doing, Jane Fonda and Lily Tomlin, watching these brilliant craftspeople build this—I felt so honored to do it, to be in the same room with them. But I gotta tell you, there wasn't a moment in my performance that I wasn't thinking about the fact that I was looking at Jane Fucking Fonda. [Laughs] There wasn't a moment where I was lost in the character at all, or forgot that I was doing a scene with Lily Tomlin and Jane Fonda. But again, the practice I use: I would breathe, and I would remember what it is I'm here to do, which is to experience this planet and this body. And then I could give my all to the scene because I was in my body. That's a part of knowing thyself.
Who's your favorite actor?
Geraldine Page, because that thing she does is riveting and I'm mesmerized by it. In fact, sometimes when I'm watching her, I think, Does she mean for us to see that? I feel kind of uncomfortable and embarrassed because it's like, I don't think she meant for us to see that, it's so raw.
What's one movie every performer should see?
"Who's Afraid of Virginia Woolf?" Because Sandy Dennis is beyond, she's another one of my favorites. But also [Elizabeth Taylor] has never been better, Richard [Burton] has never been better, and George Segal, same. The direction by Mike Nichols, it is transcendent. Also "Streetcar Named Desire" is absolutely beyond, the film version with Vivien Leigh. And in that same vein, "The Fugitive Kind" with Anna Magnani. She's another one who's transcendent, it's beyond acting.
Before your big break, what was your most memorable nonperformance job?
I worked for my brother-in-law's car business. He used to flip high-end, expensive cars. I worked for him from '76 until '82. I would fly to different cities and buy cars for him and drive them back to Atlanta, where he would have them fixed up, then drive that same car to the buyer, who most of the time was in San Diego. So I drove cross-country from Atlanta to San Diego, and everywhere else, for about six years. I've driven cross-country about 50 times.
What did you learn during your guest run as Marcel on "Broad City" alongside Ilana Glazer and Abbi Jacobson?
"Broad City" was so much fun because it was such a relaxing set. And I know that dialogue, I know the irreverence and the hilarity of that dialogue. It felt just great. And they wrote a part for me that is really in my wheelhouse. I'm never as mean as that character, but I can surely fake it! You know, I haven't seen it! It wasn't until the other night that for the first time a friend forced me to see this thing I did on Season 2 of "The Comeback," just a cameo. I rarely watch myself until I absolutely have to. I will watch "Broad City," I think it's on Hulu now. I don't have cable anymore.
Do you have any audition horror stories?
Oh, yes, every single one of them is a horror story. This is what I've learned about auditions: I don't give a fuck. The truth of the matter is, I go in there and I've learned how to turn on my rhythm of what I do. Having been someone who has auditioned other people, I realize what they're looking for isn't necessarily someone who has memorized the script, but a rhythm of who they think could bring the character to life. I always tell myself [that] they're like painters looking at a palette of different colors. It's not to say they don't like [your] color red—it's just [that] that's not the color they had in mind for the painting they're going to create.
So what advice do you have for auditioners?
For me, on the other side of that table, when I see someone who is authentic in a way that they're not trying to put on something on that they're not, that's when my ears prick up. I think, Oh, who's that? Because there's an authenticity about them. A lot of times on our show ["RuPaul's Drag Race"] I'll see auditions from the contestants and I can tell they're trying to behave in the way that they think I want them to behave, which is the complete opposite of what I'm looking for. I want to see them. I want to see their own rhythm and their own frequency, not some affected version of themselves.
So when I go out and audition, I'll try to learn as much of the script as I can—but I know that what they're looking for is different colors. Not to say they like one color over the other, but for the painting they have in mind. So I need to show my colors! I need to show all my different hues. And that's another way to not get down on yourself if you don't get a job: You're a beautiful color. They just didn't want that one. Also you have to remember the casting director and the other people, they might not need you for that but they'll remember you for something else. When they are using the color red, they'll go, "I know the perfect color red for this."
Does winning two Emmys change you as a professional in the industry?
I've always worked outside the status quo, on the fringe of the industry, and mostly created my own projects. For many years, the industry didn't know what to do with me or how I fit into their idea of what show business is. So I gave up on even needing their validation. In fact, I'm not sure if I ever cared about what the industry thought of me. Having won the awards, I still haven't really changed my views. How other people see me is none of my GD business. But truth be known, I wish it came with a cash prize. I'm just keepin' it real, yo.
Did you ever set out to be a trailblazer, to change the mainstream?
No. My thing was, I want to be as creative as I can. I didn't know how I would do it, I did not know it would be drag. My role in my success has to do with my willingness to listen to the universe's stage direction. Drag presented itself; I was conscious enough to know people are responding to this, and then conscious enough to follow through with it. I could have very easily said, "This has never been done like this to great success." There had been some, like Divine and Charles Busch and Boy George. My credit is that I didn't pooh-pooh drag, didn't turn my nose up at it.

What's the first step in getting that quintessential big break in Hollywood?
First, get your real estate license! [Laughs] The truth is this is the hardest business in the world. Jane Fonda said this the other day, that there are so many factors to somebody becoming a success in show business and people always downplay the luck part of it. So much of it is luck. So much of it is finding your own voice and your own rhythm and then finding where that could fit into this business. OK, there's my agent calling right now so I think I have to take this. [Laughs]
Looking to make it big in Hollywood? Check out Backstage's Los Angeles audition listings!