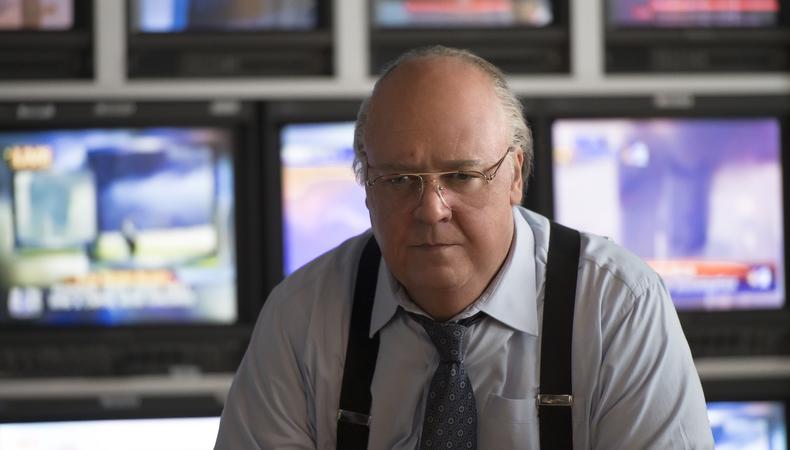 For actors, making the physical transformation into another human being is an immense feat as-is—but when that human being is Roger Ailes, that feat becomes monumental. Fortunately for Russell Crowe, who portrays the Fox News founder in Showtime's upcoming limited series "The Loudest Voice," he had an assist from Oscar nominee Adrien Morot; the prosthetics artist helped the Oscar-winning actor find Ailes' interior, ultimately, by molding his exterior.
Can you describe the role of a prosthetics artist?
It's such a broad spectrum of things. In the case of "The Loudest Voice," I was in charge of transforming all of these actors with the help of prosthetics. Obviously, Russell being Roger Ailes needed to be bald and all of that stuff, and anyone that needed to have prosthetics, that was my job. But sometimes prosthetics can involve [making] fake babies, corpses, fake animals, stuff like that.
READ: How to Communicate With Your On-Set Makeup Artist
How did you get into this somewhat eccentric line of work?
I have always wanted to do this since I was a kid. I was a really weird kid, and when I was 10 years old, I was really focused on making masks and transforming my friends into creatures and doing character makeup on them, even at that age. I've always known it was what I wanted to do, since I saw the first "Planet of the Apes"—and then "Star Wars" came out and sealed the deal. Every occasion I had to skip school and stay in my basement making masks, I would. And then, when I was 20 years old, I moved to California from Montreal, Canada, and I started working.
Can you speak to what was unique about "The Loudest Voice" compared to the many other projects you've worked on?
I usually work on movies and I haven't done that much television. You need to think really fast in television, and the lead time for making those makeups was not very extensive. Very often, at the bottom of my contract I'll have [specified] time to fabricate the makeups, 10–12 weeks. On "The Loudest Voice," often we had a week to come up with a full prosthetic makeup. It doesn't give you a whole lot of time to second-guess yourself, which is a good thing, but also you don't have the chance to review your work. Whatever we sculpted, we had to mold right away to start building the prosthetics. It made it very hard, because the first time you apply the makeup, you're shooting with it right away and you have to live with whatever you were able to do in that short period of time.
What was it like transforming Russell Crowe into Roger Ailes?
He is at the top of the acting world, and you don't get there by chance. He is extremely demanding of himself but he has demands for everyone around him, too, meaning everyone else has to be on their A-game all the time. That makes it difficult for some people because, sadly, I think there are a lot of people who are doing the bare minimum, and when they meet somebody like Russell who is really demanding—if you have bad edges on your prosthetics or you have anything that's not exactly to the standard that he's expecting, he won't hesitate to tell you. He'll say, "OK, this mole right here was an eighth of an inch higher yesterday," and you're like, "No it wasn't!" and then you look at the pictures and are like, "Oh, actually, you're right." And he is always right. So, it makes it tough, but at the same time it's incredibly rewarding when you get that approval from Russell because you know the guy is on the ball at all times.
Was Sienna Miller, who plays Elizabeth Ailes, similarly invested?
In the case of Sienna Miller, I know for sure that she was because she fought for those prosthetics. When we did the first makeup tests, it was one of those instances where it was so rushed, we had a week to do it. I couldn't do all the principal actors' makeup solely because I had to work on Russell most of the time, so we hired a few makeup artists before we found somebody who could apply the makeup to the standard I was expecting. The first few times we did it, it didn't turn out so well, to the extent that [we almost didn't use prosthetics]. Sienna said, "No, I want this. I don't want to be Sienna Miller, I want to be Elizabeth Ailes. I am creating a character here and I need [prosthetics] as an essential tool for me to portray that woman." That makes you up your game: If it's that important to her, let's make it as good as we can.
What's your protocol for working with actors more generally?
It's a case-by-case scenario. For someone like Russell, who is very involved—before anyone else in the production sees the prosthetics, he wants to see them… when we first start, I [usually] do some Photoshop rendering of what we're trying to do, so we're able to see if my vision for the makeup is going too far or not far enough. That takes me less time than it does to produce the makeup, and I can provide everyone on the creative side with pictures. But it had to go through Russell first, and he'd give me notes and then we'd go back and forth, and once I had his seal of approval, I'd take it to the directors and producers and everybody involved. Once everyone approves, I sculpt it in clay; every wrinkle, every pore, every shape, it's all sculpted. If the job is done well and it's well-designed, the edges are placed at the right place, when you glue these to your actor's face, then when he moves his face, the outside of the prosthetic will move as well. That process really starts with the actor, though. It's always a matter of finding the right balance with the actor.
Do you frequently find that actors transform significantly or are able to go deeper into their character once prosthetics have been applied?
What I find is the majority of actors, at first they get really excited to see the transformation when you do the makeup on them for the first time. By the second week of doing the makeup every day, you see that energy quickly vanishing [because of the] lengthy process of applying them. The thing that's really amazing is they're always very grateful, because it's like wearing an itchy sweatshirt—it keeps you warm, but it's itchy. But every time I get to speak with them, they tell me that they use it as a tool on their tool belt to create a character. That's when it's the most rewarding. It's not just a prop or useless gimmick; it's an essential part of them creating the character they're trying to portray.
Is your process very different when designing prosthetics for an actor to look like a real person compared to an alien or monster or something more effects-driven?
One of the things I've always tried to do is find the right balance. The thing I find very often in this business is people are very ego-driven. [Prosthetics artists] will try to do character makeup that's all about the beauty of the sculpture, and it becomes almost like an art piece trying to recreate reality. I always try to find the right balance between what I'm trying to do and the actor—and in this case, that was to give Russell Crowe the essence of Roger Ailes, rather than Roger Ailes with a bit of Russell Crowe. That helps me in finding a bridge to reality, which is more convincing, I find, and it's less shocking for the viewer because you're like, "I see it's Russell, but he shaved his head! Did he gain weight?" It's finding that right balance between the reality of the actor and the character they're trying to create.