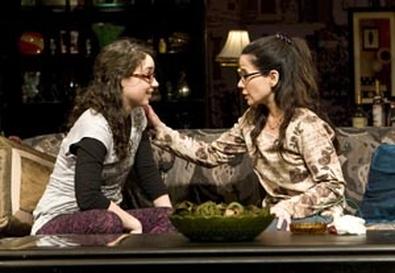 As Tolstoy famously said, all happy families are alike. That does not mean that all unhappy families are inherently interesting or should have plays written about them. The immigrant clan depicted in Erika Sheffer's "Russian Transport," presented by the New Group, has some potentially fascinating quirks, but the novice playwright has settled for familiar plot twists, and there are too many structural flaws to ignore.

Diana and Misha, a first-generation Russian-American couple, operate a car service in Sheepshead Bay, Brooklyn. In addition to working for the family business, their ambitious teenage son, Alex, holds down several jobs, including pushing drugs, while his younger sister, Mira, yearns to get out of the house through a summer semester in Italy and clandestinely necks with a shadowy boyfriend after school. The parents have secrets of their own. Misha juggles the books to hide his enormous debts to loan sharks, and Diana takes a cut of Alex's earnings without informing her husband.

Into this nest of deception comes Boris, Diana's macho younger sibling. At first he appears to be a good-natured greenhorn from the homeland ready to honestly pursue the American dream, but it's gradually revealed he makes a considerable living tricking naive Russian girls into prostitution. The family's loyalties are tested when Boris recruits Alex as a driver to pick up victims at the airport and take them to a mysterious location in New Jersey (hence the ironic title), where presumably they are inducted into the ranks of the oldest profession.

Sheffer, who is making her Off-Broadway playwriting debut, displays a sharp facility for dialogue; the rapid-fire exchanges, which include Russian and fractured English for the older generation and street slang for the kids, are often funny and pointed. But there are too many confusing plot strands, most of which are abandoned to focus on the girl-trafficking angle. It doesn't help that Sarah Steele, who plays Mira, also enacts about a half-dozen of Alex's young passengers with little differentiation. Many of the dynamics among the characters also provoke head scratching. The cordial relationship between Misha and Boris at the top of the play doesn't jibe with a big secret about their past associations in the old country that's unveiled toward the end.

Fortunately, Scott Elliott, the company's artistic director, provides an intense, naturalistic staging with none of the screaming histrionics that marred last season's "Blood From a Stone," another New Group dysfunctional-family offering. Derek McLane's kitschy set and Ann Hould-Ward's character-defining costumes also help create the believable atmosphere.

Janeane Garofalo uses her skills as a standup comic to earn laughs with Diana's pointed retorts, but she fails to convey this monster mother's fierce but twisted love for her children. Morgan Spector is convincingly charming and then quietly menacing as the devious Boris. Raviv Ullman nails Alex's wannabe-gangsta bluster, which gradually peels away to reveal little-boy fear. As noted, Steele has difficulties with her multiple assignments, but she captures Mira's stubborn intelligence and budding sexuality. As Misha, Daniel Oreskes gives the deepest performance, feelingly expressing this proud father's frustration with his disappointing domestic situation and crushing economic travails. If Sheffer had concentrated on such simple conflicts within the family and not gotten lost in the plot, this might have been a moving "Transport."

Presented by the New Group at the Acorn Theatre, 410 W. 42nd St., NYC. Jan. 30–March 24. Mon.–Wed., 7 p.m.; Thu. and Fri., 8 p.m. Sat., 2 and 8 p.m. (No performance Mon., Feb. 27.) (212) 239-6200, (800) 432-7250, or www.telecharge.com. Casting by Judy Henderson.