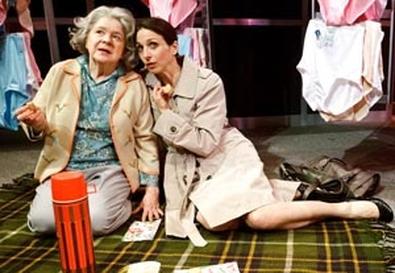 Love and pharmaceuticals make for a strange cocktail in Kate Fodor's piercing new comedy "Rx," which contains equally strong dosages of satire and insight. Edging close to parody but staying within the bounds of credibility, Fodor strikingly portrays our overmedicated society, which has a pill to alleviate every uncomfortable emotion. A solid cast and keen direction from Ethan McSweeny perfectly balance the wickedly funny social barbs with compassionate portraiture. The show is an effective prescription from Primary Stages for an anemic theater season.
Failed poet Meena Pierotti hates her job as managing editor of a trade journal for swine farming. She desperately enrolls in a clinical trial for a drug to cure workplace depression. That's a clever enough premise all by itself, but Fodor adds a fascinating catalyst to the mix when Phil Gray, the principal research doctor on the project, falls in love with Meena and she reciprocates. As the pills begin to work and Meena actually starts enjoying line editing articles about raising pigs, she loses interest in Phil, who in turn attempts to score samples of his company's experimental pill to relieve heartbreak.
Intersecting Meena's orbit are Simon, her gung ho boss, and Frances, a widow emerging from her numbing grief only to discover that she has breast cancer. Meanwhile, Phil must cope with Allison, his driven supervisor; Richard, an ad exec going through a midlife crisis; and Ed, an absent-minded colleague who's in charge of those anti-lovesick capsules. Through the interactions of these quirky yet relatable characters, Fodor draws a scathing picture of people who can't take their feelings and will do—or swallow—anything to escape them.
Meena could easily have become a whiny wimp and Phil a robotic drone, but the resourceful Marin Hinkle and Stephen Kunken paint a paletteful of subtle shades when depicting these unlikely lovers. Hinkle finds the heartbreaking humor within Meena's depression, subtly transitions to a more energetic, lively persona when the medication kicks in, shifts to a scary manic phase when the drugs are cut off, and finally finds a reasonably tranquil center when Meena realizes that she must experience the world without artificial help. Kunken is goofily endearing as Phil progresses from coldly antiseptic researcher to quivering mass of smitten jelly.
As the aggressive Allison, Elizabeth Rich is voraciously sharp-toothed and gets to deliver some of Fodor's spikiest lines, such as "As a drug, alcohol makes you feel worse and worse. I don't understand why it's such a moneymaker." The reliable Marylouise Burke hits Frances from an unexpected angle, finding joy in this lonely lady's discoveries even as she faces a terminal diagnosis. Paul Niebanck pulls double duty, making the most of his one scene as the alternatively hyper and melancholy Richard and endowing the foggy-minded Ed with an adorable shaggy-dog quality. Michael Bakkensen has the least developed role as Simon, Meena's insensitive superior, but he handles it with aplomb.
Lee Savage's functional, flexible set and Lindsay Jones' original music and sound design provide just the right bland cookie-cutter atmosphere for this biting satire of an anesthetized conformist culture.
Presented by Primary Stages at 59E59 Theaters, 59 E. 59th St., NYC. Feb. 7–March 3. Tue.–Thu., 7 p.m.; Fri., 8 p.m.; Sat., 2 and 8 p.m. (Additional performances Sun., Feb. 12, 3 p.m., and Wed., Feb. 15, 2 p.m.) (212) 279-4200 or www.ticketcentral.com. Casting by Stephanie Klapper Casting.